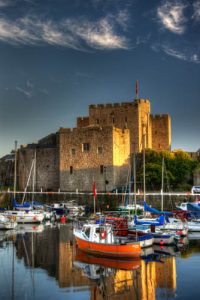 When Hugh Kelly left Mann aged 16 he expected never to return. His parents were both dead, the family farm repossessed and the navy seemed like a good option for a penniless lad with big ambitions and no prospects. Fourteen years later he returns as a Trafalgar veteran with a healthy amount of prize money and his own command in refit at Yarmouth. He is in search of land and a home and a wife to look after them when he goes back to sea.
Roseen Crellin is determined not to give in to her father's efforts to find her a good husband. The man she wanted has sailed away and she has no interest in a marriage to a man who sees her a convenience rather than a woman.
It seems a courtship with little future but fate intervenes unexpectedly and as Hugh sets sail to join the Royal Navy on it's way to Copenhagen he is forced to reassess his feelings towards the girl he had not bothered to get to know, while Roseen discovers a world beyond the hills and glens of her island home and a side to herself she had never known existed.
An Unwilling Alliance is the first of my books to be set partly on the Isle of Man where I live.  It is also the first set in the very different world of the Royal Navy.  I've been wanted to do a Manx setting for a long time, but since I write historical novels I needed to find the right time period.  I have considered, and am still considering, a novel set in the English Civil War but I haven't studied that period since University and it will be a lot of work.
In the end I decided to stick with my current period, helped by reading the story of Captain John Quilliam, the Manxman who served with Nelson aboard the Victory.  This is not his story but there are parallels between his progress and that of Captain Hugh Kelly, and like Quilliam, Kelly comes home to his island with his pockets well-lined with prize money and in search of a home and a wife.
I hope that An Unwilling Alliance will be published early in 2018 and will be followed by An Untrustworthy Army, book five in the Peninsular War Saga.