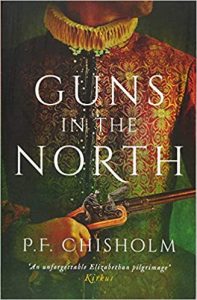 The Sir Robert Carey novels by PF Chisholm came into my life many years ago, before I ever published a book. Without a doubt, they are among the books I've read that I genuinely wish I had written myself. They are a witty, intelligent, historically accurate and superbly crafted series of historical detective stories based around Sir Robert Carey, cousin to Queen Elizabeth, who was a real person and who wrote a charming autobiography, which brings his character to life extraordinarily well.
PF Chisholm has taken the real Carey and enlarged on what we know of him, creating a dashing and entertaining hero. Carey is courageous, witty and shrewd; a courtier who is very at home on the wilds of the Anglo-Scottish borders. He is also vain, hopeless with money and often self-centred, faults which do not detract one whit from his charm.
The novels enact a series of historical crimes in need of solving, while taking the reader step by step through the genuine events of the time. Chisholm weaves fact and fiction together seamlessly so that when I go away to check what is real and what is fiction, I am often surprised.
Carey's exuberant personality is set against a marvellous collection of secondary characters. Foremost among these is Henry Dodd, his dour sergeant, who after a few books has moved into the limelight as a central character himself. We follow Carey's agonising love affair with Elizabeth Widdrington, who is married to a brutal husband and trying hard to remain faithful as well as his affectionate relationship with his sister and the ups and downs of his friendship with Dodd.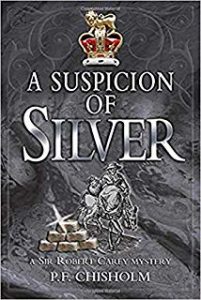 PF Chisholm is the pen name of Patricia Finney who has written a number of other books, all of them excellent. But the Carey books remain my favourites. The latest one, A Suspicion of Silver, is out this month, but for those who need to catch up, the earlier books have now been issued in several omnibus editions, Guns in the North, Knives in the South and Swords in the East. For anyone looking for a Christmas gift for a book lover, these are a real treat.
I recently re-read the early books in this series, and I feel bound to confess that without intending it, there is something of Sir Robert Carey in the hero of the Peninsular War Saga, Paul van Daan. There is something about Carey's flamboyant personality which appealed to me, and although the characters are also very different, I suspect there are places where I am channelling Carey when I write, which is probably a tribute to Chisholm's brilliant characterisation.
The Carey mysteries are one of the few series of which I have never grown tired. I love the characters, but it's more than that; each novel is a genuine story in its own right, intricately plotted and well written. All lovers of historical fiction, detective stories or just a very good read, should give them a try.