The Five by Hallie Rubenhold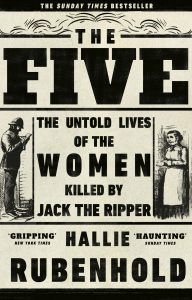 The Five by Hallie Rubenhold is one of the most powerful books I've read in a very long time. It tells the stories of five women, Polly Nicholls, Annie Chapman, Elizabeth Stride, Catherine Eddowes and Mary-Jane Kelly. The five came from a variety of backgrounds and places, and lived varied and often painful and difficult lives, but little is known of them now, other than the manner of their death. They were the five victims of a Victorian serial killer called Jack the Ripper, and that is how history has remembered them.
In this extraordinary piece of historical research, Hallie Rubenhold has given these five women back their identities, their stories and their dignity. She follows the lives, from birth to death, of each woman, as far as it has been possible to establish it, and tells stories of temporary happiness, unbearable hardship and final tragedy.
The book is very well-written and immaculately researched. The author makes no attempt to see her subjects or their lives through rose-coloured spectacles, and the details of poverty, addiction and miserable hardship can make for very difficult reading. As a piece of social history, it is a masterpiece, but it is a very sad book.
I grew up in the East End, and knew the stories of Jack the Ripper from childhood. As a girl, learning to be aware my own safety, I came to view the story of these women differently long before this book came out, and as a history student who spent some time studying poverty and the position of women in Victorian London, I've always been aware that whatever their situation at the time of their murder, these women were victims not just of a serial killer but of the society they lived in. What I'd never really thought much about, is how much attention has been given to the unknown man who killed and how little to the women whose lives he cut short.
Hallie Rubenhold has done a fabulous job of giving these women back their humanity, as well as holding up a slightly uncomfortable picture of the way their deaths have been trivialised over the years. This is an excellent book, very easy to read despite its difficult subject matter. We're no closer to knowing the identity of Jack the Ripper, and Rubenhold doesn't care. We are, however, a lot closer to knowing his victims.
A triumph of historical research and writing.