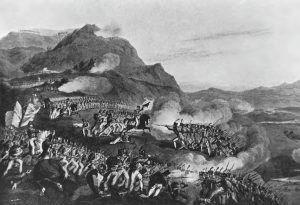 The organisation of Wellington's Peninsular Army can be split into three main areas; ranks of officers and men, the structure of the army and the support services.  Sir Arthur Wellesley arrived in Portugal in 1808 but did not take full command of the army until the following year.  Morale was poor and most officers believed that Wellesley would be lucky to hold Lisbon, let alone the rest of Portugal.  Wellesley himself seems always to have intended a more aggressive policy although he did not necessarily always share his intentions with the politicians in London.  After a resounding success at Oporto and a victory, albeit a difficult one, at Talavera, Wellington embarked on a reorganisation of the army into divisions.
Army Ranks
The ranks listed below show the traditional command structure of the army.  In practice, during the war, commands and ranks were very flexible.  It was not unusual for a Lieutenant to be found commanding a company or a Major in charge of a battalion.  Regiments were often commanded by Lieutenant-colonels if their Regimental Colonel was not in the field. 
Officers acquired their commissions by purchase, and theoretically all promotions were also purchased up to the rank of colonel.  During the war, however, the large number of officers killed meant that many promotions were given without purchase – less than one in five first commissions were purchased.  In some regiments it was possible to advance quite quickly without needing to pay for a commission and a sympathetic regimental colonel could often help talented young officers up the ranks. For more information, historian Robert Griffith has written an excellent post here.
In addition to an officer's regimental rank, there were also various temporary ranks which could be held, often linked to a particular posting. There is a very good account of these on the Napoleon site here.
It was unusual for NCOs to be given a commission but it did sometimes happen, usually for `acts of specific courage in the field.  Because of the class distinctions of the day – officers were supposed to be 'gentlemen' it could be difficult for an enlisted man to fit in once he attained his commission.
The exception to this was in the case of 'gentlemen volunteers'.  These were men of good birth who could not afford a commission so joined the ranks.  They trained and fought with the enlisted men but messed and socialised with the officers until a commission without purchase became available.
Officers                                                  Command
Ensign/Subaltern
Lieutenant  
Captain                                                   Company
Major                                                       Battalion
Lieutenant-Colonel                                  Battalion
Colonel                                                    Regiment
Brigadier                                                  Brigade
Major General                                          Division
Lieutenant General                                  Corps
General                                                    Army
Field Marshal                                          Theatre of war  
Non Commissioned Officers (NCOs)                                       
Sergeant-Major
Sergeant
Corporal
Chosen Man was occasionally used as an informal award to a promising private soldier, later formalised into the rank of Lance Corporal.
Structure of the Army
The Peninsular Army was structured as shown below.  As with the ranks listed above, there was a lot of variety in numbers and commands.  Most regiments were permanently under strength due to death, injury and sickness so the numbers below are very general and would have varied widely between different regiments and at different stages of the war.  The structure below is that of the infantry; cavalry was organised slightly differently.
Company                  
Each company consisted of around 100 men.  It was commanded by a Captain with two lieutenants and two ensigns.  There were two sergeants per company and three corporals.
Battalion
Each battalion consisted of 10 companies; 8 infantry companies, a company of guards and a light company.  The guards tended to be used for main assaults, they recruited big men and their job was to stand firm.  The light company were skirmishers; fast, agile and smart with the capacity to think independently.
Some battalions also had their own Regimental Sergeant-Major who had overall charge of discipline, although this does not seem to have been an official rank and varied between regiments.
Regiment
Most regiments consisted of two battalions although some had three or more, particularly the Rifles.  It was unusual for both battalions of a regiment to be serving in the same army although it did happen, once again most notably with the Rifles.  Usually the second battalion was either serving elsewhere, or back in barracks providing reinforcements to the first battalion in the field.
Confusingly, both officers and men often referred to their battalion as their regiment so that the two terms can be used interchangeably at times.  Each regiment had a Colonel in Chief who might have been serving in the field but was often more of a figurehead, with the actual command being left to a lieutenant colonel.
Brigade
Two to four regiments / battalions comprised a brigade, which was presided over by a brigade commander.  The actual term Brigadier was not often used.  A brigade commander could be a colonel or lieutenant colonel, usually of one of the regiments included in the brigade.
Division
A division consisted of two to four brigades, usually between 5,000 and 15,000 men with 10,000 being fairly normal.  Divisional commanders could be Major-Generals or Lieutenant-Generals.  Wellington had seven divisions and added an eighth in 1811.  The light division was generally the smallest.
In my Peninsular War saga, Paul van Daan joined the 110th in 1802 at the age of 21.  He was slightly older than most new officers and  joined as an ensign but purchased immediately on to lieutenant.  This practice was not officially allowed, but often happened with men who could afford it if commissions were available and the regimental colonel agreed.
Theoretically, promotions were offered within the regiment in very strict order of rank and length of service. If a man could not afford to purchase the higher rank, it would be offered to the next man in line. Prices of commissions were fixed, but when officers sold their commission on, they often added a premium on to it. These premiums were strictly illegal and very common, and in fashionable regiments could be very high, making those regiments exclusive to wealthy men.
Paul's first promotion was given in the field and he was fairly young for it although it was not unheard of.  After that his rise was fast; he could afford it and he was talented, but he did not rise as quickly as Wellington had before him.  Wellington was an ensign at 18 and a lieutenant, like Paul, almost immediately afterwards.  He was a Captain at 22, also like Paul but gained his majority at only 24 and was a Colonel by the time he was 27 while Paul was thirty. The 110th infantry, certainly in the early books, is not a fashionable regiment and has very few wealthy officers, which makes it possible for Paul to leapfrog men who could not afford an inflated purchase price, a process described in An Unwilling Alliance when Paul's purchase of his majority funds the retirement of Colonel Dixon.
Support Services
Regiments and battalions had their own quarter-masters, who were in charge of provisions and supplies for the regiment.  Wellington had a relatively small headquarters staff and worked them hard.  The medical services were under the control of the army medical board in London, and the commissariat which was responsible for supplying the army was also a separate body, a situation which caused a good deal of problems for the commander in chief.
In reality, how each section of the army was run tended to be very much down to local circumstances.  Commanding officers varied considerably in their attitudes to discipline and etiquette, and each regiment developed it's own customs and traditions within the army regulations.
Army headquarters in London was known as Horse Guards and was situated in Whitehall.
Further Reading
There are a lot of good sites on the internet which go into considerable detail about the organisation of the Peninsular Army.  A very clear account of it is given in Stuart Reid's Wellington's Army in the Peninsula published by Osprey which is available on Amazon.
Rory Muir, who is the best biographer of Wellington ever, in my opinion, has co-written an excellent book with three other historians which gives detailed information on how the army was structured, entitled Inside Wellington's Peninsular Army.