The Peninsular War Saga tells the story of the men and women of the 110th Infantry during the wars against Napoleon.  In particular they follow the story of Paul van Daan who joins the regiment in 1802 as it is about to go to India to fight under General Arthur Wellesley.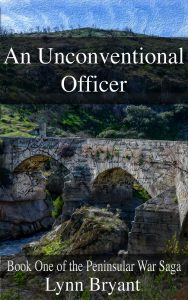 An Unconventional Officer (The Peninsular War Saga Book 1 – 1802 – 1810) From the battle of Assaye, through Italy, Copenhagen and Portugal, we follow the early career of Lieutenant Paul van Daan, the most unusual officer ever to join the 110th as he attempts to find his place in the regiment.  Along the way he makes both friends and enemies, discovers a talent for leadership and shares his life with two very different women. (Published on May 30 2017)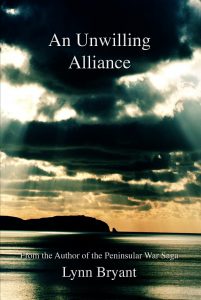 An Unwilling Alliance (Book 1.5 of the Peninsular War Saga, Book 1 of the Manxman Series 1806-07)
Captain Hugh Kelly RN returns to the Isle of Mann after fifteen years with a few months leave and a small fortune in prize money to find himself a sensible Manx wife.
Roseen Crellin is determined to resist her father's efforts to find her a husband. Still dreaming of the young English soldier who sailed away and broke her heart, she has no intention of encouraging Captain Kelly's courtship and certainly no intention of developing feelings for the man.
Major Paul van Daan is newly promoted and just back from Ireland, sailing with his battalion to Copenhagen under the command of Sir Arthur Wellesley.  Paul's courage and talent are unquestioned but his diplomatic skills need some work and in a joint operation with the navy there are many ways for a man of Paul's temperament to get things wrong.
As Britain hovers on the brink of war with neutral Denmark and the diplomats and politicians negotiate to keep the Danish fleet out of Bonaparte's hands, a more personal drama plays out on the decks of the Royal Navy and in the lines of Lord Cathcart's army which could change the lives of Hugh, Roseen and Paul forever. (Published in April, 2018)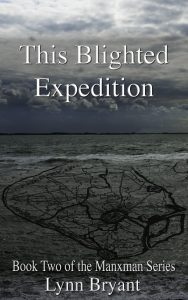 This Blighted Expedition: Walcheren1809 (Book 1.6 of the Peninsular War Saga and Book 2 of the Manxman Series)
Captain Hugh Kelly, RN is back in England, briefly reunited with his wife and son after eight months on tedious blockade duty. There is news of a major expedition involving both the army and the navy and Hugh and his first lieutenant, Alfred Durrell, are looking forward to finally seeing some action. However, Durrell finds himself seconded to a posting which seems to keep him on shore more than at sea, while Hugh becomes increasingly impatient with the progress of the campaign.
Captain Ross Mackenzie joins the second battalion of the 110th infantry waiting to embark from the south coast. After a difficult posting in South America, Ross is hoping for a fresh start with a new regiment on its way to Walcheren.
Lieutenant Giles Fenwick of the 110th is broke, bored and sick of serving under the worst captain in the regiment, and is beginning to realise that this campaign may not be the opportunity to get noticed that he had hoped.
Katja de Groot is widowed with three young children, struggling to keep her husband's business afloat in the face of the French blockade. She resents having British officers billeted in her home and wishes only to see them gone.
As the campaign drags on and relations between the army and the navy begin to deteriorate, there seems little hope of a successful outcome and Hugh wants his first lieutenant back and a quick voyage home. But in the lines of Lord Chatham's army, there is a creeping danger that no army can fight…
(Published October 2019)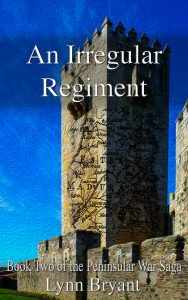 An Irregular Regiment (The Peninsular War Saga Book 2 – September 1810 – April 1811 )
On the heights of Bussaco Ridge, Major Paul van Daan leads his battalion into battle under Lord Wellington in his defeat of the French under Marshal Massena.  The book explores Paul's developing career, and the happiness of his marriage to the lovely young widow of a fellow officer.  As Wellington prepares to chase Massena out of Portugal, Paul is serving under the worst General in the army and must find a way to keep his regiment safe and save his reputation and his career. (Published on 4 July 2017)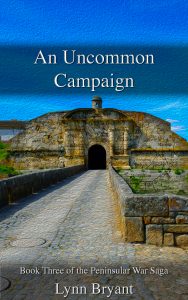 An Uncommon Campaign (The Peninsular War Saga Book 3 – April – June 1811)  Lord Wellington has led his army to the Spanish border where the French occupy their last stronghold in Portugal at Almeida.  As the two armies face each other in the village of Fuentes de Onoro, Colonel Paul van Daan is becoming accustomed to his new responsibilities in command of a brigade and managing the resentment of other officers at his promotion over older and longer serving men.  His young wife is carrying their first child and showing no signs of allowing her delicate situation to get in the way of her normal activities.  And if that was not enough, Paul encounters a French colonel during the days of the battle who seems to have taken their rivalry personally, with potentially lethal consequences for the 110th and the rest of the third brigade of the light division. (Published on 4 August 2017)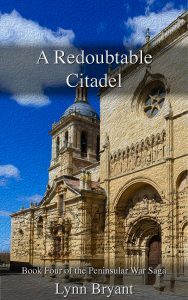 A Redoubtable Citadel (Book 4 – January – June 1812) In the freezing January of 1812, Lord Wellington pushes his army on to the fortress town of Ciudad Rodrigo and a bloody siege with tragic consequences.  Colonel Paul van Daan and his wife Anne have a baby son and in the aftermath of the storming, take a brief trip to Lisbon to allow Paul's family to take little William back to England.  With his career flourishing and his marriage happy, Paul has never felt so secure.  But his world is shattered when his young wife is taken prisoner by a French colonel with a personal grudge against Paul.  As Wellington's army begins the siege of Badajoz, the other great Spanish border fortress, his scouts and agents conduct a frantic search for the colonel's wife.  Meanwhile Anne van Daan is in the worst danger of her life and needs to call on all her considerable resources to survive, with no idea if help is on the way. (Published in September 2017)
An Untrustworthy Army: Book 5 of the Peninsular War Saga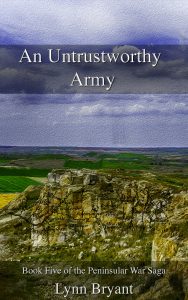 June, 1812
Back with her husband and his brigade, Anne van Daan is beginning to recover from her ordeal at the hands of Colonel Dupres as Lord Wellington marches his army into Spain and up to Salamanca. In a spectacularly successful action, Wellington drives the French back although not without some damage to the Third Brigade of the Light Division.
Still recovering from their losses at Ciudad Rodrigo and Badajoz earlier in the year, the Light Division remains in Madrid while Wellington lays siege to Burgos but some of Paul's brigade have troubles of their own.
Lieutenant Simon Carlyon is determined not to allow his dead brother's shameful reputation to blight his career in the army but finds it harder than expected to serve under the man who killed him.
Colonel Johnny Wheeler is finding the lie he told to protect others difficult to live with, faced with the unrelenting hostility of a young officer.
Captain Michael O'Reilly's life is complicated through a casual act of kindness.
The end of the campaigning season is not going as well for the Allied army and triumph turns to an undignified and dangerous retreat.  At a time when the discipline of Wellington's army seems to have broken down, Van Daan's brigade need to set personal matters aside and concentrate on staying alive long enough to reach safety… (Published in November 2018)
An Unmerciful Incursion (Book 6 – December 1812 – April 1813)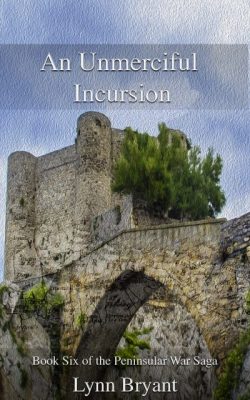 Wellington's army is in winter quarters, licking its wounds after the retreat from Burgos. While Anne van Daan recovers from the birth of her second child, Paul receives news of an unwelcome assignment and a surprise promotion from Lord Wellington.
With Paul grappling with problems of training and discipline in Wellington's exhausted army, and Johnny Wheeler in England on furlough, Major Carl Swanson finds himself in temporary command, and is faced with the difficult problem of the new commanding officer of the 115th, a harsh disciplinarian who sends rumblings of discontent through the third brigade and causes problems of a more personal nature for Carl.
Meanwhile Captain Giles Fenwick and Captain Michael O'Reilly are sent into enemy territory to search for Sir Horace Grainger, an English diplomat who has gone missing somewhere on the turbulent northern coast of Spain. In a race against time, Giles and Michael must find Grainger before the advancing French, and in the little coastal town of Castro Urdiales, it seems that time may have run out.
An Indomitable Brigade (The Peninsular War Saga Book 7 – May- July 1813)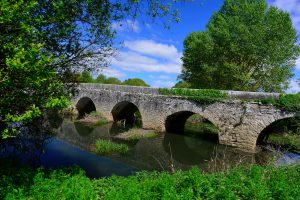 May 1813
The long months of winter quarters are over and Lord Wellington leads his army into Spain once more, with a strategy designed to push King Joseph Bonaparte's army back into France. Officers, men and the women who accompany them endure a series of relentless forced marches in bad weather as the columns of Wellington's army converge on the town of Vitoria.
Major-General Paul van Daan is in his element, back on campaign with Anne by his side and his men in good health and high spirits. The new commander for the 115th, Lieutenant-Colonel Philip Norton is a big improvement on Major Vane and Van Daan's brigade is ready to fight.
Lieutenant-Colonel Carl Swanson is enjoying married life and Keren is becoming used to her role as the wife of an officer.  Colonel Johnny Wheeler is less settled in his personal life. Torn between loyalty to a former love and his feelings for a woman he met while on furlough in England, he could do without having to deal with a new junior officer who is taking a lax attitude to his duties.
Sergeant Jamie Hammond may have waited too long to act on his attachment to the young daughter of a fellow NCO. Meanwhile, in the French lines, Captain Damien Cavel takes command of a company of the 30th légère and finds himself facing the prospect of fighting against the husband of the woman whose life he once saved.
Personal dramas and conflicting loyalties are swept aside as the armies of Joseph Bonaparte and Lord Wellington clash on the field of Vitoria. In the slaughter that follows, Paul van Daan's indomitable brigade faces one of its hardest tests so far, while on the bloodstained operating tables of the hospitals and field stations, Anne and the medical staff fight to save the lives of both friend and foe.
STILL TO COME ( Titles and dates may change, I'll keep you all updated)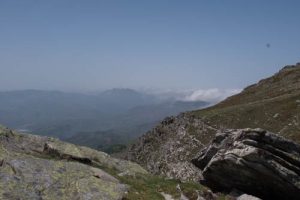 An Inexorable Invasion (Book 8 – July 1813 – February 1814) Wellington's army is invading France.  After almost five years of advancing and retreating across Portugal and Spain, Major-General Paul van Daan and his brigade are about to set foot on French soil, the first time many of them have ever done so.  At the battles of the Bidassoa and the Nivelle, the men of the light division are at the forefront of the action as Wellington ruthlessly presses home his advantage.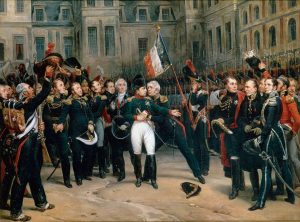 An Improbable Abdication (The Peninsular War Saga Book 9 – March 1814 – January 1815)  Wellington's army is in France, marching inexorably towards victory.  An inconclusive engagement at Toulouse is cut unexpectedly short when the news comes in that Napoleon Bonaparte has abdicated and that France has surrendered.  With war finally over, Major-General Paul van Daan and his battered and exhausted men are bound for England and a round of celebrations and gaiety.  While the crowned heads of Europe are feted in London, Anne and Paul find themselves learning how to live a normal life again with their children around them. The light division is broken up with its various regiments sent to other duties and Lord Wellington, now a Duke, is despatched to Vienna to represent Britain in the complex peace negotiations, accompanied by Captain Leo Manson in his new post as ADC.  But the early months of 1815 bring shocking news…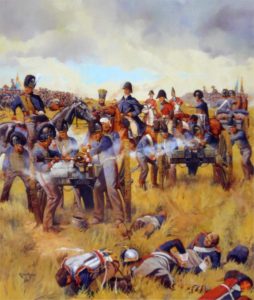 An Unsparing Engagement (The Peninsular War Saga Book 10 – Waterloo 1815)  For Paul and Anne van Daan, domestic bliss has been interrupted long before they had grown used to it.  Bonaparte is loose and with the light division disbanded and many of its crack regiments dispersed to other theatres of war around the globe, Wellington needs to pull together an army from the allied nations of Europe.  His Peninsular army no longer exists but he still has the 110th and Paul is on his way to Brussels and to a battle far worse than anything he has yet experienced.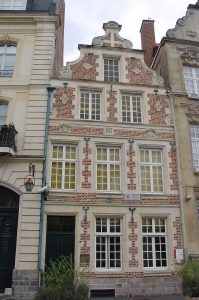 An Amicable Occupation (The Peninsular War Saga Book 11 – 1815 – 1818 the Army of Occupation) 
With the horrors of Waterloo behind him, Paul van Daan is in France commanding a division of the Army of Occupation under Wellington.  It is a whole new experience for the officers and men of the 110th, learning to live beside the men they fought against for six long and painful years.