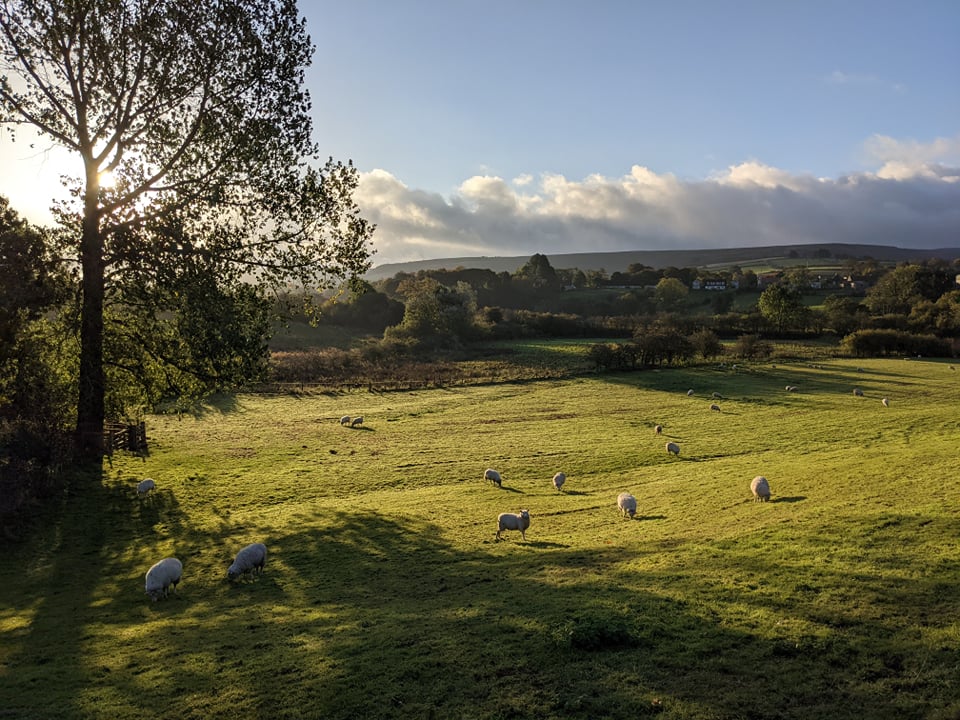 A Writer's Retreat
Trying to write in the middle of a busy household with a couple of Labradors and an over-developed sense of responsibility, I've often dreamed of going on a Writer's Retreat. I'm sure many of my fellow writers feel the same way. After yet another week where writing plans have sunk without trace in a round of supermarket shopping, dealing with elderly relatives, proofreading essays and cleaning the dogs' ears, I love the idea of a few days of peace and quiet in lovely surroundings with nothing to do but write. I've never done it though.
I've come close a few times. I used to volunteer to cat-sit for my sister, who lives in a very beautiful place, and I certainly took the opportunity to catch up on work while I was there. Somehow though, it was still never the haven I dreamed about. I've taken off on research trips on my own many times, but those tend to be a frantic round of getting to the places I wanted, taking photographs and making notes. It would almost have felt too self-indulgent to spend the day sitting doing nothing but writing.
Organised writers' retreats look very appealing, but many of them seem very expensive. Besides which, they generally include other writers. I know myself too well, and the opportunity to sit and talk writing, history and general nonsense with a group of like-minded people would be irresistible. They'd be a lot of fun, but I'd get nothing done.
The second half of 2021 was hard for me. It is well recorded elsewhere on this blog that I didn't do well with lockdown and restrictions, and although I would have loved to book a research trip somewhere in Europe, I didn't trust that these wouldn't be reinstated at a moment's notice. Richard managed a couple of cycling trips to the UK, and we had some friends to stay the moment restrictions lifted enough, but I was miserable. The only trips I made to the UK were necessary family visits and none of them were particularly restful. We had been having a lot of problems with my elderly in-laws who had recently moved to the island and I felt as though my life had become one long round of hospital visits and troubleshooting phone calls.
2021 was also the first year since I began publishing that I didn't manage to get a book out. Back in October, it seemed as though I wasn't even going to get close to it. I knew what I needed to do, and the book was going well, but I couldn't get enough time to work on it. I was frazzled and seriously burned out and I needed a break, but I had no idea where I wanted to go or what was practical in the post-Covid world.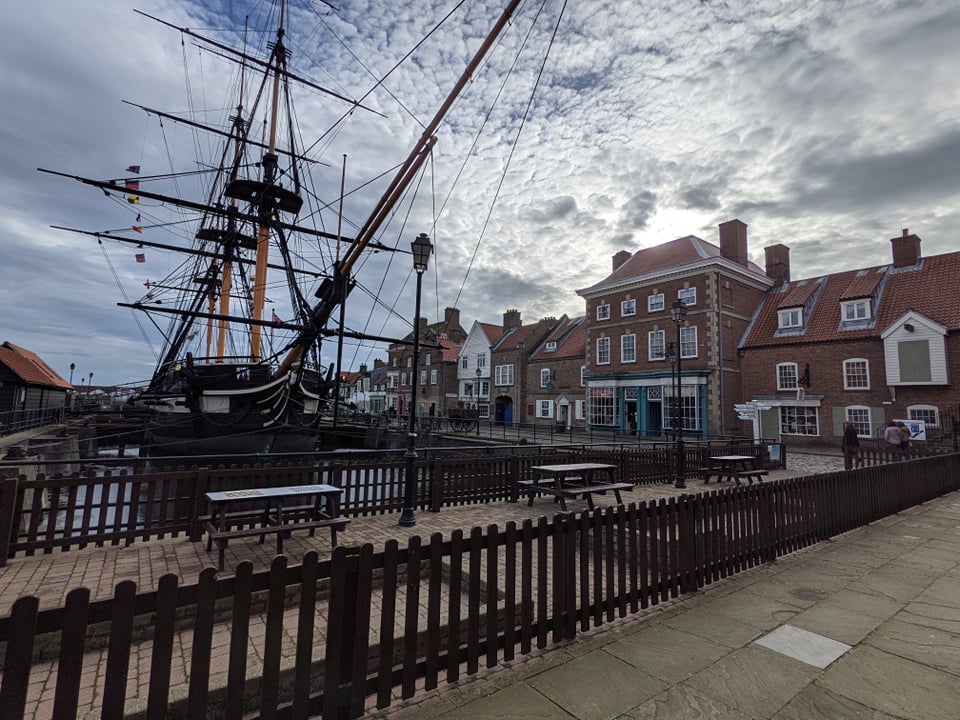 Burnout is one thing, but the annual Halloween short story was due, and I had an idea for a story set during Captain Hugh Kelly's younger days, when he was newly promoted to captain of a frigate. My research so far has all been based around the 74-gun Iris, but I wanted information about one of the smaller, faster ships which made stars of the navy captains. A quick spell of internet research introduced me to HMS Trincomalee, the oldest warship still afloat in Europe.
The Trincomalee looked gorgeous and was located in the Museum of the Royal Navy in Hartlepool, something I didn't even know existed. I did a bit of research and decided that I absolutely wanted to go there, and sooner rather than later. I was actually very excited. It's been two years since there was a very real prospect of me travelling anywhere to do something just for myself, and the sheer joy I felt, made me realise how badly I needed a break. I checked dates with Richard then went searching for accommodation.
I was determined not to stay with family or friends. This time I wanted to be completely on my own agenda. I didn't want to stay in Hartlepool, but somewhere pretty, within easy driving distance. North Yorkshire looked good, and I love that area. No self-catering. I do enough cooking at home. I typed in my requirements, to be listed by cost for a week, lowest first.
The first thing that popped up was a room at the Duke of Wellington Inn, in Danby. I swear to God, people, I'd booked it within ten minutes. Sometimes it's obviously a sign.
The Duke of Wellington Inn is an ivy-clad traditional eighteenth century inn located in the tiny village of Danby in the North York Moors, about fifteen miles inland from Whitby. Until I found the place, I hadn't decided that my trip was going to be my very own personalised writer's retreat, but a bit of research made me realise it was perfect. Danby really is small, although very pretty. The Moors National Park Centre is just at the edge of the village, and there's a tiny bakery with a café just behind the Duke of Wellington. Other than that, there's not even a shop in the village. For somebody wanting uninterrupted writing time, it couldn't have been better.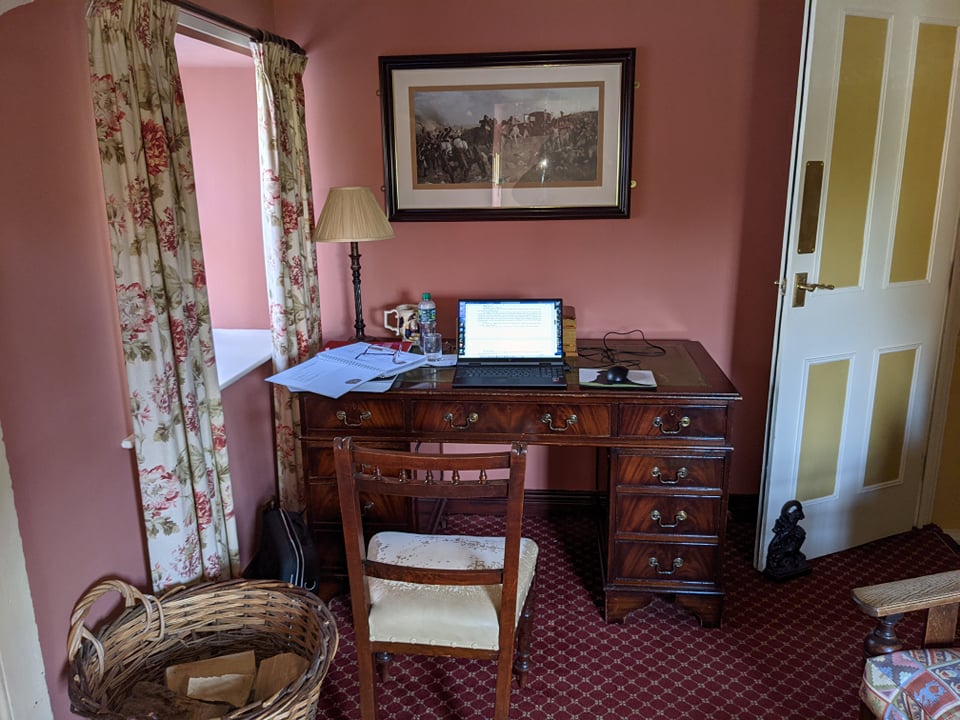 I checked with the owner whether there was a suitable table in my room for working. The single rooms were fairly small, but he assured me there was a guests' sitting room with a desk in it and I'd be very welcome to work there as it was seldom used. When I arrived and saw it, I couldn't quite believe my luck. For a week, I effectively had my own personal study. It was completely lovely.
The Duke of Wellington Inn was built in 1732 and was originally known as the Red Briar. It was used as a recruiting post during the Napoleonic Wars and was apparently known as either the Wellington Arms or the Lord Wellington during this period. I haven't yet been able to find out when the name was changed to the Duke of Wellington – my first thought was that it must have been after 1815 to commemorate the victory at Waterloo, but I discovered that when Canon Atkinson arrived in 1847 to take up his post as Vicar of Danby, the inn was still called the Wellington Arms so the transition must have come later. At that point, the inn was kept by two sisters known as Martha and Mary.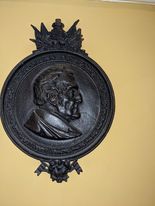 A cast iron plaque of the Duke was unearthed during restoration work and can be seen on the wall as you go up the stairs. The inn is not large and is very obviously old – floors are uneven and the furniture is very traditional. Impressively, though, all the essential things for a comfortable stay work really well – the bed was comfortable, the bathroom modern and heating and hot water were spot on. I'd booked bed and breakfast, but after a look at the dinner menu, decided I'd eat there in the evening as well. It was standard pub food, but well-cooked and sensibly priced, and I never object to sitting by an open fire in a traditional country pub to eat. In addition, the staff were absolutely amazing. Nothing was too much trouble and they treated my invasion of the guest sitting room as though it was the most normal thing in the world. Thank you so much guys.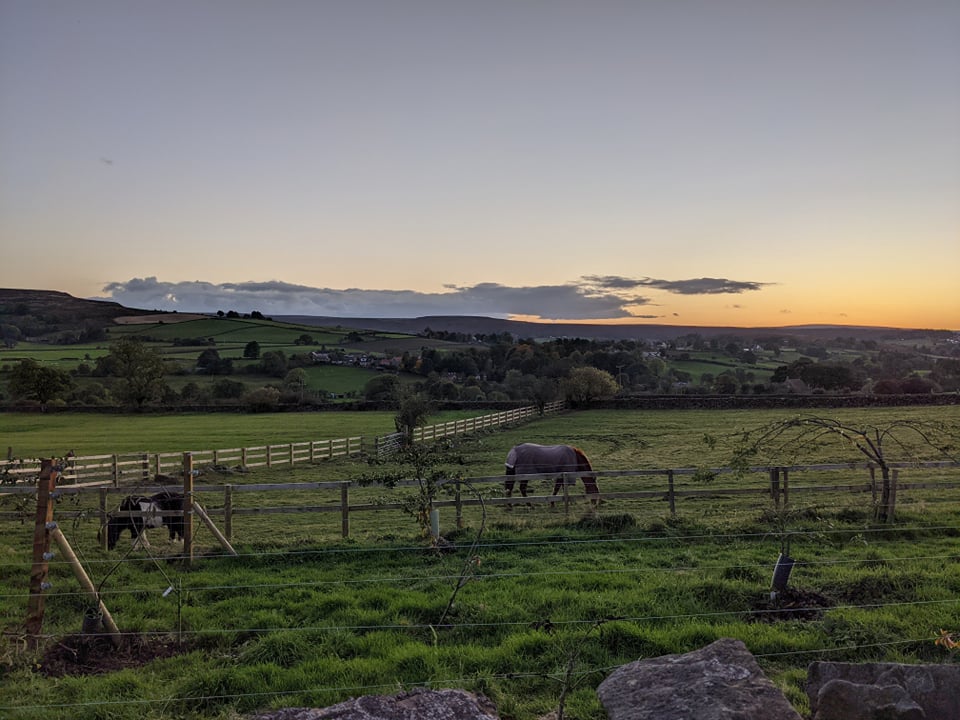 I'm pleased to say I stood by my resolution to treat this week as a writer's retreat. Apart from my one excursion to Hartlepool, I remained in and around the village. The weather was beautiful, crisp and cold but with only one rainy day. I ordered breakfast early then went for a walk every morning before sitting down to work. Lunch was soup and sandwiches from the Stonehouse Bakery, with some excellent cake for afternoon tea, and then I'd go for another walk before dinner. It was often almost dark by the time I got back, and the sunsets were gorgeous.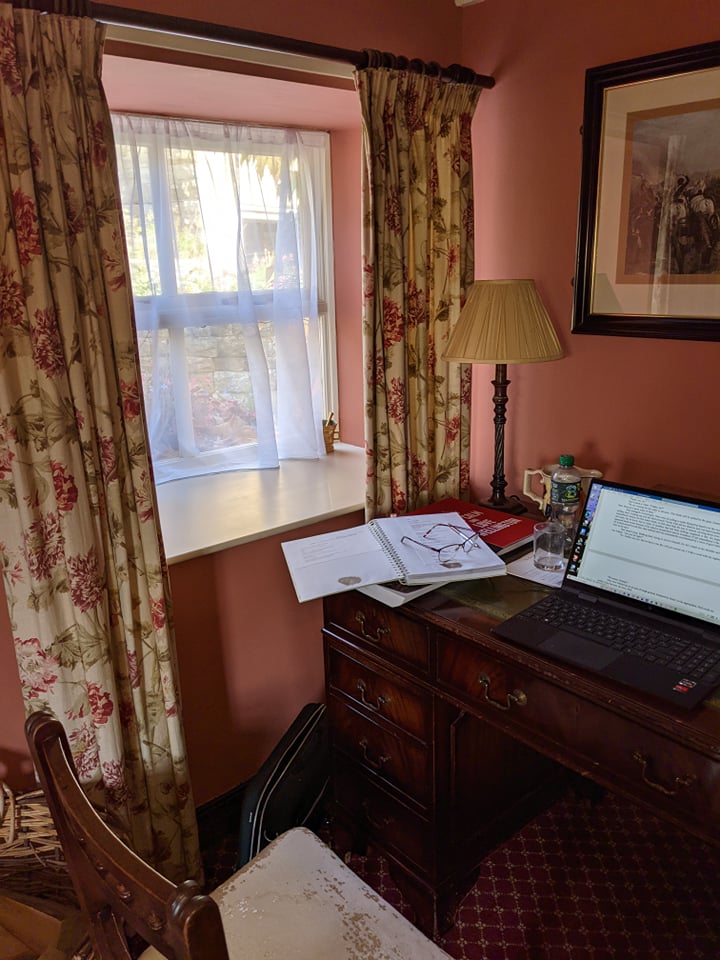 During the day I took over the desk and worked solidly on book seven, An Indomitable Brigade. I found, to my joy, that I'd been right about the book. There was nothing wrong with either plotting or the research I'd done. I just needed time, and peace and quiet to get on with it. I kept in touch with my family during the evening, but firmly refused to take calls during the day. I was helped by the fact that the wi-fi was variable. It worked very well in my room, and down in the bar areas but in the study it was patchy, which removed the temptation to chat on Twitter or Facebook. After the first day, I was completely absorbed in the world of the 110th and the battle of Vitoria.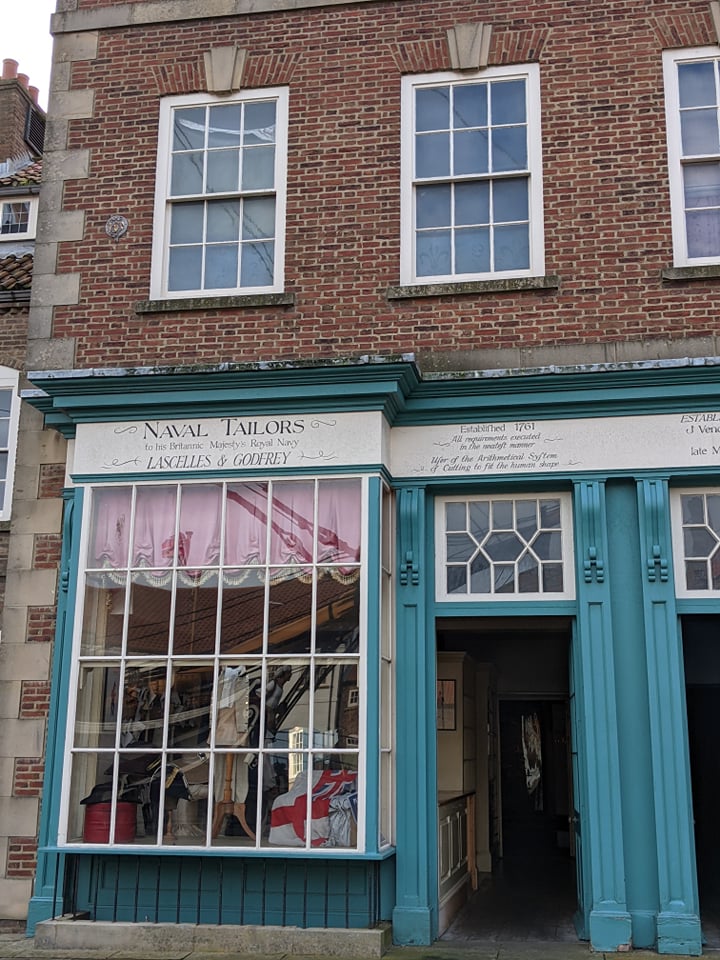 I enjoyed my day out at the National Museum of the Royal Navy in Hartlepool, and the Trincomalee was everything I hoped for and more. The museum is set up around a historic quayside restored to look like an eighteenth century seaport and its beautiful waterside setting. The various buildings are set up to show tradesmen like tailors, printers and instrument makers with stories about the Royal Navy and the men and women associated with it. It's a great place for kids, with an adventure play ship and loads of activities, and because I was there during half term, there were demonstrations of gunnery and swordsmanship and various talks scheduled through the day. I went to everything, even though most of this wasn't new to me. It was a great atmosphere, and I thoroughly enjoyed the interactive Fighting Sail exhibition, though the kids commentary around me probably entertained me as much as the displays.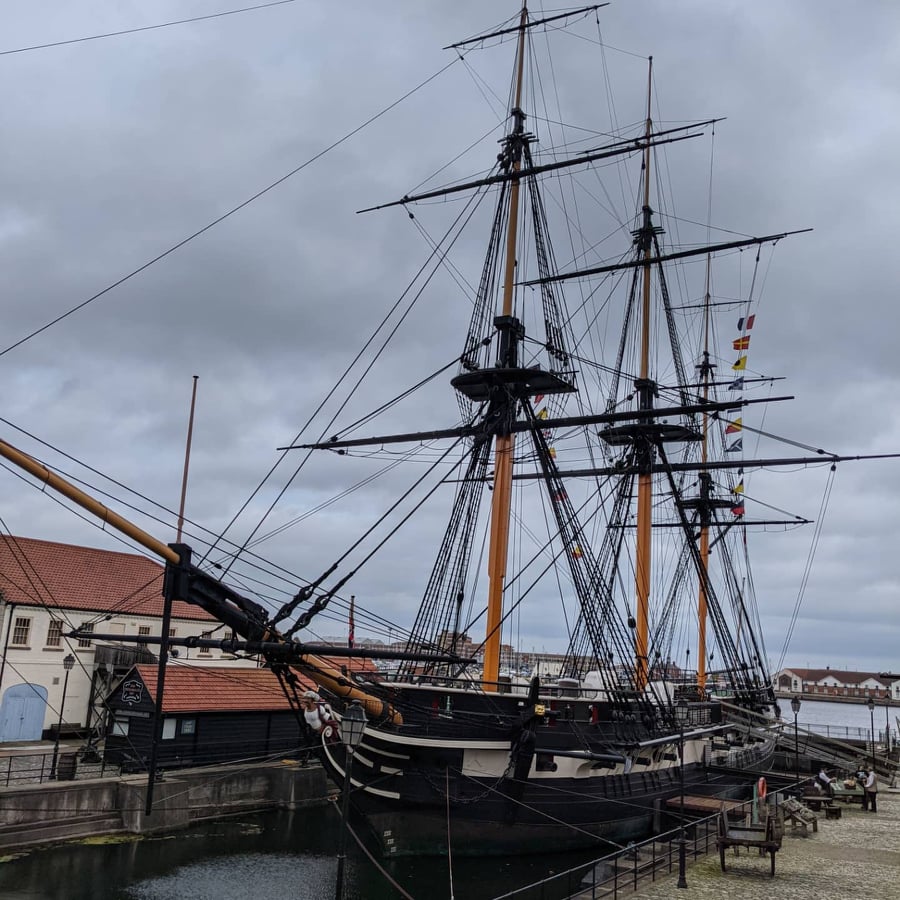 The Trincomalee was perfect, one of two surviving British frigates of her era. The other, HMS Unicorn is a museum ship in Dundee and I'm going to get there when I can. The Trincomalee was commissioned in 1812 to be built in India using teak, due to the shortage of oak in Britain after the intensive shipbuilding of the Napoleonic wars. Work did not begin until 1816 so by the time the ship was finished the following year, the wars were over and Trincomalee was put to other uses.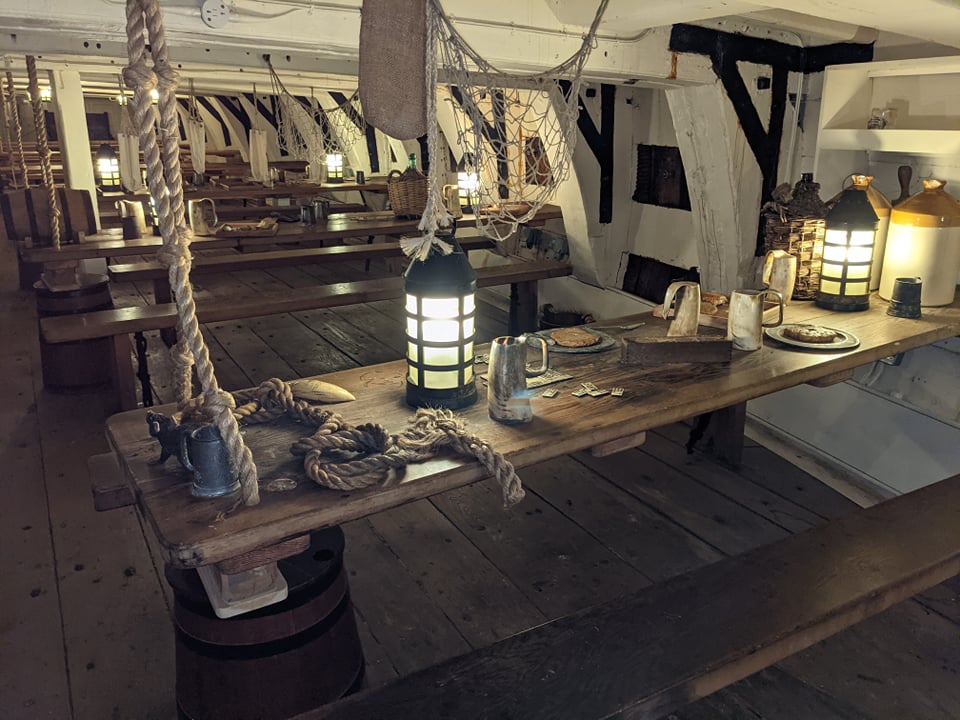 On the advice of one of the guides, I waited until the kids were completely absorbed in learning how to form a boarding party on the quayside using foam swords and cutlasses before boarding the ship. It was completely empty and I was able to take photographs, absorb the atmosphere and write stories in my head to my hearts content. The Trincomalee quickly morphed into the fictional Herne in my imagination, Hugh Kelly's first post-command, and the story was finished. I'll definitely come back to it though, I'd like to write a lot more of Hugh's earlier adventures in the navy.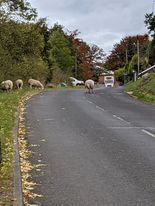 Back at my borrowed desk, I had a blissful few days of writing, walking on the moors and falling in love both with Yorkshire and with my fictional world all over again. By the time I set off for the ferry at the end of the week, the book was back on track, and I was fairly sure I'd have it written, even if not edited and published, before the end of the year. I had also forgiven myself for my inability to work as well as usual during the past two years. There are probably writers out there who made the most of the restrictions of lockdown and emerged ahead of the game. I suffered, and emotionally it was hard to put myself into the heads of my characters when my own head was so full of confusion. I think on those long, winter walks over the moors I've worked out how to be kinder to myself and how to keep a distance when the world feels an alien and unfamiliar place.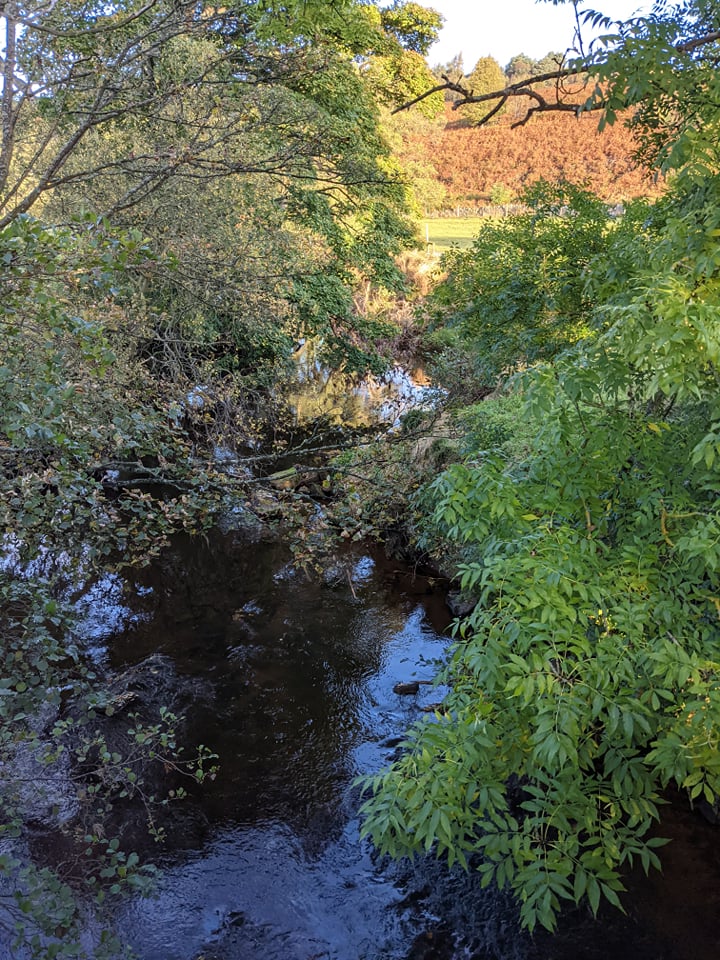 I've concluded that a writer's retreat means different things to different people. For some, it's about learning, and they're looking for lectures and workshops and the ability to try something new. For others, it's about connecting with other writers to share ideas and stories and to feel part of a community for a while, in this very solitary job that we do. For me, it's definitely a retreat, a place of quiet and solitude and some beauty, where I can throw myself back into what I do best without any nagging sense of all the other things on my to do list.
Of course, it also helps to have an eighteenth century Napoleonic recruiting inn and an early nineteenth century frigate thrown in for good measure.