On the anniversary of the Battle of Waterloo, there will be thousands of posts and articles about the battle and about the Duke of Wellington, many of them excellent, so instead to celebrate the occasion I thought I would share a letter from Lord Wellington from a different time period.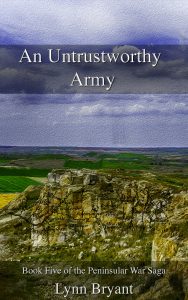 This is an excerpt from the final chapter of An Untrustworthy Army, book five of the Peninsular War Saga, in the aftermath of the horrendous retreat from Burgos. As such, it does contain some spoilers as to who survives, so if you're halfway through the books you may not want to read it.
The reason I've published it today, is because it includes a section of a memorandum sent out to the commanders of divisions and brigades by Lord Wellington on 28 November 1812. Lord Wellington, who features very prominently in my books, doesn't actually feature in this scene, but his voice can be heard loud and clear across 207 years. The text I've used here is quoted directly from the published memorandum. The comments of Colonel van Daan and Colonel Wheeler are all their own, and their language has not been censored.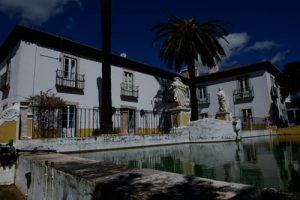 The Quinta de Santo Antonio was quiet, with both officers and men taking refuge from the appalling weather, as the creaking, ancient carriage pulled up beside the door to the main house. Gardens, pastures and barns were barely visible through torrential rain and Simon Carlyon scrambled down and helped Johnny out. They went directly into the main hall, dripping water onto the cracked tiled floor, and a familiar limping figure emerged from the kitchen region at the back.
"Colonel Wheeler. Good to see you back, sir. I'll get a couple of the lads to unload your baggage and take it up, you'll be in your old room."
"Thank you, Jenson. It's good to be back. Where have you put Mr Carlyon?"
"I'll show him; he's sharing with Mr Witham. Most of the officers of the 115th are in one of the estate cottages, but Mrs van Daan wanted Mr Carlyon in the main house. Come this way, sir. Colonel, why don't you go through to the office, Colonel van Daan is in there enjoying Lord Wellington's latest. If you're lucky, he'll read it to you. He's read it to everybody else he ever met, so it'll be nice for him to have a new audience."
Johnny grinned, allowing Jenson to take his wet coat. Walking was still painful but becoming easier with the use of a stick and he limped through an archway and found his way to the warm panelled room which had been used last winter as Paul's brigade office.
He found his commanding officer seated at the big table he used at his desk. Across the room, at a smaller table, was his wife, her dark head bent over a large book which appeared to contain medical notes. She was putting the finishing touches to a sketch of what looked like a spidery creature of some kind but what Johnny had a horrible suspicion might be some part of the human anatomy. He did not want to enquire which part. Anne sat back and surveyed her work with a critical eye, then nodded in satisfaction and added an annotation to the diagram.
Paul got up and came forward as Johnny saluted. "Come and sit down," he said, pulling out a chair as Anne got up and came to kiss Johnny. "You look a hell of a lot better than you did the last time I saw you."
"So do both of you," Johnny said, embracing Anne then lowering himself into the chair. "Nan, you have the most incredible powers of recovery; should you even be out of bed?"
"I would like to see somebody try to confine my lass to her chamber over something as trivial as childbirth," Paul said with obvious pride. "She does look better, doesn't she? Wait there."
He crossed the room and picked up a large wicker basket which had been beside Anne's desk and which Johnny had thought contained laundry. He was amused to see a tiny pink face, crowned by a few sparse tufts of fair hair, nestling among the linen.
"She is very pretty," he said, reaching out to touch the little fingers. "Georgiana, I understand? Wasn't she very early?"
"We think so," Anne said. "She gave us a bit of a fright to tell you the truth, I wasn't at all ready for this and I've never seen a child this small. But she seems very healthy. You may greet her properly once she's been fed; she's worse than her father for hunger, Will was nothing like it. How are you, Johnny, we've been so worried about you?"
"I'm very well now," Johnny said, watching as his commander returned the basket to its warm corner near the fire. "Glad it's winter quarters, though, there's no way I could fight like this, I'm limping like a greybeard."
"You'll recover quickly with rest and care," Anne said. "I'm going to take Her Ladyship upstairs for her feed and leave you two to talk. Is Simon with you?"
"Yes, I've sent him off with Jenson to unpack. Thank you for leaving him with me, he's been a blessing."
"I doubt I could have got him away, short of cashiering or shooting him," Paul said, going to bring brandy as Anne scooped up her child and left the room. "It's good to have you back, I've missed you."
"How's Lord Wellington?" Johnny asked innocently and Paul set the glass on the table with an unnecessary clink and looked at him suspiciously.
"Did Jenson tell you?" he asked and Johnny laughed aloud.
"Not much, only that he'd managed to piss you off again."
His commander sat down at his desk and picked up his glass. "I am over it," he said with great dignity. "After a few hours of complete fury, I have begun to see the funny side. Sadly, I suspect that is not a view which is going to be shared by every other officer in this army."
"What's he done?" Johnny asked.
Paul reached across the table and picked up a letter. "Settle back and enjoy," he said. "This is a memorandum which has been circulated to the officers of this army. Needless to say it is not going to stay within the officers of this army. I confidently predict it will be in every newspaper in London within the month and His Lordship's gallant officers are foaming at the mouth in sheer rage at the slur cast upon them. I won't read the first part, it concerns putting the army into cantonments for the winter and isn't that interesting. But it gets funnier." Paul drank some brandy, set the glass down, and began to read.
"I must draw your attention in a very particular manner to the state of discipline of the troops. The discipline of every army, after a long and active campaign, becomes in some degree relaxed, and requires the utmost attention on the part of the general and other officers to bring it back to the state in which it ought to be for service; but I am concerned to have to observe that the army under my command has fallen off in this respect in the late campaign to a greater degree than any army with which I have ever served, or of which I have ever read."
"Oh Jesus," Johnny said, setting down his glass. "Doesn't he know what happened on the retreat to Corunna?"
"Well he wasn't there," Paul said fair-mindedly. "But I can't see how he could have missed Badajoz. But it goes on.
"Yet this army has met with no disaster; it has suffered no privations which but trifling attention on the part of the officers could not have prevented, and for which there existed no reason whatever in the nature of the service; nor has it suffered any hardships excepting those resulting from the necessity of being exposed to the inclemencies of the weather at a moment when they were most secure."
Johnny picked up his glass and drank, thinking about the bodies he had seen lying by the roadside, pulled apart by animals and birds, often naked after looting by both the locals and their own soldiers. "Should I hear the rest of this?"
"Actually, you're obliged to; as your brigade commander – this is addressed to me, by the way – I am requested to share it with you."
"You don't have to enjoy it this much. My leg is aching again."
"Put it up," Paul said, shoving a wooden bench towards him. "Here, take this cushion and sit in respectful silence while I share the rest.
"It must be obvious, however, to every officer, that from the moment the troops commenced their retreat from the neighbourhood of Burgos on the one hand, and from Madrid on the other, the officers lost all command over their men. Irregularities and outrages of all descriptions were committed with impunity, and losses have been sustained which ought never to have occurred. Yet the necessity for retreat existing, none was ever made on which the troops had such short marches; none on which they made such long and repeated halts' and none on which the retreating armies were so little pressed on their rear by the enemy."
Johnny looked down at his injured leg, now supported on the bench on an elaborately embroidered cushion and said nothing as eloquently as he could manage.
"We must look therefore for the existing evils, and for the situation in which we now find the army, to some cause besides those resulting from the operations in which we have been engaged. I have no hesitation in attributing these evils to the habitual inattention of the Officers of the regiments to their duty, as prescribed by the standing regulations of the Service, and by the order of this army."
Johnny felt an unexpected wave of sheer fury sweeping through him. He wanted to get up and leave but it was too difficult to stand. Instead he said:
"Stop reading this fucking letter, Paul, before I thump you with this stick, I've heard enough. How dare he sit there pontificating about my officers, it's a good thing he's hiding behind his fucking desk in the village because I'd like to shoot the arrogant Irish bastard right through his thick skull."
Paul got up and went for more brandy. "You're really not right yet, lad, are you?" he said sympathetically. "I'm sorry, I should have waited, you can hear the rest another time. Have another drink."
"I don't want a drink. Do we get any right to respond to this bollocks? I lost five good officers in the almighty fuck up that he created because he was too lazy or too arrogant to make proper provisions for a siege and a fair few good men besides. And I lost Pat Corrigan, who was a friend. The fact that, to my knowledge, none of our men died of exposure or hunger on that hellish march is due entirely to the care and attention of my junior officers who kept discipline, kept the line, managed their men and shared their last morsel with the sick and wounded. As did, may I say, most of General Alten's light division. It's a bloody disgrace."
Paul put his hand gently on Johnny's shoulder and refilled his glass. "Johnny, calm down. I thought I was bad when I first read it, but this isn't like you. Don't take it personally, he isn't talking to you or me or any one of our officers and when I read this to them, because I'll have to, I'm going to make it very clear that they all understand that. He knows what we did. He wrote this in a temper without thinking it through and it's been sent to all of us because that's how it works. It's not aimed at you or me."
"It's still addressed to us though, isn't it?" Johnny said.
Paul nodded. "At some point, when he's calmed down, I'm going to point that out," he said. "He'll never back down or apologise, but he should at least be told the effect it's going to have on morale, the stiff-rumped, bad-tempered, long-nosed Irish bastard."
The tone of his commander's voice inexplicably calmed Johnny's fury. He drank more brandy and studied Paul. "Over it?" he queried and Paul laughed aloud.
"Getting over it," he said. "Gradually. Nan forbade me to go over there until I could read it from start to finish without one single expletive. Clearly I'm not quite there yet. Want to hear the rest or shall we leave it there?"
"You might as well finish it," Johnny said and Paul picked up the letter again and struck an oratorial pose.
"I am far from questioning the zeal, still less the gallantry and spirit of the Officers of the army, and I am quite certain that if their minds can be convinced of the necessity of minute and constant attention to understand, recollect, and carry into execution the orders which have been issued for the performance of their duty, and that the strict performance of this duty is necessary to enable the army to serve the country as it ought to be served, they will in future give their attention to these points.
"Unfortunately the inexperience of the Officers of the army has induced many to consider that the period during which an army is on service is one of relaxation from all rule, instead of being, as it is, the period during which of all others every rule for the regulation and control of the conduct of the soldier, for the inspection and care of his arms, ammunition, accoutrements, necessaries and field equipments, and his horse and horse appointments, for the receipt and issue and care of his provisions' and the regulation of all that belongs to his food and forage for his horse, must be most strictly attended to by the officers of his company or troop, if it is intended that an army, a British army in particular, shall be brought into the field of battle in a state of efficiency to meet the enemy on the day of trial.
"These are the points then to which I most earnestly entreat you to turn your attention and the attention of the officers of the regiments under your command, Portuguese as well as English, during the period which it may be in my power to leave the troops in their cantonments. The commanding officers of regiments must enforce the orders of the army regarding the constant inspection and superintendence of the officers over the conduct of the men of their companies in their cantonments; and they must endeavour to inspire the non-commissioned officers with a sense of their situation and authority; and the non-commissioned officers must be forced to do their duty by being constantly under the view and superintendence of the officers."
"Where is Carter just now, by the way?" Johnny interrupted. Suddenly he was beginning to be amused.
"No idea. Taking a holiday with his wife, according to Lord Wellington," Paul said. "We're going to need to draw lots to decide who is going to undertake the duty of constantly superintending Sergeant-Major Carter, by the way, because I am telling you now, it's not going to be me. Maybe Manson could do it, he likes a challenge."
"Get Michael to do it," Johnny said. "He used to be an NCO, he'll know all the tricks."
"He taught Carter all the tricks," Paul said. "But there's more."
"Jesus, what is this, a memorandum or a three volume autobiography? I'll be drunk by the end of it."
"You'll certainly wish you were," Paul said. "By these means the frequent and discreditable recourse to the authority of the provost and to punishment by the sentence of courts martial, will be prevented and the soldiers will not dare to commit the offences and outrages of which there are too many complaints when they well know the their officers and non-commissioned officers have their eyes and attention turned towards them."
Suddenly Johnny was laughing. "Well that definitely wasn't aimed at us," he said. "The last court martial for any member of the 110th that I can remember attending was yours."
"Shut up, or I'll damage your other leg," Paul said cheerfully. "The commanding officers of regiments must likewise enforce the orders of the army regarding the constant, real inspection of the soldiers' arms, ammunition, accoutrements and necessaries, in order to prevent at all times the shameful waste of ammunition and the sale of that article and of the soldiers' necessaries. With this view both should be inspected daily.
"In regard to the food of the soldier, I have frequently observed and lamented in the late campaign, the facility and celerity with which the French soldiers cooked in comparison with those of our army." Paul had begun to laugh as well, now. "Mind, they use far too much garlic in it, you can smell them for miles when they're trying to skirmish unobtrusively."
Johnny was leaning back in his chair, tears of laughter running down his face. "George Kelly," he croaked. "Can I be there when you tell him he can't light a fire and get a meal cooked fast enough?"
"Once again, that duty is not mine. I'm delegating all of this to my officers and as my second-in-command, you get Kelly all to yourself. Stop it, you're going to choke yourself."
"I can't help it," Johnny said. "Is there much more?"
"Of course there is. Given Hookey's attention to detail, you cannot think that he doesn't go on to explain exactly what the men are supposed to do to improve the speed of their cooking; he's an expert, you see him out there all the time with a mess kettle and a pound of beef in his hands. Do I need to read that part? He also explains how we should run field exercises and march ten to twelve miles a week to keep them fit."
"Is that all?" Johnny wheezed. "It's a holiday he's offering them."
"I'll skip to the end; I'm worried about your health, here," Paul said. "But I repeat that the great object of the attention of the General and Field Officers must be to get the Captains and Subalterns of the regiments to understand and perform the duties required from them as the only mode by which the discipline and efficiency of the army can be restored and maintained during the next campaign."
Paul put the letter down, picked up his brandy glass and raised it. "I give you the Commander-in-Chief, Colonel Wheeler, in all his wisdom."
Johnny drank the toast. "Thank God that's over," he said. "But seriously, Paul, this is going to send morale into the dust."
"Morale is already in the dust after Burgos. This is just going to trample on it a bit. But they'll get over it." Paul set his glass down. "And of course, he's right."
Johnny studied him, thinking about it for a long time. "Yes, he is," he said. "Just not in your brigade."
"Our brigade, Johnny. Which is why we train all the way through winter quarters, keep them fit and healthy and teach the new recruits to throw up a camp, light a fire and cook a meal in half an hour. And since Alten took over, the rest of the light division is fast catching up, he's an obsessive German perfectionist and he rides the lines as often as I do, which I love about him. Hill is very good. But a lot of the others don't do it and because they don't, it filters down. Wellington has been a complete arse about this, he should never have done it this way, especially after what they've just been through, but he is right about some of it."
"This wasn't the way to get them to listen," Johnny said. 
"No. And I think by now he knows it, he'll have calmed down. He won't retract a word of it but he'll probably find some other poor bastard to do the pretty with them and jolly them along and try to get the officers to understand what he's really trying to say in the middle of all that scathing invective."
There was another silence. "So when has he asked to see you about that, then, Colonel?" Johnny said.
"Thursday," Paul said in hollow tones. "He has written with orders for me to speak at a general meeting of divisional and brigade commanders to explain how we do what we do and what they should do to achieve the same. The letter came earlier."
"Oh bloody hell," Johnny said. He was trying not to laugh. "You are about to be the least popular officer from here to South America. He's going to stand you up there, wave that letter and point and by the end of it they'll be thinking he wrote that with your enthusiastic support and encouragement."
Paul picked up his glass. "And once again they will be referring to me as Wellington's Mastiff, and dreaming up ways to get the French to shoot me," he said. "Pass the brandy again, will you, Colonel?"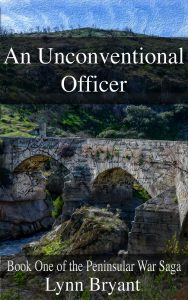 The Peninsular War Saga is available on Kindle and will be available in paperback later this year.