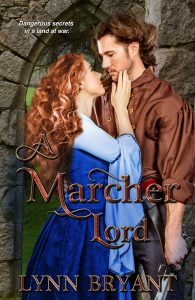 A Marcher Lord is set in the lawless world of the Anglo-Scottish border in the sixteenth century.  England has invaded Scotland, intending to seize the baby Queen of Scots and to marry her to King Edward VI, and amidst shifting loyalties and secret treason, William Scott, Baron Crawleigh holds loyal to the Scottish crown from his border stronghold.  In search of an English courier and possible double agent he finds instead an English girl riding through a country at war, a girl who refuses to give him her name.
Jane Marchant has grown up among the mercenary bands of Europe, a girl not new to a war torn land.  Thrown into the hands of Lord Crawleigh she finds a home among his people and a place in his heart.  But with both sides wanting the information she holds, how can she know whom to trust?
A Marcher Lord is a story of love, war and shifting loyalties among the riding surnames of Tudor Scotland and England, where kinship mattered more than kings and nations and men lived by the sword and by their wits.
What the Reviews say about A Marcher Lord
"Brilliant book. Feisty females all mixed up in border skirmishes – and war. Nicely drawn and well researched. Must admit to more than one night reading until 3am! Enjoyed it hugely."
"This book is everything that I enjoy. A little known part of history well told, with excellent characters and lots of action!"
"Nice strong heroine and hero. Great detail with regard to the turbulent history of the border between England and Scotland."
"Terrific story with wonderful characters…there is far more to this book than the battlefield though as a wide streak of humour and wit runs through this story like the Thames runs through London, and more than one romance keeps things sizzling. For me, this book is a keeper…her descriptions of the landscape are so vivid one doesn't just see them, but is actually there, riding through with the characters…great story, fabulous characters, great setting, well-written and edited. What more could a reader ask?"
"A fierce heroine out on a rolicking adventure through southern scotland at the dawn of gun powder and the twilight of archery. Great story"
Background and Settings of A Marcher Lord
The Anglo-Scottish borders is one of my very favourite parts of the world, and I have been reading about the history of it since I was a teenager. When I first attempted to write historical fiction, I wanted to write a book set in these lands during this period. It is a long way from Wellington's Peninsular army, but as with all of my books, I can trace a direct line from these early characters down to those in my series. Will Scott is a soldier, a man loyal to a cause and to his people; Jane is a courageous and clever woman and a healer. It is not hard to see where I was going with this.
I've visited the borders many times and writing this book was very easy with regard to the settings. As always I've made changes and adaptations to suit my story, but in my mind's eye, I know the location of Crawleigh and Etterdale and can picture the road Jenny took on a wet day in 1547 when she rode out to meet her destiny.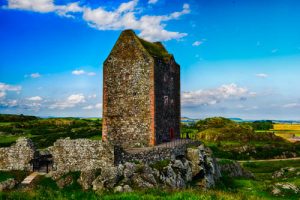 Crawleigh Castle is located not far from Jedburgh, but the countryside I have in mind when I describe it in the book, is that of Smailholm Tower. Smailholm itself is smaller than Crawleigh, but its location on high ground, overlooking the surrounding area, is perfect, and going back there after the book was written I can stand at the top and see, laid out before me, the location of the fields, the cattle pens and the mill house.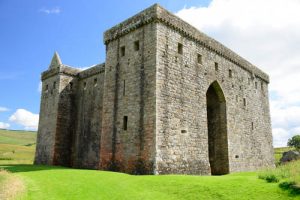 Crawleigh Castle itself is an amalgamation of several Scottish castles, but for the air of brooding menace when Jenny first sees it, my model is the Hermitage. Even on a brilliantly sunny day, this dour border fortress gives a warning to strangers and would-be attackers to beware. On a misty afternoon in October, when I first saw it, it is frankly threatening.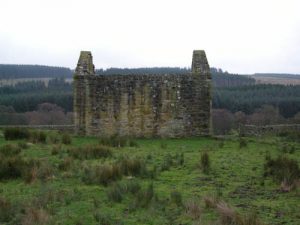 Etterdale, the home of Jenny's brutal uncle, is described as a fortified manor house. In reality, it probably began life as a Bastle House, those formidable structures with thick walls, small windows and sturdy outer defences. Over the years some of these were extended to create bigger homes, but they remained primarily defensive structures, designed to deter the depredations of the Border Reivers. This is one of several examples at Black Midden, which is close to the fictional location of Rutherford's hall in the book.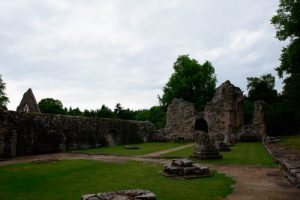 There is a ruined abbey close to Crawleigh in the book, which is based on several beautiful ruins on the borders. My favourite is the quiet crumbling stone of Dryburgh Abbey, pictured here, although Melrose and Jedburgh are equally worth visiting.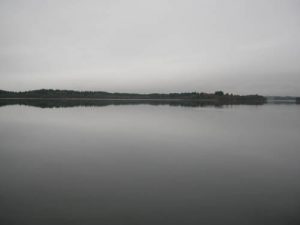 When Jane is summoned to Court, the Queen Dowager and her baby daughter are hiding out on an island in the middle of the Lake of Menteith. There was a priory at Inchmahome as well as a house. It is still possible to visit the islands during the summer but I've never so far managed to get there at the right time, although the ruined buildings are visible from the shore.
There are so many beautiful places on the borders; it's impossible to include them all. I owe a huge debt in my research to the legendary George MacDonald Fraser for his brilliant book The Steel Bonnets charting the history of the Border Reivers and for giving a fledgling writer some much needed encouragement towards the end of his life when he was living on the Isle of Man.
I'm actually quite proud of A Marcher Lord. It was always intended to be part of a series itself, and although the Peninsular War Saga has currently taken over my life, I would still like to go back to Jenny and Will one day to find out what happened next. I've had some lovely messages from readers who have read it simply because they've worked their way through the rest of my books and have unexpectedly fallen in love with the Borders.
An Excerpt from A Marcher Lord
In this excerpt, Jane who is currently being held prisoner at Crawleigh Castle has given her parole and is given a tour of the castle by Bangtail Stewart, one of Crawleigh's retainers.
Jane left Clem sleeping peacefully, his grateful and astonished father and sister by his side.
As they walked from the stable block, Bangtail said:
"I'm given to understand you'll be with us for a wee while.  Would you like to see the castle?  As you're in some sort our guest."
Jane shot him an amused glance.  She had no idea why this tough, cynical borderer had constituted himself her champion, but she was grateful.
"I'd like that.  And it will give the rest of the household the chance to observe my new status – as guest, will it not?"
"Aye – I had that thought too," her escort said innocently.  Jane met his eyes and laughed.
"You're a rogue, Bangtail Stewart!  God help us all if you take to reiving!"
"I'd thought of it," Bangtail said wistfully.  "But my lord is dead against it, y'ken.  Now up these steps and into the hall."
The castle was built around a traditional square keep, with four towers, the additions of later owners.  There were two cellars which were used for storage, essential in an extended siege.  Jane ran her eyes over the neat rows of barrels and approved Crawleigh's winter stores.  Above them, reached by the outside staircase, was the main hall, in which much of the daily business of the castle took place.  Meals were eaten there, Crawleigh preferring to eat with his people as her uncle did, although Jane knew many of the gentry who chose to eat separately in a private dining room.
The next floor up was the long room which was known as the gallery.  It was here that Crawleigh entertained privately, when he wished to, and it had become the informal parlour for Crawleigh and his cousins.  The windows were small but with comfortable window seats strewn with cushions, and there was a long table which could be used for dining.  The upper floor was Crawleigh's private chamber which combined a bedroom and an office for the lord of Crawleigh.  It was to here, Jane supposed, that he would retreat if he needed privacy and peace.
Access to the four towers was from the main hall by individual stairways.  One of the towers was given over to bedrooms for family members, of which Jane's was the top room.  The small door in the corner of her room gave access to the top of the tower and the battlements which ran all the way around the hall.  Gilmartin and Scott also had their apartments in this tower.  The west and east towers provided quarters for those men at arms and servants who lived in the castle, although most of those with families lived in the settlement surrounding the castle.  The south tower was known, somewhat grimly as the prison tower, and Bangtail did not volunteer to conduct Jane around it.
"Although mostly it's used for storage," he said reassuringly.  "Apart from the dungeons, of course.  Too damp there."
"I suppose I should be thankful I didn't end in one of those," Jane said.
"Och, we'd never put a lassie in there.  We reserve those for Armstrongs and Elliotts," Bangtail said with a grin.  "Helps to frighten the rats away, too."
Jane grinned.  "Saves calling the rat catcher," she said.  "They're not loved in these parts, those families."
"Thieves, murderers and reivers to a man – and those are the best of them," Bangtail said.  "They could burn out Liddesdale 'til doomsday and some of those bastards would still make it to the 'Bateable land and continue raiding."
"You're close enough to Liddesdale here.  Do you have much trouble?"
"From time to time they'll raid the villages.  But they try to stay clear of our tenants.  Master might look soft in the head at times, but let them touch one of our beasts or his tenants' beasts and he'll make 'em wish they'd drowned at birth.  He can be a ruthless bastard when he chooses, the master."
"And does he reive?"
Bangtail grinned.  "It's clear you've been here long enough to know that's not such a silly question.  Many a lord and a gentleman here are as bad as the Armstrongs, and I include some of the Wardens among them!  But the Crawleighs are honest – some would say too honest for their own good.  They've served the crown loyally for generations, they take only what's due to them and they defend their lands and their people."
"Are there many like them?"
"Some.  Not enough, or we'd not be in the mess we're in now.  When Harry of England lost his royal Tudor temper with Scotland he found plenty of Scots to take his side.  Some for money, some for power, and some out of sheer desperation because they'd been burned out once too often."
"It's a hard way to live," Jane commented.
"Aye.  Breeds a tough kind of man.  Or woman."  He eyed her sideways.  "One who'd be fool enough to try to swim a river in flood rather than surrender."
Jane laughed.  "How was I to know you weren't Armstrongs or Elliotts?" she countered.
"Aye, that's so.  A good choice, all in all.  You were lucky – although you may not think it.  
"I'm alive and unharmed.  That's always counted for luck with me."