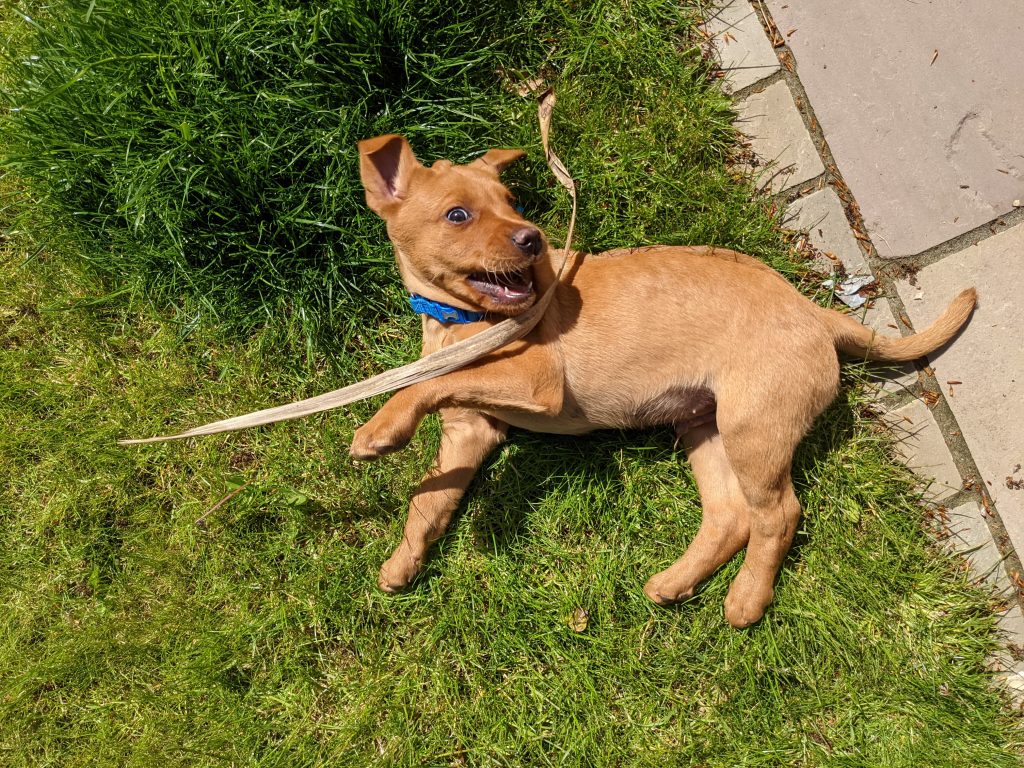 Alfie came into our lives in May 2021, a ray of sunshine and hope after a long, very dark time.
After Joey died in December 2019 I couldn't think about another puppy immediately. Joey's death hit me very hard, but I knew from the start that I would want another Labrador. What I didn't realise was that in 2020 everything was going to change. With the restrictions of lockdown, the closure of the Isle of Man border and the rapid expansion of home working, suddenly everybody wanted a puppy. Prices went through the roof and local breeders had future litters reserved for years ahead. In addition, it would be impossible for me to travel to pick up a puppy as I had with Oscar.
In some ways this added to the awful claustrophobia which made the restrictions so difficult for me. In other ways, I'm not sorry there was a longer delay. It gave me a lot of one on one time with Oscar and we became very close during that long, miserable year.
At the beginning of 2021, things improved a little. My daughter was finally able to return to University, and some travel was possible. Trying not to get my hopes up, I started to look around for litters, trying not to flinch at the prices. I wondered about a rescue dog, but couldn't find one that could be rehomed with a lively three year old Labrador and a very hectic household.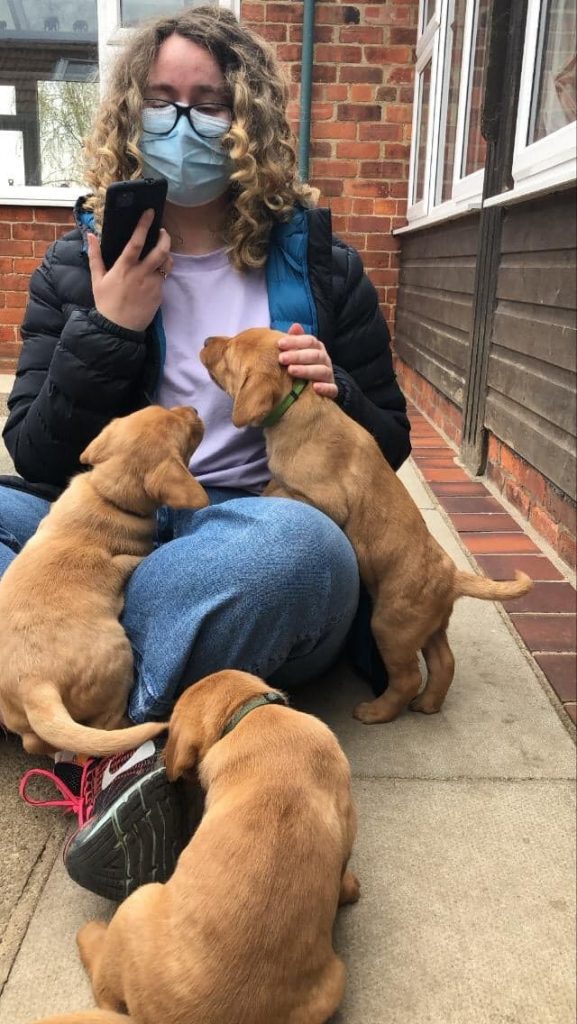 Then I found Matthew. Matthew was a kennel club registered breeder who lived very close to York, where my daughter now lives. I rang up and discovered that male puppies were available, and within my price range. I'd been saving for a year. It's hard to be sure over the phone, but Matthew sounded all right to me, and more importantly, his first concern seemed to be for the puppy – how would we transport him all the way to the Isle of Man and was it really okay for a nineteen year old to choose a puppy and make the arrangements. I just sent him Anya, and figured he'd get the point once he met her.
Matthew was legitimate, the puppies were gorgeous and Anya selected her favourite. She doesn't drive yet, but my son's wonderful girlfriend Rachael came to the rescue, and offered to go over to pick up some of her stuff from Uni and collect Anya and the puppy at the same time. This time, we didn't have a vote about the name. I'd wanted Alfie before and been outvoted. This time, I insisted.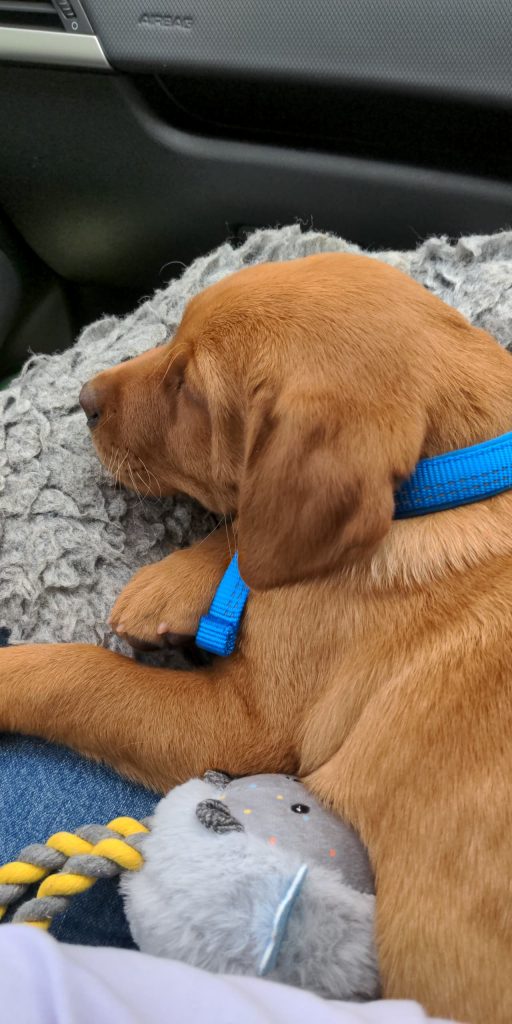 Alfie spent his first night away from home in Anya's shared house in York, where he was the subject of momentary stress then a lot of adoration. I got regular updates through the car journey the following day, and I have to say I wasn't worried about them at all. I knew my puppy was in the best hands. Of course by the time he arrived, Alfie was Anya and Rachael's puppy, but he was kind enough to allow the rest of us to adore him as well.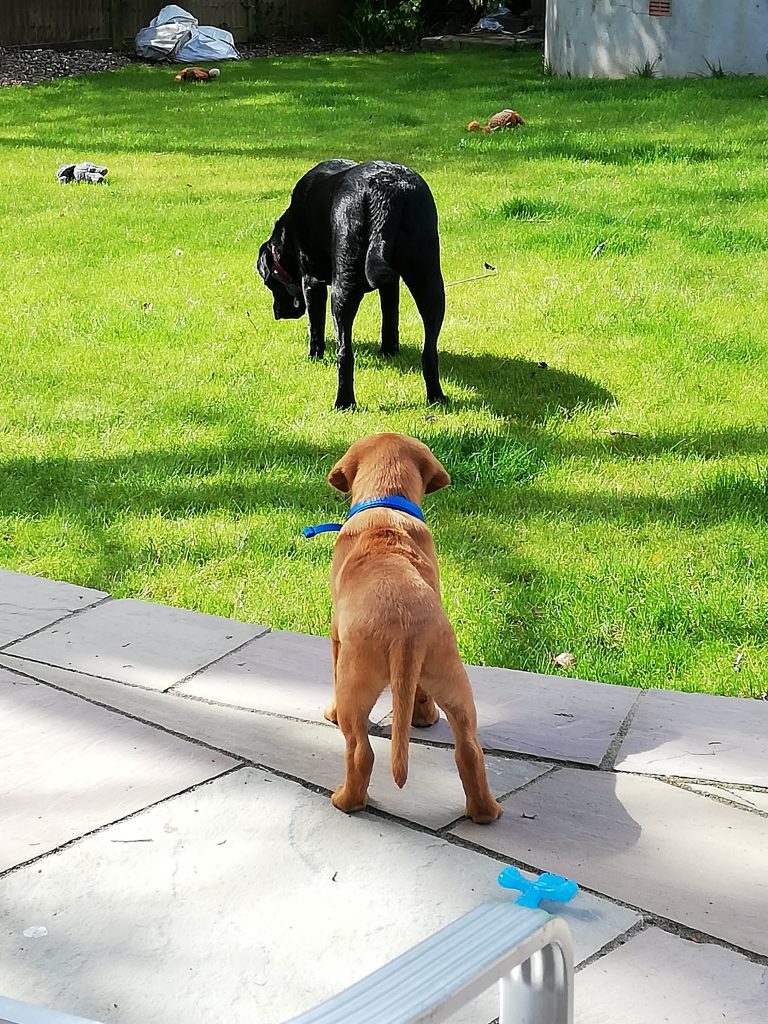 The first twenty-four hours between Oscar and Alfie was very cautious. Oscar was desperate to play, and Alfie was very curious but a bit nervous. He followed Oscar around but when Oscar got too enthusiastic, he ran away and hid behind Anya. It was very funny to watch.
On the second day, Alfie officially arrived and we had a glimpse of his true personality.
Alfie is a Chaos Demon.
Not since Toby first bounded into our lives have we had to deal with anything like this. Alfie eats skirting boards, sofas and Oscar's collar. Regularly. He turned his nose up at the idea of sleeping in a crate, and though we persisted for five months, eventually the lack of sleep got to all of us, and Alfie was released from gaol and allowed to roam free. 
We've had to ban the dogs from the living room unless we're in there with them, because Alfie chewed the Indian silk woven rug (sob). There is now a full sized child proof fireguard around the TV and associated wiring. Just in case he breaks in.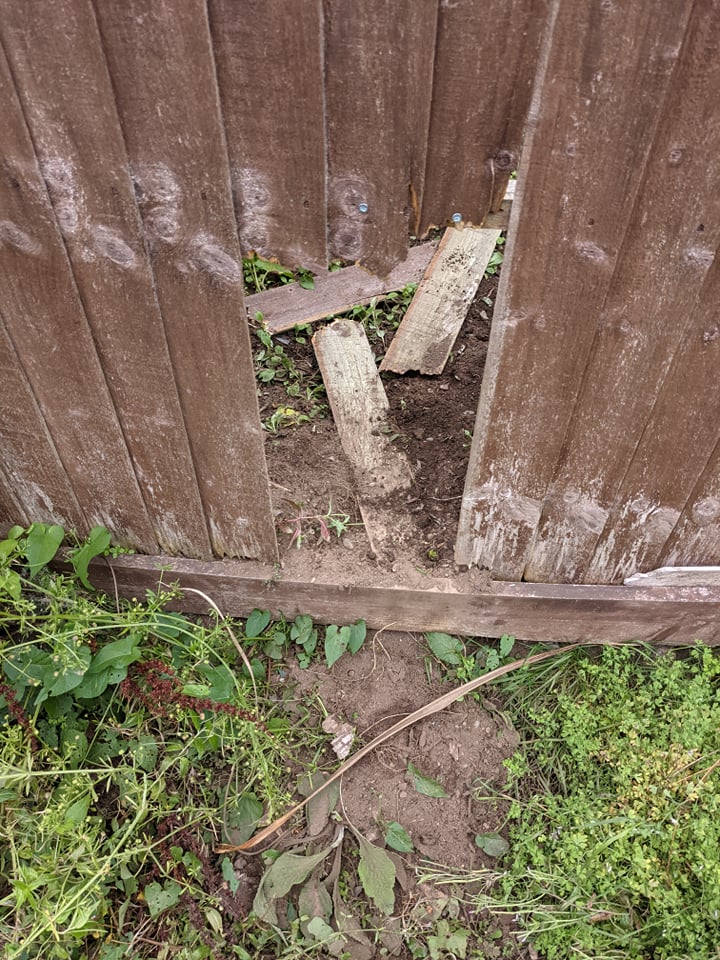 Alfie loves to escape. Our back fences, only a few years old, now have a patchwork look because of the number of times we've had to board up gaps as he's eaten his way through. Chicken wire has turned out to be the answer and we're working our way round. Interestingly, Alfie never goes far. He doesn't want to run away, he just wants to prove he can do it. On one occasion, he was found to have been swimming in the garden pond of a neighbour further up the road.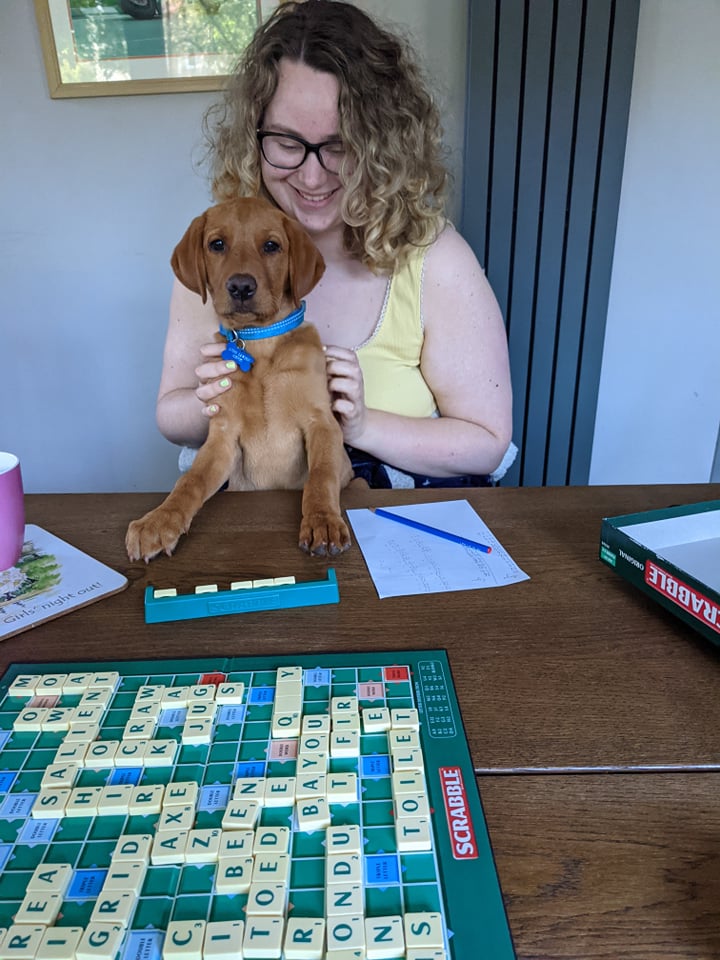 Alfie is hugely affectionate. He has his favourites, mind, and her name is Anya. When she leaves to go back to Uni, Alfie sulks for three days. When she returns, he hurls himself into her arms as if he's not seen her for twenty years. Mind, he does the same if she goes upstairs for a couple of hours. Alfie lacks a sense of time.
There are some things Alfie does very well. Like Oscar, he has an excellent recall and will come back even under the most distracting circumstances. This is SUCH an improvement on Toby, and to some extent Joey. It makes taking them out a real pleasure. He's also very good in the car, and never tries to climb over seats to join me in the front.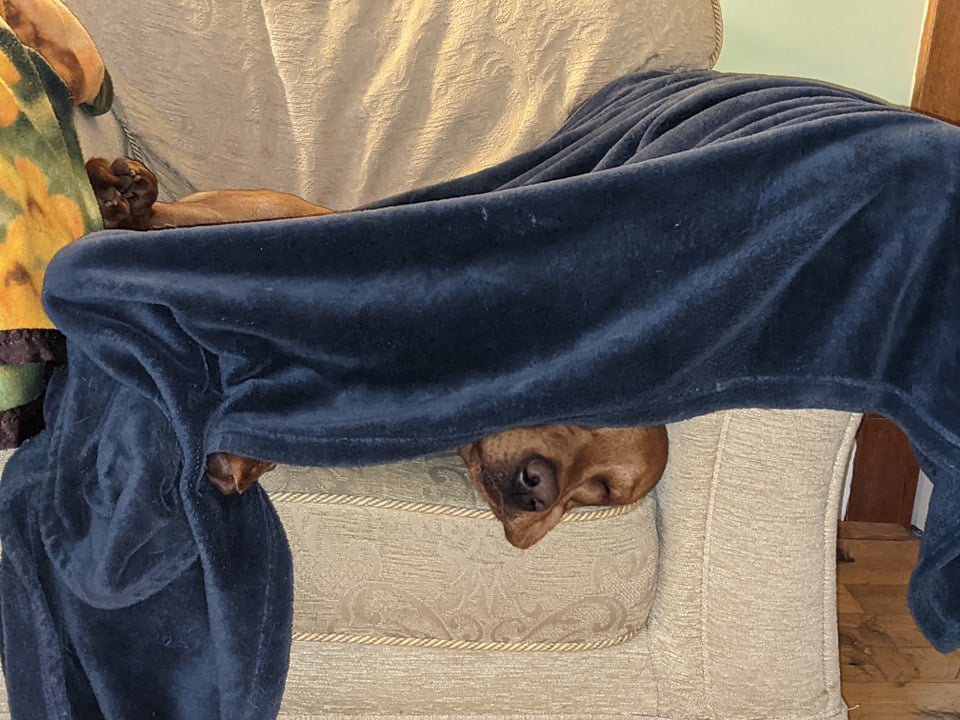 Alfie has been a joyous addition to Writing With Labradors. He's made himself right at home. Living with a Chaos Demon can be a challenge, but we think we're up to the job, and we know that the wildest young officers can settle down and become steady, responsible members of the team.
At least, we really, really hope so.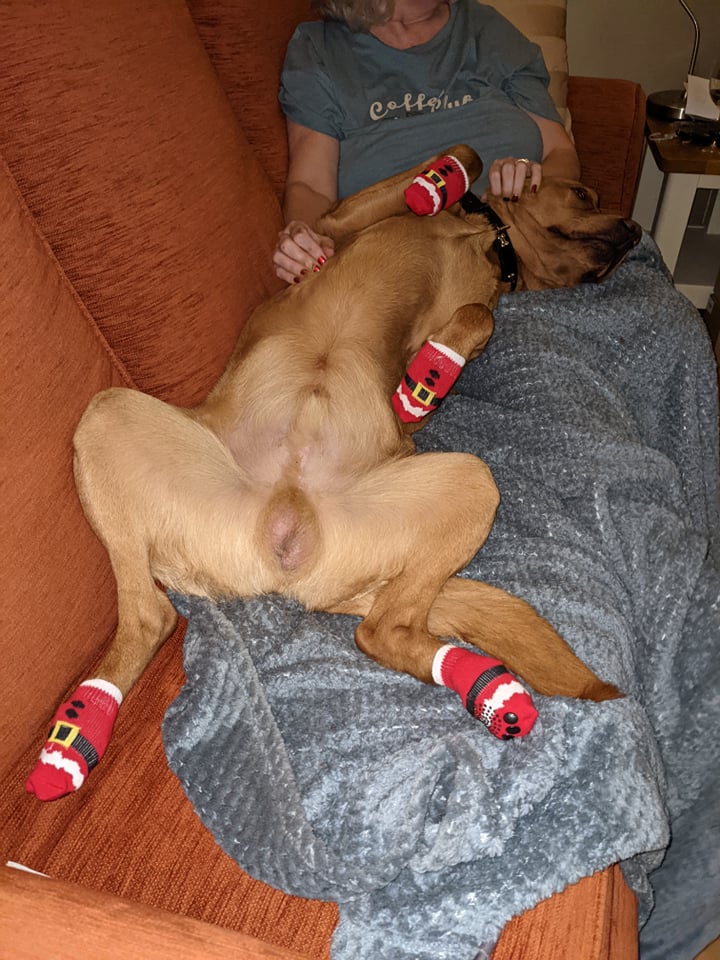 Watch this space for more adventures with Alfie over the coming years. And a lot of cute photos…