An Unmerciful Incursion….an early snippet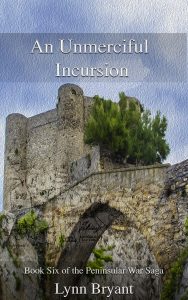 This is the opening scene of the new book, an Unmerciful Incursion, book 6 of the Peninsular War Saga. It's due out on 31 July 2020 and I can't wait.
We're in winter quarters in 1812-13 and the Royal Scots Guards are having an unusually bad day…
Captain Leo Manson was hungry. He had been aware for some time of his stomach growling, but the sound was becoming audible now, or it would have been, if there had not been so much noise on the parade ground. The noise was rising steadily, a combination of marching feet, shouted orders and the quiet grumbling of officers and NCOs who were aware that it was past the dinner hour. The bugle had called some time ago, and the major who was theoretically supervising the drill had hesitated and shot an uncertain glance towards Manson and his companion, who had shaken his head without speaking. Major Beaumont signalled for the drill to continue, but the interruption seemed to have affected the troops, and the manoeuvres, which had been looking considerably better, were deteriorating again.
"To the right, wheel! March!"
The men on the right of the rank stepped off, turning their eyes to the left. Manson watched, hopefully. For the first few steps, things seemed to be going well, but as the movement continued, he realised that some of the troops had forgotten to lengthen their steps. To maintain the wheel in perfect order, each man needed to pay attention to the exact length of his stride or the wheel would fall apart very quickly. It did so, before Manson's gloomy gaze, with several men treading on those in front of them, and others scrambling in a series of quick, untidy steps to catch up. The celebrated first battalion of the Scots Guards looked like a draught of militia recruits during their first drill session and Manson gritted his teeth to stop himself intervening, silently pleading with the officers to stop the manoeuvre before it got any worse.
"Halt!"
The bellow was so loud that Manson physically jumped, even though he knew it was coming. The battalion stopped in its tracks, apart from several men caught in mid-step who cannoned into their comrades, causing a series of collisions which shoved one man out of the front rank on his own. The private froze, recognising his isolation, and looked desperately at his sergeant, who glanced at the nearest officer before jerking his head to indicate that the private retreat. The man made his way back into the line in a sideways shuffle which made Manson want to laugh aloud. Manson's companion said a word under his breath which was inappropriate for a senior officer on the parade ground and strode to the front of the battalion with the air of a man driven beyond his endurance. Manson, who had served under Colonel Paul van Daan of the 110th light infantry for more than two years, forgot about his rumbling stomach and just prayed that his commanding officer did not hit anybody.
"You, what's your name?"
The hapless soldier who had just made it back into the line, stared at the colonel, his mouth open, but no sound came out.
"Step forward."
The man did so. Paul van Daan moved closer and inspected him from head to toe with ruthless thoroughness, then held out his hand.
"Musket."
The man hesitated, and his sergeant, who seemed to have regained his wits, stepped forward. "Andrews, the officer of the 110th wishes…"
"Enough!" Paul roared, and the sergeant jumped to attention. "Andrews, give me the bloody musket before I take it from you and shove it where it will never see the sun. Sergeant Bolton, step back, I've not given you an order."
Andrews handed over the musket. He was sweating in fear, and Manson felt a twinge of sympathy for the man. Paul turned the weapon over in his hands, inspecting the touch hole, the lock and then the entire weapon very thoroughly. When he had done, he handed the musket back to Andrews who took it and returned to attention, staring woodenly ahead.
"Well, Private Andrews, it's clear you were paying attention when they taught you how to keep your musket in good order, even if you missed basic drill training. When did you join?"
"August, sir."
"When did you arrive in Portugal?"
"October, sir."
"Well you were bloody lucky you didn't arrive earlier, you missed the worst retreat since Corunna. How much drill training have you had, so far?"
"Sir." Andrews shot an agonised look towards his captain, who was watching the little drama with a thunderous expression. Paul followed his gaze and Manson saw a faint smile.
"Never mind, you can't really tell me you've had virtually none, can you?"
Paul turned away and walked to the front, surveying the battalion. His voice had a carrying power which any drill sergeant would have envied.
"Major Beaumont. Your officers will be missing their dinner. Why don't you go on ahead, I want a word with the battalion and then I'll join you."
There was a rustle of disquiet among the men as the officers left. Colonel van Daan waited until they had gone, then turned back to the men.
"Sergeant-Major Clegg. Separate out the new recruits, get them lined up over there. And get a move on, I'm so hungry my belly is sticking to my spine. Private Andrews, lead them out."
Manson watched their faces as Paul began to shout out orders, and he wanted to smile. He had seen it happen many times before. Within minutes, the drill was running, and with only experienced troops, it ran very well. The NCOs, visibly relieved at being able to demonstrate how well their men could perform, kept the movements tight, and the companies worked well together. Paul watched, calling out an occasional order, but mostly left the NCOs to their work. Once it was evident that the Royal Scots Guards were moving smoothly, Paul crossed to where the new troops stood watching in miserable silence, and Manson saw Paul put his hand on Andrews' shoulder. He was speaking to him, pointing out what was happening in the manoeuvre, and Manson could see the man relaxing. Paul said something and several of the men around him laughed.
When the drill was done, Paul called the new recruits back into line. "Well done," he said. "I'd a feeling you were better than that. Don't get arsey with the new lads, we were all there once and they'll learn quicker if you work together. I'm pleased that I'll be able to report back to Lord Wellington that the Scots Guards are still the men who proved their worth at Salamanca. Is anybody hungry?"
There was a murmur of laughter and then somebody cheered. Paul grinned, and taking it as permission, the battalion yelled to a man, driven, Manson thought, not only by the thought of dinner but by an unexpected sense of camaraderie. Paul gave the order to stand the men down and walked over to Manson.
"Do you think we're going to get any dinner?" he asked.
"I'm not sure, sir. That went very well, though."
"Yes, they're good lads."
"They're good officers as well, sir."
"They might be, Captain, but if they've done more than a couple of hours worth of work with their new recruits this winter, I'll be very surprised. Don't look at me like that. I'm going to go in there, explain his Lordship's instructions and be really, really tactful. I give you my word."
Manson watched as the tall, fair figure walked towards the solid farm building which currently housed the battalion officers' mess and felt his heart sink. Colonel Paul Van Daan could manage the enlisted men and NCOs better than any officer Manson had ever seen, but his attitude towards a commissioned officer whom he suspected of shirking his duty frequently left chaos in his wake.
"Captain Manson, where the devil are you? Get in here, I'm hungry."
Manson sighed and followed, reflecting that whatever the atmosphere in the mess, there would at least be dinner.
The atmosphere was uncomfortable enough for Manson to be happy to miss breakfast the following morning. It was approximately thirty miles from Guarda, where the first division was in cantonments, to Freineda where Wellington had his headquarters. Paul, Manson and Sergeant Jenson, Paul's orderly, were travelling light and made good time. They stopped in the little village of Braga where a farmer made up for the lack of an early meal with excellent fare and a wealth of local gossip. He and Paul were clearly old acquaintances and Manson ate in silence, trying to follow the conversation which was in rapid Portuguese and seemed to consist of a series of enquiries about members of the farmer's extended family. Back on the road, Paul was considerably more cheerful.
"I've known old Barboza since I was out here under Craufurd a few years ago, he was always good to us. Much better manners than the officers of the Royal Scots Guards, I must say."
"Sir, you threatened to punch one of the officers of the Royal Scots Guards."
"Only after he challenged me to a duel," Paul said composedly. "A challenge which I nobly resisted. I wonder if he'll complain to Lord Wellington?"
"I expect he's already written the letter, sir."
"Perhaps Wellington will be so furious that he'll remove me from this assignment," Paul said hopefully. "I'm not at all suited to the job."
Manson could not help smiling. "You are suited to the job, sir, you just hate doing it."
"I hate being away from my wife," Paul said. "She's barely out of her bed after giving birth, and given what a horrendous ordeal that proved to be, she shouldn't be out of her bed at all. But we all know that she won't give a button for the list of instructions that I left for her and is probably doing something highly unsuitable without me there to keep an eye on her."
"Sir, she'd be doing that even if you were there."
"You know her very well, Captain." Paul shot him a smile. "I'm glad I asked you to come with me, Leo, it's been good to get some time with you."
"Me too, sir. It's been a mad few months."
"It's been a mad few years."
Manson could not disagree. He had arrived in Portugal with the 112th infantry, and his early introduction to army life and in particular to Colonel Paul van Daan had not been easy, but both Manson and Paul had persevered. Two and a half years later, Manson was captain of the 110th light company and enjoyed a close friendship with both Paul and his young wife, who travelled with the battalion.
Paul was currently in command of the third brigade of the light division, under its Hanoverian commander, General Charles Alten, but during winter quarters, had been given an unwelcome secondment by Lord Wellington to tour the various divisions of the army, inspecting training and combat readiness. Manson was not entirely clear about Paul's remit and he did not think that Paul was either, but after only a few weeks it was obvious that some of the officers of Lord Wellington's army were furiously resentful about his interference in the running of their battalions. Paul's friendship with Wellington, and his past record of taking on jobs that no other officer in the army wanted to do, had led to him being nicknamed Wellington's Mastiff several years ago. Manson had heard the sobriquet again recently, and not in an affectionate way.
If Paul cared, he gave no sign of it. Manson thought that his commanding officer was more concerned with the problems he was finding with training and discipline in some of the divisions, than with his own unpopularity. Another officer might have treated this job as a sinecure, sending glowing reports back to Wellington on every occasion and making friends throughout the army but Manson knew that Paul would do no such thing. He treated each inspection as a personal quest to improve things and Manson was exasperated both with his over-conscientious colonel and with Lord Wellington who had set him an impossible task. To make it worse, many of the officers he was dealing with, were of higher rank than he, and resented advice and recommendations from a mere colonel.
An Unmerciful Incursion is available to pre-order on Amazon here.