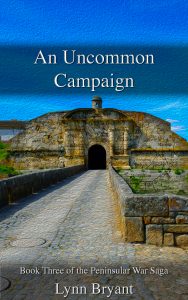 The Battle of Fuentes de Onoro took place in May 1811 on the border between Portugal and Spain as Lord Wellington led his army to invest the fortress of Almeida.  Much of the action took place in the narrow streets of the village, with brutal and bloody hand to hand fighting.  The battle is at the heart of An Uncommon Campaign.
Wellington admitted himself once the battle was over that it had been a near-miss.  He had extended his line along a ridge above the village with the intention of keeping his potential line of retreat back to Lisbon open, but on this occasion he over-extended himself and the newly formed seventh division found itself stranded out on his right, under huge pressure from the French.  Massena was desperate for a win, knowing that his difficulties over the past year had left him unpopular with his Emperor and victory for Wellington was by no means certain.
His right was saved by the light division.  General Robert Craufurd had been on leave in England for several months and Wellington's crack troops had been under the leadership of the disastrous Sir William Erskine who had made a number of atrocious mistakes.  After Sabugal, Wellington moved Erskine over to the fifth division and Craufurd arrived back with his men on the battlefield on the eve of the battle and proceeded to show the army how it was done by performing an outrageously perfect fighting retreat over several miles of open country under constant attack in order to rescue the beleaguered seventh division and shift Wellington's line to something more defensible.
In the novel, the final square in this retreat was commanded by Colonel Paul van Daan of the 110th who encounters a French cavalry colonel whom he had met a few days earlier during skirmishing out on the road towards the village…
Thatcher had wheeled his horsemen again and was bringing them round to take a pass back at the guns which Dupres had ordered up against the 110th. Even at a distance, Paul could hear him calling his cavalrymen into line and he felt a surge of sheer horror as he realised.
"Jesus Christ, he's going to cut them off! The rest of his men are behind that outcrop!"
He ran towards Nero and swung himself into the saddle yelling, but the Allied cavalry had already begun to gallop towards the guns, sabres ready. The gunners were limbering up and preparing to move, and Paul saw Dupres swing around and give a signal. To the rear of Thatcher's small troop, a mass of French cavalry appeared, and Dupres galloped his men forward, trapping Thatcher's men neatly between the rocky ridge and the solid lines of the 110th. They were vastly outnumbered, and half of Dupres' men were armed with lances. Paul felt his guts twist in horror. The only possible help he could give would involve opening his square and once it was broken, the French would be in and his men would be slaughtered.
Paul swung around. "Carter, four ranks. Hold square, but back three ranks loaded and ready. Take out every one of them you can."
Thatcher had realised his danger, but there was no option but to carry on. He raised his sword and pulled out at the head of his men, thundering down towards Dupres and his cavalry. Paul slid from Nero's back and ran to the side of his square nearest to the approaching cavalry. He placed a hand on the shoulders of the nearest men.
"On my word," he said softly. "Open up."
He saw Carl look over, appalled, but he did not look back at him. Around him the rifles and muskets had opened fire, and Dupres cavalry were beginning to fall. Paul stood waiting, watching the Allied cavalry approach.
"Now," he said, and his square parted.
Thatcher saw the move and Paul saw him haul back on the reins with a yell. His horse reared up and he was shouting orders. His troopers wheeled sharply right and rode into the centre of the square, pulling up quickly and shuffling close together to make space. Paul found that he was counting them in as his men continued to pound in three ranks into the approaching French cavalry. The centre of the square was becoming crowded but the horses and men were highly trained and stood very still, leaving space for more. Paul watched, his heart in his mouth as Dupres' men moved in towards the gap. There were fewer of them, but he knew he had only moments left before they broke into the square. Looking up he saw Thatcher watching, and then the boy looked over at him. There were twenty cavalrymen still outside the square. Thatcher lifted his hand and then wheeled and yelled to his men. Paul watched in sick horror as the men thundered away, galloping on towards Dupres.
"Close it!" he yelled.
The gap closed smoothly, and the rifles and muskets continued to fire. Paul looked over to where Dupres waited and saw the Colonel looking directly back at him. The Frenchman's face was flushed. He stared at Paul, and Paul looked back. Dupres' lips curved into a smile and he lifted his sabre and yelled an order, and Thatcher's men crashed into him, with the other half of the Frenchmen hitting them from behind.
It was short and brutal. Paul's rifles continued to fire where they they could but the muskets were silenced;  it was impossible to aim at the French without risking hitting the English. It was quickly over, and the English cavalrymen were cut down. Around him, Paul could sense the distress of his men and of the rest of the troop. They had all seen deaths in battle many times, but there was something deliberately cruel about the massacre of twenty men within a few feet of them. Paul could no longer see the young captain, but Thatcher's horse was loose and galloping off and he stood watching, feeling tears behind his eyes. The French cavalry massed around the English troopers who were on the ground, and then there was a thunderous volley of fire, and Paul looked up and saw that Crauford was up on the ridge and the light division were lined up, rifles at the front, firing volleys down on the French.
Dupres wheeled his horse with a shouted order and the French were on the run, some of them falling as they galloped away, their Colonel at their head. The rifles of the 110th thundered out and the last half dozen of the cavalry fell from their horses as Dupres men rode out of reach. Paul watched, feeling sick and grief-stricken. For a moment, unusually, he felt unable to move or speak. Around him the guns still fired and he moved his eyes to the bodies on the ground.
He felt a hand on his shoulder. "We need to get moving, Paul," Carl said quietly, and Paul stirred and nodded and looked over to the lines.
"Open up," he said to Carter. "Let the cavalry out first."
He stood watching as the men filed out, then called his men into line and let his officers lead them up onto the ridge to join the rest of the light division. Further away he was conscious of the French infantry advancing in column but they were too far away to be an immediate concern. As his men moved ahead, Paul broke away and ran to where the bodies of the English cavalry lay.
Captain Thatcher lay on his back and his body had been slashed over and over. Across his throat was a savage cut, which reminded Paul of what had almost happened to Manson. Thatcher's eyes were open, staring at the sky. Paul reached out and closed his eyes very gently.
"Colonel van Daan!"
He recognised the bellow of General Craufurd from the ridge above. Ignoring it, Paul stooped and lifted the long form of the young captain. He moved forward towards the lines, and saw several of his men break away and come back, ignoring the yells of their general. Carter, Hammond and Dawson came to assist him and they carried Captain Thatcher's body up the ridge and behind the lines.
At the top Paul stepped back and let his men carry Thatcher to the back. Craufurd came forward.
"Colonel van Daan. That has to have been one of the…"
Paul swung around. "Don't!" he said softly, and Craufurd stopped.
"Well done, lad," he said quietly, and Paul shook his head.
"No it wasn't. I couldn't save him. I stood there and watched that bastard cut him down and I couldn't do anything to help him. And he came in to save our arses."
Craufurd put his hand on Paul's shoulder. "I know, Colonel. Nastiest thing I've ever seen on the field, they could have taken them prisoner, no need for that. Come on, get back to your men. Nothing more you can do for him now."
Paul nodded and turned away, making his way over to his lines. His men had taken up position on the edge of the ridge. Mechanically he checked their lines and approved the rocky outcrops behind which they were stationed. He was conscious of his immense pride in them. Their retreat across the plains had been a textbook piece of infantry work and at some point he wanted to tell them so, but his eyes and ears were still full of the tragedy of Thatcher's pointless death.
Craufurd had moved away and was speaking to one of the Spanish runners, giving him a message to take to Lord Wellington. Paul watched, feeling curiously detached. Craufurd moved away and came back towards him.
"They've attacked Fuentes de Onoro again," he said briefly. "They've got the highlanders fighting down there, they're holding their own. We're to hold up here, wait and see what those infantry columns do. They might attack, although we're in a strong position up here."
"Yes, sir," Paul said. Craufurd nodded and moved away up towards the first and second brigade to speak to Beckwith and Drummond. Paul turned and looked out over the French columns, three infantry divisions moving into place to threaten the British lines. Silently Paul assessed the distance and the situation and then he turned and yelled an order.
Shock rippled through the first division and light division as the 110th fired. Their first tremendous volley ripped into the first line of French infantry and blew them apart. Craufurd moved forward with an oath.
"What the bloody hell is he doing?" he said furiously.
There was another enormous blast of gunfire and the second French rank exploded. It had taken them that long to realise, incredulously, that the British were not waiting for them to attack. Under shouted orders from their commanders they fell back quickly, dragging some of their wounded with them. Paul stood watching their frantic movements, his face expressionless.
"Major Swanson, Major Clevedon, Colonel Wheeler. You've got the range. Any one of them steps within it, I want him dead. See to it."
"Yes, sir," Johnny said quietly, and watched as his commander walked away and back up to where Craufurd waited with Beckwith and Drummond.
"This could be interesting," Clevedon said mildly.
"Yes. Bet Craufurd is wishing his holiday had lasted longer," Carl said with a grin. There was something about the set of his commander's back which suggested that he was ready to take on General Craufurd and possibly Lord Wellington as well. "All right, Sergeant, you heard what the colonel said. Keep them loaded and if there's a Frenchman you can hit, he's dead. The colonel is seriously pissed off with them and I do not want him pissed off with us as well, it's never pleasant."
Paul approached Craufurd, saluted silently and waited.
"I did not give permission for your men to open fire, Colonel!" Craufurd said furiously.
"No, sir. I did that."
"Without orders! What in God's name is wrong with you, Colonel? You've been in command of a brigade for five minutes and you already think you don't have to follow my commands."
"Sorry, sir."
"Sorry? What do you mean, sorry? You're not fucking sorry at all!"
"No, sir. Not at all. Just being polite."
"Polite?" Craufurd looked as though he might explode. Paul glanced at Beckwith and Drummond then back at his chief.
"Permission to go back to my men, sir?"
"Van Daan, you are an arrogant young bastard without any respect for authority or…"
"Yes, I have, sir. Immense respect for authority, especially your authority. I could point out that you didn't tell me not to fire those volleys, but you and I both know that would be nit picking! I fired them because I'm fucking angry and I felt like letting them know that they cut down our men like that and I'm going to fucking slaughter them any chance I get! And you know what? I think they got the fucking point! Let's see how quickly they come forward against my lads again today, shall we? And if Lord Wellington is looking for volunteers to march down to Fuentes de Onoro and kill a few more of them, you just let me know because I'm in the mood! Permission to go back to my men, sir?"
Craufurd studied him for a moment. Unexpectedly he said quietly:
"Go ahead, Colonel."
"Thank you, sir."
(From An Uncommon Campaign; Book 3 of the Peninsular War Saga by Lynn Bryant)
Church in Fuentes de Onoro.
For regular updates on this site including history, travel, book reviews and plenty of labradors (and a few freebies thrown in) please join the e-mail list here.