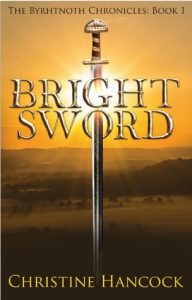 Bright Sword by Christine Hancock is the first book in the Byrhtnoth Chronicles and tells the story of a young boy with a mysterious past growing up in tenth century England. We share Byrhtnoth's journey from boy to young man through the difficulties and dangers of a violent era.
This is the first book I've read by this author, and I picked it up on free offer at some point. I'm very glad that I finally got around to reading it.
In terms of historical novels, this one is a long way out of my familiar period, which means I can't say much about the historical accuracy except that it has a very nice period feel to it and gives the sense that the author has done her research. There was enough detail about life in the tenth century to make it interesting but the descriptions never swamp the story.
In terms of the story, I found it lively, entertaining and very well written. The main character is very young at the beginning and this is very much his coming of age story, or at least the beginning of it. Byrhtnoth is sympathetically portrayed and three dimensional. Most importantly, I liked him.
There is also a cast of believable secondary characters and the shifting loyalties and relationships are very well portrayed. I particularly liked Byrthnoth's relationships with the boys he grew up with and trained with and thought the author handled her young male subjects very comfortably.
There was no attempt to gloss over the sheer brutality of this era but no attempt to wallow in it either. Hardship and war are simply part of life in this novel which gives it a very believable feel.
Very enjoyable book and I will definitely move the others up my reading list.