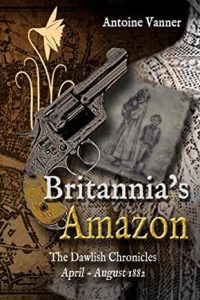 I read Britannia's Amazon by Antoine Vanner in about three days. It would have been less if I hadn't had other commitments that I couldn't avoid. This is a great book.
I've reviewed several of the author's earlier books and I'm a big fan of Mr Vanner's Victorian sea captain Nicholas Dawlish and his wife Florence. As an author of Napoleonic fiction set both in the army and the navy, it's very hard for me to read novels from that period any more. I find myself either picking apart the history, or getting distracted by some interesting interpretation of events that I'd never thought of, or even panicking if the author's storyline sounds similar to my own.
I think that's why the Dawlish books were such a great find for me; they have all the elements of a historical military series that I love, fantastic historical detail and marvellously drawn characters. I knew that naval fiction was something that Mr Vanner does extraordinarily well, but what I didn't realise was that he could step with ease into the genre of historical mystery and make a brilliant job of it.
The plot of Britannia's Amazon centres around Nicholas Dawlish's attractive and intelligent wife, Florence, who is left behind when her husband takes charge of the Royal Navy's newest cruiser, HMS Leonidas. Florence plans to fill her time with charitable works but when she accidentally witnesses the abduction of a young girl, Florence finds herself drawn into a web of deceit and danger which exposes the squalid side of Victorian England.
Florence faces physical danger and possible disgrace in her efforts to find out the truth. She is aware that her determination risks not only her own reputation but also her husband's career, and with Nicholas so far away she must make her own decision to honour her personal integrity against ruthless and powerful enemies.
There are so many good things about this book that I could write an essay about them. The author once again displays meticulous research which sits lightly on his story. His descriptions are vivid, bringing Victorian England alive in all its contrasts of wealth and desperate poverty. The story is believable, hangs together very well, and slots perfectly into the main series of books. At the same time, this is a book that works very well as a standalone novel. Every character has a life and a place in the world the author creates.
There are two things which impressed me particularly. One is the characterisation of Florence. Mr Vanner has achieved a perfect balance between indomitability and vulnerability to make Florence real. She is clearly a woman of her time and yet wholly sympathetic to a modern reader. I have said in a previous review that I would have been proud to write Florence. In this book, she steps out of the shadow of her husband and I love her.
The second remarkable thing about this book, is the way Mr Vanner handles the potentially difficult subject of sexual exploitation. The existence of this is well documented at this period, particularly in the journalist W T Stead's work to combat child prostitution and what was effectively sex-trafficking. I've read other novels dealing with this which have left me with a slightly uncomfortable feeling of voyeurism. There is no sense of this in Britannia's Amazon. The subject is handled sensitively and seriously, as is the legal status of homosexuality.
Fans of the Dawlish books will read this as part of the series, but I would recommend Britannia's Amazon to anybody. It is an excellent historical detective story, firmly rooted in the Victorian era, with a sympathetic heroine and a host of well-drawn secondary characters. A marvellous book.
Britannia's Amazon is available on Kindle or in Paperback here.