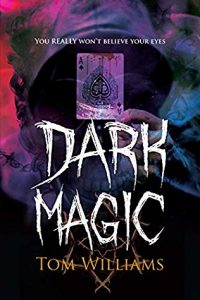 Dark Magic by Tom Williams (a novella)
This is a complete departure for historical novelist Tom Williams. I've read and enjoyed his Williamson novels and I was curious to see how he did with a completely different genre. I have to say, that he did extremely well.
Dark Magic is a novella, not a full length novel, and was just what I needed this week. It's a slightly creepy tale about a very dodgy troupe of stage magicians whose act seems to have become rather to lifelike. With such a short book, I can't give away much more than that, without spoiling the story.
The book is well written, which I'd expect from this author, and the pace is very fast. There is a fairly large cast of characters for such a short book, and the characterisation is obviously not that in-depth, but the author manages to give us a sense of each of the people with a few deft touches. The plot is very entertaining, I'd love to know where he came up with the idea, and has a satisfying ending. Above all, the book is entertaining, with genuinely funny, although fairly dark moments.
I really enjoyed this and I think the author writes contemporary very well. I'd like to see what he could do with a full length fantasy or horror. Dark Magic by Tom Williams was a fun, quick read and I recommend it.
For more about Tom and his work, I recommend visiting his blog, it's well worth a look.