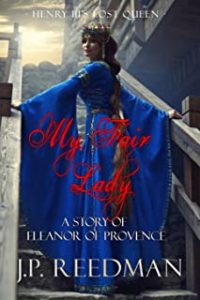 My Fair Lady by J P Reedman is the first book in a series entitled Medieval Babes: tales of little-known ladies. That was a fair description from my perspective as I knew virtually nothing about Eleanor of Provence, the wife of King Henry III of England. Medieval history is not really my thing, as I spend my time immersed in the Napoleonic Wars, but I acquired this book during a free promotion and finally got around to reading it. I'm really glad I did.
This is the first book I've read by this author and I thoroughly enjoyed it. J P Reedman has created a believable fictional portrait of one of the lesser known women of medieval history.
Eleanor of Provence was married as a young girl to the much older Henry III of England. The marriage was surprisingly successful. Eleanor was a devoted wife and mother while Henry lavished wealth, lands and power onto his young wife and her family, actions which contributed to the resentment of the barons who later rose up in rebellion against him. The novel follows Eleanor through her girlhood, into marriage, through the dangers and intrigues of court life and into a peaceful retirement at Amesbury Priory.
The book is written in the first person from the viewpoint of Eleanor herself. I will admit at the outset that I've had this on my kindle for a long time, and that's probably the reason I've taken so long to get around to it. I'm generally not fond of first person accounts of real historical characters, but this book proved a very welcome exception.
Ms Reedman is an excellent writer. The style is simple and effective, and she somehow manages to create a very clear voice for her subject. Eleanor comes across as a multi-faceted person, with faults as well as good points, but what is impressive is that somehow the writer manages to convey a strong sense of a young woman of wealth and privilege, with a touch of arrogance and more than a little vanity, and yet still makes her sympathetic. Eleanor is occasionally exasperating, but she comes across as likeable, affectionate and very intelligent. It's no mean feat to achieve that all in the first person, without the help of secondary characters commenting on the action and I was impressed by how well Ms Reedman handled it.
The book gives the sense of being the product of a huge amount of research and the writer is very good at using it to tell her story and give a strong sense of time and place without leaving the reader drowning in facts. Secondary characters are well-drawn, particularly the enigmatic figure of Simon de Montfort. I enjoyed the ending, with the hint that Eleanor's tomb might briefly have been rediscovered. As I write the Napoleonic era, I'm not in a position to pick apart the history, but I doubt I'd need to here, I think Ms Reedman knows her stuff.
In short, My Fair Lady by J P Reedman  is a well-written, thoroughly enjoyable historical novel and comes highly recommended. I will definitely be reading some of the other books in the series at some point.