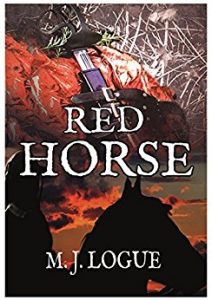 Red Horse by M J Logue is one of the best things I've read in a while.  This book made me so happy! The first in a series, it introduces a cast of mismatched characters fighting for Parliament in the Civil War and I love them all.
Captain Hollie Babbitt is such a great creation, and his sidekicks, who include a brand new cornet from a good family and excellent manners and a drunken womaniser he's been fighting with since his mercenary days, are the perfect foil to his unashamed grumpiness.  I don't often envy another author their characters but I would like to transport Hollie, Lucifer and Nate straight into an Unconventional Officer with the rest of the reprobates from the 110th, they'd fit right in.  Red Horse tells a story of war, friendship and growing up and it couldn't have been better told.
Red Horse is funny, sad, insightful and entertaining; often all on the same page. It's clear that the author knows her history, there's a frightening amount of research gone into this book, but it's very well disguised. There isn't a boring page in it, it's very well written and I honestly can't wait to get on to book two. M J Logue is my new favourite author. If you like P F Chisholm / Patricia Finney or Lindsey Davis read this book. Genuinely so good, and I am really picky.