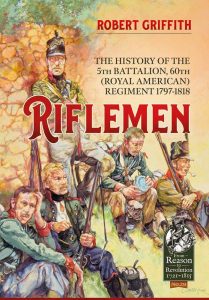 Riflemen: The History of the 5th Battalion, 60th (Royal American) Regiment – 1797-1818
is a fantastic account of a much neglected battalion.
When somebody mentions the Rifles during the Peninsular War, most of us think immediately of the 95th, probably thanks to Bernard Cornwell's Sharpe novels and the associated TV series. After reading this entertaining, well-researched and well-written account of the 5th battalion of the 60th, I suspect they'll come to mind just as much as their better publicised brethren.

Robert Griffith has given us a brilliant account of the battalion, from its formation in 1797, through to its final disbandment in 1818. He intersperses chapters about organisation, command structure, recruitment and equipment with detailed accounts of the campaigns and battles and serves up a generous helping of anecdotes about the men who served in the battalion through the long years of the war.

The author brings his subject to life in a way that makes this an excellent read as well as an invaluable research tool. The level of detail about the lives and experience of these men is extraordinary, but never dry or dull to read. When researching my own novels, I've read a lot of regimental histories and there is often a tendency to get bogged down in detail, leaving the reader struggling. There is none of this in Riflemen. Every chapter is well-written and well-constructed and although it's a solid tome, it is incredibly easy to read.
I can see myself dipping into this book for years to come for my own research; it's packed with anecdotes for a novelist to drool over, to say nothing of a wealth of information about day to day life in Wellington's army. But this is more than a research tool. Once I'd started reading it, I couldn't stop and read it from cover to cover just because it was fun to read.
I'd recommend this to anybody with an interest in the Peninsular Wars. Riflemen is an impressive piece of scholarship but also a very fine book and Robert Griffith should be very proud of his achievement with this.