Sons of the Wolf by Paula Lofting: a review by Lynn Bryant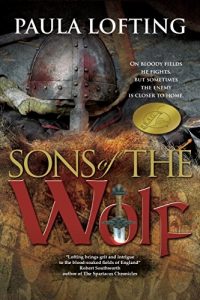 I thoroughly enjoyed this fast-moving, action-packed book which takes the reader back to Saxon England in the years leading up to the Norman conquest.
This is the first book in a saga, following the fortunes of Wulfhere, a Saxon thegn owing allegiance to Harold, Earl of Wessex. When events conspire to reignite an old blood feud with his neighbour Helghi, Wulfhere finds himself torn between loyalties and old loves.
Paula Lofting introduces a big cast of characters, both fictional and real, to tell a tale of battle, love and loyalty set against the sweeping backdrop of Saxon England. Wulfhere is a man more at home on the battlefield than in the middle of family conflicts, and his struggles are sometimes painful to read, but all the more real for that. The author manages the complex threads of the story with great skill, and manages to convey her deep love of the period and her affection for her human and often exasperating hero with a deft touch.
This is so far out of my historical period, that I can't say much about the historical accuracy, but settings and descriptions feel very convincing, as though the author has done a lot of research. The book has action, excitement, romance and more than a touch of humour and will appeal to all lovers of epic historical sagas. A very good read.