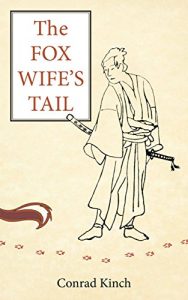 The Fox Wife's Tail by Conrad Kinch is a book I would probably never have read if I hadn't made the online acquaintance of the author, mostly because I wouldn't have heard of it. Even then, it took me some time to get around to it. The title is intriguing, but doesn't really give much clue as to what the book is about. For some reason, I think I expected the book to be very literary, probably intelligent and possibly very hard work.
What I found instead was a delightful surprise. A Fox Wife's Tail is a straightforward adventure story, well-written, well-researched and cleverly thought out. It combines elements of a detective novel with a tale of war, honour and cultural difference and in my opinion, all these elements are done very well indeed.
Essentially, the novel tells the story of Captain Robert Hood, a discharged American officer who finds himself in nineteenth century Japan at a time when the country had barely begun to open up to the west. Hood teams up with Otaro, a Japanese fencing master who is acting as a kind of itinerant magistrate. Together they stumble across a murder, a kidnapping and a local feud between samurai warriors which stretches their ingenuity and resilience to the limit.
The character of Otaro is particularly well-drawn, with something of Sherlock Holmes about him. Seen through the eyes of Hood, he is both friend and mentor in the troubled waters of local Japanese politics where the American is frequently bewildered.
But the book is more than a detective story. There are duels and battle scenes which can be bloody at times, and the author writes action scenes very fluently. The dialogue is quick and often witty and he makes very good use of the inevitable cultural misunderstandings.
The cultural aspects of the book are fascinating. I know a little about Japan during this period, but there is a sense that Mr Kinch has done his research, and manages to give a very good feeling of a Westerner adrift in an alien world. On another level, he also does an excellent job of portraying a nineteenth century American man and makes no attempt to impose modern and possibly more acceptable views onto his hero. Robert Hood is a man of his times, and although his views occasionally make the reader flinch, it makes him all the more believable.
The Fox Wife's Tail is an easy to read, well-researched and well-written book and I thoroughly recommend it. I hope that when life stops getting in the way, Conrad Kinch finds time to write another.