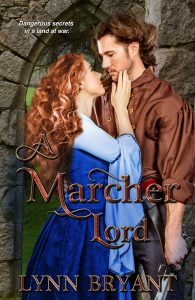 "A fierce heroine out on a rolicking adventure through southern scotland at the dawn of gun powder and the twilight of archery. Great story" (4 stars on Amazon)
A Marcher Lord is set in the lawless world of the Anglo-Scottish border in the sixteenth century.  England has invaded, intending to seize the baby Queen of Scots and to marry her to King Edward VI, and amidst shifting loyalties and secret treason, William Scott, Baron Crawleigh holds loyal to the Scottish crown from his border stronghold.  In search of an English courier and possible double agent he finds instead an English girl riding through a country at war, a girl who refuses to give him her name.
Jane Marchant has grown up among the mercenary bands of Europe, a girl not new to a war torn land.  Thrown into the hands of Lord Crawleigh she finds a home among his people and a place in his heart.  But with both sides wanting the information she holds how can she know whom to trust?
Now available on Amazon Kindle,  currently at the promotional price of £0.99.