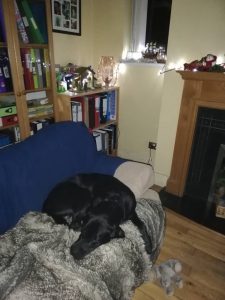 Christmas 2019 #OscarWalks is a special edition to give Oscar the opportunity to with you all a Merry Christmas from everybody at Writing with Labradors. This is a special festive edition of #Oscar Walks. A combination of the weather and the Christmas season has meant that walks have been short and sweet for a few days, but that doesn't mean Oscar hasn't been having an adventurous life and I know he has a few things to say.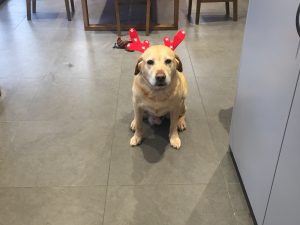 It's been a very different Christmas for me in one way; the first one in thirteen years where I've not had Joey walking behind me. Toby was never very interested in Christmas until the turkey appeared, but Joey was a big fan. He loved having loads of people around to make a fuss of him and was always prepared to let us dress him up for the occasion. I missed him very much this year.
Luckily, Oscar seems to share Joey's enthusiasm for the season and has been full of the Christmas spirit over the past week, so I'll hand over to him to tell you what's been going on.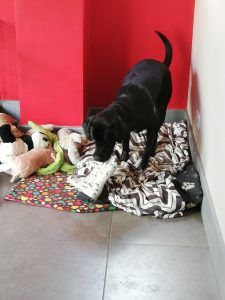 What's been going on? What's been going on? I'll tell you what's been going on. Persecution, that's what! Persecution, false accusations and fake news!
You sound like a combination of Sir Home Popham and Donald Trump, Oscar. What's upset you?
You know very well what's upset me, Mum. That man. That person. That individual who came into the house on Monday.
You mean the dog trainer, Oscar.
Yes.
I'm sorry you're offended, but I did explain that I need a bit of help with teaching you to walk nicely on the lead. And to come back when I call you.
I am very good on the lead. I always respond when you say heel.
You do. It's just that I have to say it four thousand times in a ten minute walk, it's exhausting.
Exaggeration. And defamation of character. I could sue.
Anyway, you liked the dog trainer. He gave you loads of treats and played with you and you're already getting better.
You told me I was already perfect.
You are, Oscar. I just need you to be a little more obedient. And to come when I call you.
I already do that.
Except when you see another dog.
Well, obviously, I have to be civil to them.
Or when you've found an interesting smell.
That can be very distracting. It might be food.
Or when you see anything new or interesting.
Except sheep. I always come back if there's a sheep.
That's true, you're the opposite of most dogs. Still, a bit of extra training will benefit both of us.
Bah.
Anyway, this was supposed to be about Christmas. Your second Christmas, Oscar. How's it been so far?
Fantastic. Excellent. Wonderful. Know what I like about Christmas? 
No.
Everybody's here. None of this going off to work, or school, or University nonsense. Everyone's here, mostly in the same room, we all get to eat really good food at weird hours of the day and night, watch TV, play some silly games and snuggle up by the fire.
Yes, that pretty much sums up Christmas.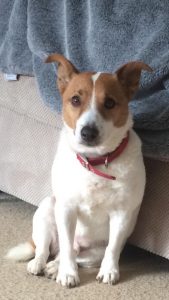 And visitors. Loads of people in and out of the house all the time. They bring cards and presents and most of them give me cuddles and feed me treats. And some bring dogs. I met Roy. I liked Roy. He reminded me a bit of Toby only much smaller and different colours and different fur.
So not that much like Toby at all?
Well he was grumpy with me and growled at me a few times but didn't really seem to mind when I teased him. Toby was like that to start with but then he got used to me and would let me play with him. Of course Joey let me climb all over him from day one.
He was soft with you. Like the rest of us.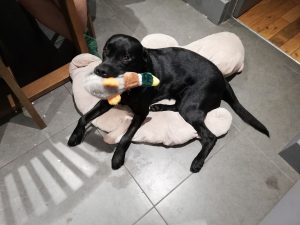 That's what the dog trainer said. And I got presents. Loads of treats and two new toys. Three, if you count the reindeer you gave me on Christmas Eve. No FOUR if you count the duck that Rachael brought home for me. I LOVE my new toys. And there are lots of pretty lights around, and indoor trees with things hanging off them that I'm not allowed to touch. But they look nice. And the fire's always lit, which is my favourite.
I'm glad you approve of Christmas. 
Mind you, it's a bit tiring. What's happening next, Mum?
Well, next week is New Year and Jon and Anya are having a party, so there'll be lots of your favourite people here that evening. And after that it's back to work and Anya and Rachael will go back to University.
Boo. Don't like that.
I know, Oscar, but they'll be back. And I've got lots of exciting walks planned so you can practice what you've been learning from the dog trainer before we see him again.
Can I show him my new toys?
You've showed them to everyone else, Oscar, so I expect so. Right, say Happy Christmas to your fans, and we'll brave the rain for a quick walk now.
Happy Christmas and a Merry New Year, everybody! Is that right, Mum?
Close enough, Oscar. Merry Christmas, baby boy.
Merry Christmas, Mum.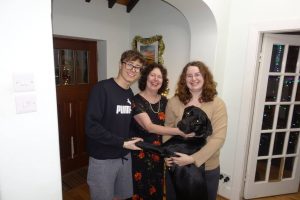 Next week it's back to work on book 6 of the Peninsular War Saga with Oscar's expert help and advice from his sofa in my study. For more history, humour, fiction and Labradors why not follow me on Twitter, Facebook and Medium.