A Regrettable Reputation – a Regency romance set in the days after Waterloo.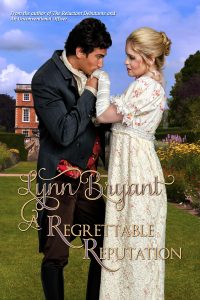 In 1816 war is over, Napoleon in exile and Regency England is at peace.
Mr Nicholas Witham, land agent at the Yorkshire estate of Lord Ashberry has found a haven of quiet, far from the bloodshed of war and the horror of Waterloo.  With poachers and lost sheep his most pressing concerns, Nicholas is not seeking anything more exciting than the occasional trip to York and a game of cards with friends.
The tranquillity of Ashberry is about to be disrupted by the arrival of Miss Camilla Dorne, a young woman of doubtful reputation, sent away from London by her guardian to avoid the consequences of a disastrous and very public love affair with a disreputable officer which has broken her heart.
An army officer, past or present is the last man Camilla wishes to spend time with.  But she discovers that a lost reputation can bring unexpected freedom and possibly a second chance at happiness.
With the shadow of war firmly behind him, Nicholas is ready to move on but poverty and rising prices bring rumblings of discontent and rumours of Luddite activity in the industrial towns, and as violence erupts, the land agent of Ashberry finds himself swept up in a new conflict where the enemy is hard to identify.  Faced with a stark choice between love and duty, Nicholas is beginning to realise that he may not have left the regiment behind at all…
A Regrettable Romance is the first book in the Light Division Romances, which follow the fortunes of some of the men of Wellington's elite division into peacetime.  It is available on Amazon  Kindle or  in paperback.
The second book in the series, The Reluctant Debutante, is also available on Amazon both in Kindle and in paperback.