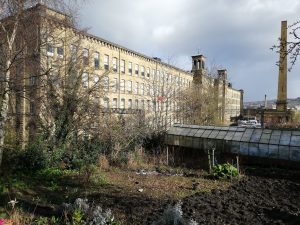 I'd never been to Salts Mill and Saltaire, the Victorian model village in Shipley, Bradford, until a recent visit with friends, and it turns out that I've been missing out. There is enough history there to satisfy a geek like me, with the added bonus of specialist shops, a gallery and two cafes to keep the rest of the party entertained.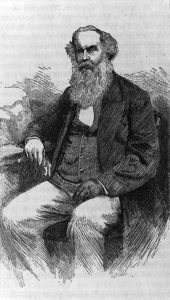 Saltaire was built in 1851 by Sir Titus Salt, a leading industrialist in the Yorkshire woollen industry. Salt was a cloth manufacturer who took over his father's textile business in 1833 and expanded it over a period of twenty years to be the largest employer in Bradford. He was an alderman and then mayor of Bradford, and was elected to Parliament in 1848. Salt's business was spread between five different mills, and with business booming, he decided to build a new mill, consolidating his operations into one place.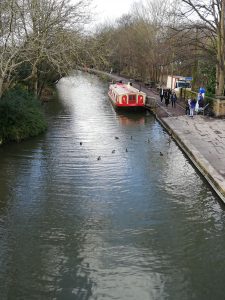 Salt, a deeply religious man, and a known philanthropist, was concerned about the over-crowded conditions in Bradford so bought land in Shipley, just outside Bradford, beside the River Aire, the Midland Railway and the Leeds and Liverpool Canal.  Building began in 1851 and Saltaire Mills opened in 1853. To accommodate his workers, Salt then commissioned housing close to the mill. A model village grew up, which included well-built houses, a hospital, bathhouses, almshouses and churches.  The Congregational church, now known as Saltaire United Reformed Church, was built at Salt's own expense and he donated the land upon which the Wesleyan Chapel was built. With the moral improvement  and probably the work performance of his workforce in mind, he forbade public houses or beer shops from the village. The village had a public institute which included a library, a reading room, a concert hall, billiard room, science laboratory and a gym. There was also a village school, a park, allotments and a boathouse.
Salt wrote little about his motive for building Saltaire, but it was probably a combination of Christian charity and economic good sense. The village provided a well-housed, local workforce which was very good for business. At the same time, it is clear that Salt sincerely believed that he was doing God's work in creating a clean, healthy environment for his people, which contrasted with the appalling conditions in the slums of Bradford.
Sir Titus Salt died in 1876, leaving the business to his son. Saltaire was then taken over by a partnership led by Sir James Roberts. Salts Mill finally closed as a textile mill in 1986. Today it has been renovated and houses an eclectic mix of commercial, leisure and residential spaces. The mill is enormous, a monument to Victorian industrialism, with the village neatly laid out beside the canal.
Inside the main mill building is the 1853 art gallery which is devoted to the works of Bradford born artist David Hockney. There are two good cafes, a book shop and a gallery shop which sells prints, cards and art supplies. I love gallery shops and have a tendency to spend more money than I should on beautiful notebooks and pretty cards. I keep a notebook for each new book I write, and they are never ever a plain A4 pad.
I was not tempted by The Home which sells designer furniture and other homeware at eye-watering prices. I'm genuinely fascinated trying to guess who would spend £2500 on what looks like a very ordinary plastic chair to me, but I'm happy to acknowledge my ignorance of modern interior design and save my pennies for books and gorgeous stationery.
My favourite part of Saltaire, though, was not the shops, the gallery or the cafes, although all are lovely. It wasn't even the museum area, which shows a film telling the history of the village and some memorabilia associated with Sir Titus Salt and Saltaire, although I do recommend that, to get an overview of how this project came about. The real joy of Saltaire is in the narrow streets of the village itself, which give a real sense of a bygone era. I had a weird sense of familiarity walking through those streets, some of which probably came from my memories of similar workers cottages which still existed in London's East End during my childhood, although I did discover afterwards that Saltaire is used as a location for filming Peaky Blinders, and I'm a big fan.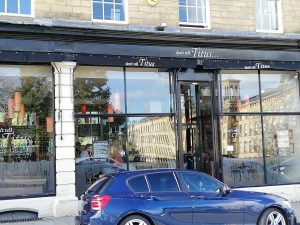 A surprising number of the original buildings survive, including the Institute which is now known as Victoria Hall, and the beautiful United Reformed Church. The houses are lived in and clearly much loved. Modern shops have moved in, and I was particularly entertained by a rather nice looking bar and restaurant, imaginatively called "Don't Tell Titus" in reference to the founder's refusal to allow alcohol to be sold anywhere in the village.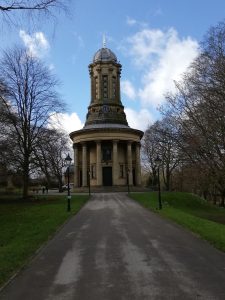 From the village streets, I walked down to the church and then across the bridge to the canal towpath. On a sunny February afternoon, the canal was beautiful, with the towpath clearly very popular with local families. There is an attractive park alongside, and beyond that, the River Aire. The park was originally known as Saltaire Park, and is now known as Roberts Park, and it was laid out for the recreational use of the inhabitants of Salt's model village.
I'm not a huge fan of Victorian paternalism, and it's easy to see the economic advantages to a man like Titus Salt in creating a model village for his workforce. Nevertheless, there is still something admirable about Salt's genuine interest in the welfare of the people who lived in Saltaire and worked at the mill. Salt Mill and the village of Saltaire are a fascinating piece of nineteenth century Victorian history and a very pleasant way to spend an afternoon. Also, the cake in the tea shop was really, really good…