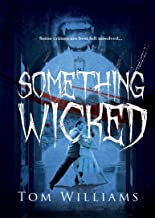 Something Wicked by Tom Williams
Having really enjoyed Tom Williams previous foray into contemporary fantasy, 'Dark Magic', I was looking forward to the publication of 'Something Wicked' and I wasn't disappointed. 'Dark Magic' was fun, although as a novella felt a bit rushed at times. 'Something Wicked' feels like a writer who has really got into his stride with this genre.
'Something Wicked' is set in London with Chief Inspector John Galbraith being called to the rather unusual murder scene of Lord Christopher Penrith. There are few leads apart from a link to a Tango club. So far the book looks like a standard, well-written police procedural.
Everything changes with the arrival of Chief Inspector Pole. Pole works for 'Department S' which Galbraith has never heard of. He also, it turns out, is a five hundred year old vampire, responsible for policing – and covering up for – the vampire community.
So begins a cleverly-conceived, well-written and excellently plotted novel about murder, policing, vampires, and Tango. There is a nod to various genres in this book, yet it manages to remain fresh, original, and hugely entertaining.
I particularly liked the two main characters in this book, with the difference between Galbraith's down-to-earth copper and Pole's more fantastical approach being well developed. Both characters were likeable and the development in their relationship was believable. Tom Williams' descriptions of the London he knows and loves and the Tango community that he is an enthusiastic member of, help to bring the book alive.
Tom Williams is best known for his two historical series, the lively Burke novels about a Napoleonic agent and the more thoughtful Williamson books set in the days of Empire. I'm hoping we see more contemporary fiction as well from this author. An entertaining, clever piece of fiction.