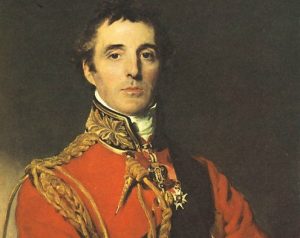 The Battle of Salamanca was fought on this day in 1812 across the rolling plains around the small Spanish village of Los Arapiles. In this excerpt from An Untrustworthy Army, Wellington's men are marching close to the French army while both generals try to decide whether or not to risk a battle. Wellington had almost decided to retreat on this occasion, when on the afternoon of 22 July, he spotted a gap in the French line and ordered the attack.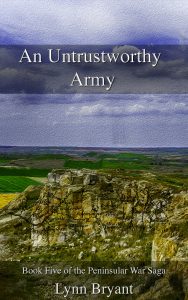 After a little more than a fortnight at Rueda, it was a relief to Paul to get his brigade moving. Night marches could be difficult, depending on the terrain, but most of his men were very experienced and followed each other through the darkness, relying on the voices of NCOs and officers to guide them. The clink of horses and the thudding of hooves followed the progress of the cavalry who were advancing with the light division. Paul rode up the long column to find General Charles Alten in conversation with his big German orderly. Peering through the darkness he recognised Paul and waved him forward.
"Colonel van Daan, I am sorry to have interrupted your festivities this evening."
"It's a relief, sir, I've had enough of waiting. French on the move?"
"It seems so, although I know very little, just that we are to advance with the cavalry and await orders."
Paul pulled a face which Alten could probably not see in the dark. "When we get there, why don't we play a hand or two of 'lets all sit around and guess what the hell Lord Wellington is doing now', sir?" he said. "I should have gone up to see him instead of prancing about with the Rifles for the evening."
"Where is your wife, Colonel?"
"I left her in camp for the night with half a company of the KGL to guard the baggage and supplies. They'll pack up early and follow us up. Where are we going?"
"We will halt behind Castrejon and await Lord Wellington."
"That's always a treat," Paul said gloomily. "I hate marching around for no apparent reason and I've got a feeling that's what we're doing."
Alten gave a soft laugh. "There is usually a reason, Colonel. It is simply that you hate not knowing what the reason is."
Paul acknowledged the truth of this over the next few days of monotonous, repetitive marching interspersed with several fierce skirmishes as Lord Wellington and Marshal Marmont began a cautious facing dance which each day failed to result in a battle. There was nothing urgent or frenetic about their movements. Facing each other across the river and the rolling plains around Salamanca, the two armies manoeuvred in perfect timing, attempting to outflank each other without forcing a pitched battle on any ground of which the two commanders were unsure.
"It's like a pavane," Anne said, on the third day. She had ridden up to join Paul and was looking over the lines of Wellington's army and then beyond to the distant columns of Frenchmen on the opposite bank. "I've never seen anything like this before."
"Nor have I," Paul said. "What the devil is a pavane?"
"It's a dance. A bit like the Allemande but slower and more stately; it's very old."
"What is an Allemande? No, don't tell me. How do you know all this?"
"There was an Italian dancing master," Anne said, and laughed aloud at his expression.
"Your stepmother should have locked you up," Paul said grimly.
"If she had, Colonel, we probably wouldn't be where we are now."
"True. But it's a lesson to me about keeping an eye on my daughters as they're growing up. I'm shocked at how young girls behave."
"You did not say that to me in a shepherd's hut in Thorndale," Anne said serenely. "How long is he going to keep this up?"
"I don't know," Paul admitted, looking out over the lines. "He's not saying much even to me. I don't think he's sure."
Anne followed his gaze. The countryside was a vast plain with low rolling hills and the river snaking between the two armies. An occasional shot was fired when the two came too close but for the most part, the forces moved watchfully along, ready to fall into position at a moment's notice. They passed villages and small towns and the people came out to watch them sombrely. There was none of the excitement and joy of their entry into Salamanca. It was as if the locals knew that the generals were contemplating battle and dreaded the consequences for their crops, their homes and their families.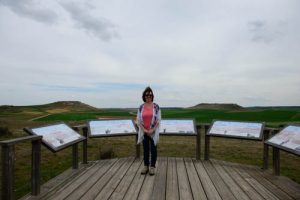 We visited the battlefield during our tour of Portugal and Spain in 2017. The Salamanca battlefield site is immense; not in actual size since it probably isn't the widest battlefield Wellington fought over, but in the sheer amount of information available. I was halfway through writing book five which is based around the battle of Salamanca and the Burgos campaign, so this visit was particularly useful as it was made ahead of the writing.  I had read about the small interpretation centre in the village of Los Arapiles to the south of the city of Salamanca, but had not really looked it up until we were about to go there.  I was hugely impressed to find that it was open two days a week, Thursday and Saturday, and we had set aside a Thursday for this trip.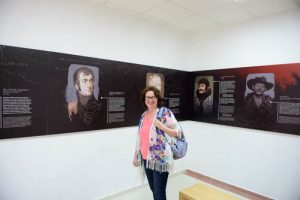 I was so glad we did.  This is definitely the best small museum we visited.  For one thing, everything is in both Spanish and English which wasmuch more useful than our desperate attempts to translate interpretation boards in other places.  For another, it is amazingly detailed and accurate.  From the advantages and disadvantages of the different infantry formations of line, square and column, to the best way to load a musket, somebody here had done their research and very well.  
The other joy was the map we were given of a series of interpretation boards around the battlefield site.  There are ten in all, each with information about the battle as it unfolded, and each board has a QR code which can be scanned by a smart phone.  A short dramatised account of that section of the battle, in English, can be listened to at each point.
The routes on the map are marked for walking or cycling.  The good news is that in good weather all tracks are passable in a car.  A 4 x 4 would be best, some of them are very rough, but we managed it on dry roads without.  It took about three hours to do the whole thing.  Honestly it would have been less if it were not for my pedantic insistence that we do the boards in number order so that we got the chronology right for the battle as opposed to working out the shortest circular route which might have taken half the time.  That day, the man I married gave the word patience a whole new definition.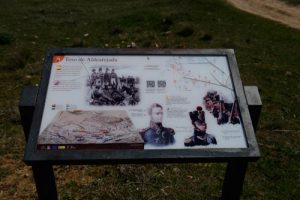 With the help of the museum, the interpretation boards, which are excellent, my trusty battlefield guide and a map, the Battle of Salamanca became suddenly very clear to me.  Driving from board to board and then climbing hills and rocky outcrops to view the various vantage points of the battle it was very easy to visualise how Wellington was able to split the French line and send their army fleeing within a few hours.
After exhausting ourselves scrambling over battlefield sites, we drove to Alba de Tormes, across the river.  This is the route that a lot of the fleeing French army took, and no action took place there in real life.  In my book a significant skirmish takes place there so I wanted to check if my story worked with the location.  I was delighted to realise that with a small adjustment it will work very well.
We went back into Salamanca for dinner.  As we are English this involved almost two hours of wandering around this beautiful university city, musing about how it is possible to be in a major city at 7pm and find nobody open for dinner.  It always takes some time to Spanish dining hours.  But time wandering in Salamanca is never wasted, it's so lovely, especially the university  buildings, which feature in An Untrustworthy Army, since both French and then English used them as barracks and storage buildings.
Given that my fictional regiment fights as part of the Light Division, Salamanca had the potential to be a bit of a disappointment for me, since Charles Alten's men did not play a significant part in the battle. Since I know that Colonel van Daan is easily bored, I chose to give the third brigade a skirmish of their very own out at Alba de Tormes. The battle is included in the book, seen through the eyes of Lieutenant Simon Carlyon who is on temporary transfer to Pakenham's staff.
A great deal has been written on the battle of Salamanca. For me, the best book on the subject by far is Rory Muir's book which explores the battle in depth. I highly recommend a tour of the battlefield and interpretation centre; as long as you have transport it is one of the ones it's perfectly possible to do without a guide.
An Untrustworthy Army is book five in the Peninsular War Saga which follows the fortunes of the fictional 110th infantry and Paul van Daan, the man who rises to lead it, through the long years of Wellington's wars in Portugal and Spain.