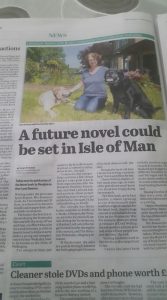 Writing with Labradors, and Blogging with Labradors came about as something of a joke when I was first setting up my website.  It's proved popular and I've stayed with it…hence the presence of Toby and Joey in our local newspaper this week.
Anybody looking at this post is going to work out from the title that I've a few things on my mind this morning.  One of them is recovering from my birthday yesterday.  Not, as you might think, a wild night out on the town, but a rather lovely meal at home (main course courtesy of my son and his girlfriend, cake courtesy of my daughter) followed by Prosecco and Trivial Pursuits.  You can tell that I know how to live…
I spent some time thinking about publicity yesterday now that An Unconventional Officer has been published.  There was a nice article in our local paper the Isle of Man Examiner about the release and I've been asked to do Manx Radio as well.
I can remember one of the first posts I wrote on this blog talked about my concerns regarding publicity.  I've never been much of a self-publicist and I honestly thought I'd struggle more than I have, but I've made myself do it because once I had taken the plunge and published the books it seemed pointless just to let them sit there and take their chances.  And I've actually quite enjoyed it.  For anybody interested in psychology, marketing and reaching the right audience is a nice little challenge.  I'm still learning but I think I'm getting better.
It helps that the books are selling – not in their thousands, but steadily.  It also helps that I've had one or two nice reviews and some four and five star ratings on places like Goodreads and Amazon.  There's something very encouraging about knowing that people are reading and enjoying the books enough to review them.  All my reviews are from complete strangers, I hope they have some idea how much it makes me smile.
One of the interesting things I'm learning is what people like.  I grew up with Regency novels and loved them, and I've read a few more recent ones.  The Reluctant Debutante was my tribute to those and I've been astonished at how popular it's been.  I had already thought I would write another Regency just because they're so much fun, but I'm already planning it.
An Unconventional Officer is also set in Regency times and although it's a far cry from the London Season of Cordelia and Giles, it is about the war which affected everything during those years.  It's a longer book than any of the others and is the first in a series which follows the men and women of a fictional regiment through the years of the Peninsular War.  I loved working on this book; it's a bigger canvas with a large cast of characters and the best part is that I don't have to say goodbye to them at the end of the book.
I've done a lot of research for these books.  Earlier I saw an article in the Guardian which caught my attention about the relationship between academic historians and historical novelists which I found really interesting.  I'm sure there are a lot of academics who dislike historical novels, particularly where they take very obvious liberties with history.  Equally there are non-academics who don't like them much either.  And there are people who like science fiction and chick lit and thrillers and even, so I'm told, those who love Fifty Shades of Grey.  It takes all sorts.
I think I can understand the frustration of an academic historian.  After publishing a book which took years of painstaking research, gained excellent academic reviews and sold very few copies it must be infuriating to see a novelist selling thousands of books which claim to be based on history but which to a serious historian could seem poorly researched, wildly inaccurate and full of mistakes.
I do have a history degree so I've a little understanding of both sides of this argument.  The truth is that some historical novelists are not trying to be accurate, they're just trying to entertain, putting characters in old fashioned clothing but not caring about period detail or anachronisms or accurate timelines.  It doesn't mean people don't or shouldn't enjoy their books.  It just means that they're not intended to teach people anything about history.
I've read some of these and personally they drive me up the wall.  I can cope with honest mistakes but in some cases I think writers might do better to turn to fantasy where anything goes.  Still, I refuse to be a snob about it.  There are also some very well respected historical novelists whose work is clearly painstakingly researched but I just don't enjoy their style.  Many people do, it's a matter of personal taste.
I've recently come across an author called Jacqueline Reiter, who has written both a biography and a historical novel about the life of John Pitt, 2nd Earl of Chatham, the elder brother of the Younger Pitt who spent much of his life in the shade of his more famous father and sibling.  I've now read both, and it's confirmed what I've always suspected that it's very possible to be both and excellent historian and an entertaining historical novelist.  I would defy anybody on either side of this debate to be snobbish about Earl of Shadows which is the novel or to complain that the biography the Late Lord is anything other than a well-written and very scholarly work.  Both historians and novelists could learn a lot from this writer and I hope she goes on to write a lot more.
The books I've written so far are period specific and most of them include some real historical characters alongside my fictional ones.  I try to research as well as I can.  For A Respectable Woman I used a lot of primary sources and for "An Unconventional Officer" I read endless accounts of the war written by the men who fought it.  The problem with these is that they are frequently contradictory in themselves; they were written years after the war and people forget.
Wellington's letters and despatches are a goldmine of information for the Peninsular War books although they've obviously been edited for publication.  Even so, given the immense stress Wellington must have been under during those years, did even he remember everything?
In the end, it only matters if you want it to matter.  I love reading history, both novels and non-fiction, as long as it's well written and enjoyable to read.  I can sift through either and find what I want and the very obvious disagreements between academics over the interpretation of events means that I don't feel guilty about putting forward my own interpretation in a novel.  My characters might well have their own views about why something happened which contradict modern historians' thinking, but then they're not modern historians, sifting the evidence, they're supposed to be ordinary people living their lives in a different time and like us they're entitled to their opinions.
I think I've done enough musing about marketing and the meaning of life for a while.  Now it's back to the writing, which in the end is what I love doing most and the reason that all this is happening.
For regular updates on this site including history, travel, book reviews and plenty of labradors (and a few freebies thrown in) please join the e-mail list here.