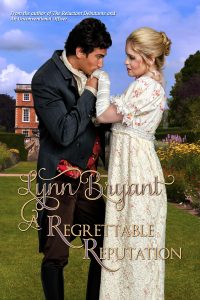 The Regency Romance; the story of the Light Division romances is my attempt to explain how I came to be writing in apparently very different genres, and even more unlikely, how I came to link the two. On the surface it seems that the military theme of the Peninsular War Saga is very different to the comedies of manners of the Regency novels. A closer look shows that there are very obvious links.
Of all historical novels, Regency romances seem to be one of the most distinctive genres, and although their popularity has waxed and waned they have never completely gone out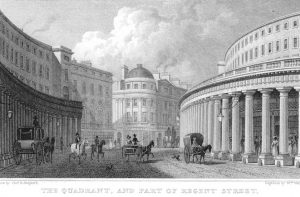 of style.  Set approximately during the period of the British Regency (1811–1820) they have their own plot and stylistic conventions. Many people think of Jane Austen when Regencies are mentioned and certainly her novels are set in the right period, but of course she was writing as a contemporary not as a historian.
It has always seemed to me that Georgette Heyer was the mother of the current Regency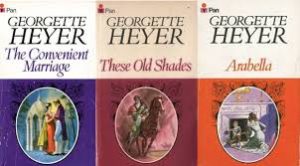 genre.  She wrote more than twenty novels set during the Regency, between 1935 and her death in 1974 and her books were very much like a comedy of manners.  There was little discussion of sex, understandable given the different views of her generation, and a great emphasis on clever, quick witted dialogue between the characters.
These days, Regencies seem to be divided into two sub genres.  There are the traditional Regencies which are similar to Heyer's originals, and a more modern Regency historical genre.  Many authors do not seem to confine themselves to one of these two types but may move between the two.  Both are currently popular.
Traditional Regencies emphasise the main romantic plot.  They play close attention to historical detail and take care to replicate the voice of the genre.  There is a good deal of research for writers of traditional Regencies.  Heroes and heroines generally remain within the accepted rules and conditions of the period and although their may be some sex it is very likely that the action stops at the bedroom door, probably at the proposal of marriage.
The more modern Regency historical novels break more rules.  They may be set during the time period but not necessarily in high society with an insight into life outside of the world of wealth and privilege inhabited by Georgette Heyer's characters.  They may also include characters who behave in a more modern way, particularly when it comes to sexual behaviour and moral values.  The style can be very different to the more traditional works.  There is another sub genre, the sensual Regency which has become very popular in recent years.  These novels are far more explicit than the traditional Regency and the sexual relationship between the hero and heroine is key to the book.
There are some elements which are likely to crop up in all genres of Regency novels.  Many are set in, or will refer to the Ton, which means the top layer of English society.  They revolve around social activities such as balls, dinners, assemblies and other common pastimes.  Men are often involved in sporting activities.  There are detailed descriptions of fashion and a consciousness of social class and the rules of behaviour.  The difference between them is that in traditional Regencies the heroine is likely to stick to them; in the modern genre pretty much anything goes.
The shift in the genre seems to have come about because of a slump in the popularity of Regencies in the 1990s.  Some authors began incorporating more sex into their novels and while lovers of traditional Regencies disliked it, publishers and readers seemed to approve and the Regency novel got a new lease of life.
I grew up reading Georgette Heyer and owned every one of her books in paperback – I still have some of them and still read them from time to time.  They are, for me, the ultimate comfort book – the only other series which comes close are P G Wodehouse's tales of Jeeves and Wooster.  These are the books I'll turn to if I'm ill or miserable or sometimes just because my brain hurts and I can't focus on anything else.  They are written to entertain and with their quick dialogue and comedic moments they never let me down.
I wrote my first Regency novel for the Mills and Boon market during the years I was trying to find a traditional publisher.  I'd tried several other novels, including at least two contemporary ones which are never going to see the light of day again, and had joined the Romantic Novelists Association new writers scheme.  After very positive feedback on both A Respectable Woman and A Marcher Lord it was suggested that I try to adapt these to Mills and Boon.  I did try, but it couldn't be done.  It appeared that I simply could not have a heroine who defended herself very capably against attack; it was the job of the hero to rescue her and Jenny Marchant simply wouldn't wait.  In fact she was more likely to do the rescuing.  Philippa Maclay was even worse, she didn't make it through two chapters without doing something so appalling that it put her beyond hope of redemption.  If I rewrote these characters then I would be writing a different book.  I gave it up and decided to start from scratch.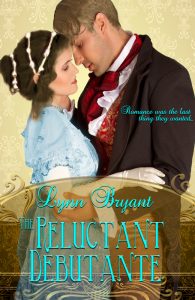 Out of that decision came Cordelia Summers and Giles Fenwick of The Reluctant Debutante.  Once I got into the swing of it I really loved writing this book.  It's fun and fairly light hearted.  I was already doing a lot of research into the period for my series set during the Peninsular war and that fitted very well with a Regency so it wasn't that much extra work.  And the fast paced dialogue and witty characters of the Regency genre exist in all my books, no matter which period they're set in.  I realise that those years of reading Georgette Heyer and Dorothy Dunnett have affected the way all my characters speak.  They may have different accents and different levels of education, but most of them are smart mouths.  
I had a lovely response from Mills and Boon on the Reluctant Debutante.  It was a no, but a very detailed no.  They liked the setting and the characters and even the plot, but once again my characters let me down.  There was not enough internal conflict between them, it seemed; most of their difficulties were external and their way of overcoming them was not dramatic enough.  Could I rewrite it to include more conflict between Cordelia and Giles?
I did try.  I wrote a selection of scenes for them.  The trouble was, trying to fit them into the book made no sense whatsoever.  I'd already created these people and their responses to events grew out of their essential character.  Cordelia might have flatly refused to see Giles after their quarrel and there could have been weeks of agonising and misunderstandings.  But there wasn't.  Cordelia was as mad as a wet hen but once she saw him again, she didn't have it in her not to listen to his explanation.  She's a practical girl with a wealth of common sense.  She simply can't behave like a drama queen.
So Giles and Cordelia remained as themselves and I published the book pretty much as I'd originally written it, with the removal of one or two completely gratuitous sex scenes which didn't seem to add anything to the plot. For a while, it was my bestselling book, although the Peninsular War Saga has long overtaken it. This inspired me to write a second Regency, A Regrettable Reputation. It was only while writing this, that it occurred to me, that a link between my main series and my Regencies was not only possible, but made a good deal of sense. The two heroes of the Regencies both turn out to be former Light Division officers, and I have enjoyed incorporating references to their army days and characters from the other books. 
After the publication of A Regrettable Reputation, however, some of the dangers of this became clear. I realise that for readers who do move between the two series, I have introduced a number of spoilers about who survived the war. Thus far it hasn't caused too many problems, but it is the reason why I've not carried on with the series yet. I'd like to do more, but I think I need to finish the Peninsular War Saga first. I'm already jumping backwards and forwards in time between the main series and the Manxman naval spin off. Any more time travel and my head will explode, I've no idea how Diana Gabaldon does it…
All the same, I enjoyed writing my Regencies. I've recently spent some time re-editing both of them and am working on new covers which should be out very soon. The new editions came about for different reasons. There are some changes to the end chapters of A Regrettable Reputation based on research I did for An Unwilling Alliance. I realised that what I had written as a military court martial should almost certainly have been a civilian criminal trial, and although none of my readers ever complained, once I knew I'd made a mistake, it bothered me. The changes do nothing to alter the plot, but the new version is more historically accurate.
The rewriting of The Reluctant Debutante was more of a difficult choice and I spent a long time thinking about it. When I first wrote this book, it was a standalone novel and it was only later on that I came up with the idea of incorporating it into a spin-off series to the Peninsular War Saga. Giles was written as a Waterloo veteran and a former exploring officer and it wasn't that much of a stretch to imagine him coming through the 110th prior to that.
Once I had the idea, the temptation was irresistible. I wrote the prequel to this novel last year, A Regrettable Reputation, and the Light Division Romances were born. I made a few minor adjustments to The Reluctant Debutante and left it alone. For a long time, it was my most popular novel, a tribute to the enduring popularity of the Regency genre. But as an author, it was my least favourite book.
During a break between the publication of An Untrustworthy Army and the writing of the second book in the Manxman series, This Blighted Expedition, I decided to revisit my first Regency and try to work out what I disliked about the book. There were one or two obvious things. Having written the book as a completely separate entity to the series, there were some names which were far too similar to those in my other books and several readers had complained of confusion. Those were easy to change.
I also felt, with hindsight, that the end of the book was too rushed. It was as if the happy ending was in sight and I just wanted to get it over with. I've rewritten the last few chapters fairly extensively now, not changing anything about the plot, but giving both Giles and Cordelia space to enjoy their ending as well as giving a voice to one or two minor characters who deserved it. I'm much happier with it now.
The biggest change for me, however, is in the opening chapter, when Giles and Cordelia first meet in a wayside inn. At least two reviewers complained about this scene where Giles, appallingly drunk, grabs hold of Cordelia and kisses her against her will, complaining that it was a sexual assault and that it put them off the book entirely. I've had a few bad reviews for many of my books, but these two always bugged me. I was not willing to go away and rewrite the book as a knee-jerk reaction to the #MeToo movement, since I am very sure that what was considered sexual assault in 1818 was very different to now. That does not make it right. It does make it real.
At the same time, I knew that scene wasn't right for me as a writer. The scene is hardly original; I can think, off the top of my head, of at least two occasions where Georgette Heyer used something similar, and it has been the starter for endless other historical romances. Thirty years ago, when Bodice Rippers were popular, it wasn't unheard of for the 'hero' to go a lot further and still manage to hold the sympathy of the reader. But not this reader.
I was also aware that sexual assault of a far more serious nature has featured in several of my other books and nobody has ever complained about it. Reviewers and readers have talked about how distressing it was but have praised my treatment of the subject in fiction. Nobody has ever suggested I have taken the subject lightly and that is probably because I haven't.
There is also an incident in An Unconventional Officer which could be compared to this one. Finding himself alone with a very pretty girl in a snowstorm, Major van Daan thanks her for tending to his injury and kisses her. It is completely inappropriate given that he is married, but the kiss is very gentle and very light-hearted and there is never a sense that he would have done anything more without a good deal of encouragement. Once again, nobody has ever complained about this scene; it's actually a pivotal point in Paul's life.
That, I realise, was the problem with Giles' drunken assault on Cordelia. It could probably have happened in another book with another writer but it wasn't right for me. And it definitely wasn't right for Giles Fenwick, who could not have served under Colonel Paul van Daan and survived it, if he was in the habit of getting drunk and grabbing hold of passing females. The scene was a somewhat lazy plot device which was disrespectful to both my hero and my heroine.
It has taken me time to rewrite that scene, because I didn't want to leave it out entirely. That first meeting was too important to the future relationship of the hero and heroine. I also wanted the book to be something of a journey of redemption for Giles. After Waterloo he was almost certainly suffering from what we would now call PTSD and meeting Cordelia is the beginning of his journey back into the world. I wanted him to make that journey, but I didn't want him to behave so badly that his redemption became unbelievable.
I think I'm happy with the result now. The meeting in the inn, although initially somewhat alarming for Cordelia, has lost the sense of menace and fear and feels playful, more flirtatious. The moment Giles steps back and apologises, the reader has a sense of his charm as well as his essential good-nature. He is behaving very badly by the rules of 1818 society, but so is Cordelia, in choosing to take advantage of her moment of unexpected attraction to a stranger she never expects to see again.
When he is sober, Giles is embarrassed. He knows he has behaved badly and it has thrown into sharp focus, the effects of his heavy drinking. He is also uncomfortably conscious of how most of his army friends and his commanding officer from the 110th would view his conduct. Possibly for the first time, Giles realises that he needs to stop and to reassess his behaviour.
I hope new readers enjoy this revised edition of The Reluctant Debutante. The Light Division romances are in many ways, a different genre to the Peninsular War Saga, but they do share common characters and I think, a common theme. My hesitation in rewriting this book was due to my concern about attributing modern sensibilities and attitudes to early nineteenth century characters. Most historical novelists do this to some degree, often by simply leaving things out, but I hope that I have achieved enough of a balance to made Giles and Cordelia both believable and likeable. Certainly I like him a lot more now.
Both books of the Light Division Romances are currently available free on Amazon kindle here.