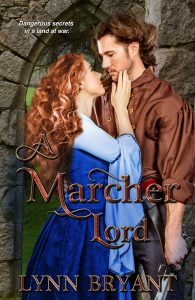 A Marcher Lord is set on the Anglo-Scottish borders in the turbulent years of the sixteenth century and is available in paperback and on kindle.
When Jane Marchant arrives to live with her aunt and uncle in 1543, England and Scotland are at war. An unconventional upbringing among the mercenary armies of Europe has left her ill-prepared for life under her bullying uncle's rule and she welcomes the opportunity to take a letter for an injured courier across the border. She does not expect to end as prisoner of a Scottish baron.
William Scott, Lord Crawleigh has enough to worry about; war against the English, local feuds which threaten the security of his people and his country and now the arrival of a mysterious girl who may or may not be an English spy. As the borders erupt into violence he finds in Jane, an unlikely ally. But how can he trust his growing feelings for her when she will not even tell him her name?
What the Reviews say about A Marcher Lord
"Brilliant book. Feisty females all mixed up in border skirmishes – and war. Nicely drawn and well researched. Must admit to more than one night reading until 3am! Enjoyed it hugely."
"Nice strong heroine and hero. Great detail with regard to the turbulent history of the border between England and Scotland."
"This author certainly does know her history, which isn't surprising given her background, and she clearly knows the countryside she has set this story in. Her descriptions of the landscape are so vivid one doesn't just see them, but is actually there, riding through with the characters. I enjoyed this story immensely and was very reluctant to leave the Borders. Great story, fabulous characters, great setting, well-written and edited. What more could a reader ask?"
"A fierce heroine out on a rollicking adventure through southern Scotland at the dawn of gun powder and the twilight of archery. Great story"
Settings of A Marcher Lord
I've spent a good deal of time on the Scottish borders, it's one of my favourite parts of the UK, and part of this book was written sitting at a wobbly table in a hotel in Jedburgh, looking out over the roofs towards Queen Mary's House. Knowing it so well, I've got a very clear idea about the location of both my imaginary locations, Etterdale and Crawleigh Castle.
Etterdale, the fortified manor house, where Jane comes to live with her aunt and uncle, is located in the general area around Kielder. It is a larger house than these bastle houses at Black Middens but the photographs give a good idea of the thickness of the walls, built to withstand attack from reivers on both sides of the border.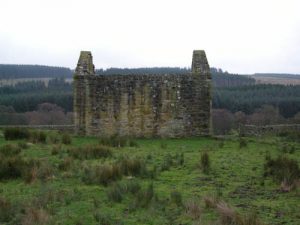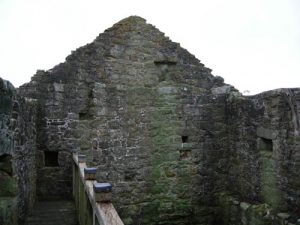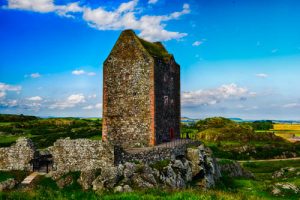 When Jane rides north into Scotland, into a land at war, she crosses the border and is picked up by a Scottish patrol led by William Scott, Baron Crawleigh who takes her back to Crawleigh Castle which I have located to the south of Jedburgh. I drew inspiration from two local castles for Crawleigh. The location, high up with a view of the surrounding area, is based on Smailholm Tower, and all descriptions of the countryside around Crawleigh can be fairly accurately visualised from Smailholm.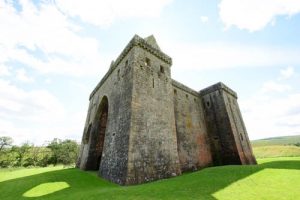 Crawleigh is a far bigger castle than Smailholm Tower, however, and for that I have turned to the impressive fortress of Hermitage, which lies to the west of Crawleigh's imaginary position. Hermitage is one of the most fearsome castles I have ever seen. I've been there several times and it is just as atmospheric under blue summer skies as it is on a dark October afternoon just before closing time.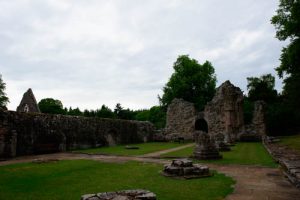 There is a ruined abbey not far from Crawleigh, and for that I have used the ruins of Dryburgh Abbey, one of several very pretty ruins on the borders.
Since I began writing the Peninsular War Saga, I've not had the opportunity to return to Jane and Will and the border reivers, but at the time I began a sequel to the book and I have a suspicion that I'll go back to it at some point. The ongoing border conflict has too many possibilities to waste.
An excerpt from A Marcher Lord
She saw Crawleigh talking to three of his men.  As he saw her, he crossed the hall.
"I was expecting you at breakfast."
"I've been with Archie's Clem."
"So I guessed.  Come and eat something.  After that I've instructed Bangtail Stewart to escort you on your hunt for……..what was it?"
"Goose grass," Jane said.  The tables had been cleared but on one a place was set and she found bread and cheese and a tankard of ale set out.  "Thank you – you're very kind."
"I think it is I who owe you thanks."  Crawleigh swung his shoulder thoughtfully.  "It feels better.  I think I will try your mysterious remedy, my Jenny."
"It will help.  Have you a herb garden here?"
He shrugged.  "I think the cook grows a few things for seasoning.  You can ask him."  He grinned ruefully.  "There's little farming hereabouts except to feed ourselves.  We grow wheat, corn, oats and barley but we survive on cattle."
"Portable and valuable, which means hard to burn," Jane said, and her host gave a broad grin.
"Very much so.  You may not have lived in these parts all your life, but by God, you have a grasp of how we live."
"It might be useful to grow a few medicinal herbs.  The way you live on these borders, I'd think you'd need them more than most."
Crawleigh laughed.  "Sit and eat, lass.  So you're not a borderer by birth then?  That's interesting."
"Although not very informative," Jane said serenely, picking up a piece of bread.  "Sir – what are you going to do with me?"
"I was thinking of keeping you here, to doctor my men," Crawleigh said placidly.  "I have sent a letter to the queen dowager, Jenny, telling her all about you and about the mysterious missing courier.  I will await her reply.  It may take some time, since the queen and her daughter and ladies are in hiding at present.  All we can do is wait."
Jane ate in silence.  Her captor watched her, also silently.  Eventually she said:
"I don't have anything to tell you, you know.  You would be safe to let me go."
"Into a countryside torn apart by war?  Not that it's especially peaceful here even when we're not at war!  When it is safe to let you go, my child, I'll escort you personally.  I know you don't realise it, but you were lucky it was I who picked you up out of that damned river.  If you'd fallen into the hands of the Armstrongs or the Kerrs…"
"Who do not have your gentlemanly instincts?" Jane asked sweetly.
"Who do not," he agreed soberly.  "Not that I feel especially gentlemanly around you.  Although that gown helps, I'm sure it belonged to my old nurse. Where the devil did you get it from?"
"Morag found it for me.  Apparently my clothes could not be saved."
"I'll see if I can come up with something better," Crawleigh said, eyeing her in amusement.  "Meanwhile if you've eaten your fill, I'll take you to Bangtail."
"And what will you be doing?"
"What business is it of yours, Jenny?"
"Merely that you should limit the use of that arm for a few days if you want it to heal."
His lips twitched in amusement.  "I'll confine myself to inspecting the armoury and writing some letters," he promised.  "At least until tomorrow.  Now finish your breakfast, lass."
Jane had not realised how desperate she was to be free of her tower room until Crawleigh's return.  After her breakfast he was as good as his word and introduced her to Bangtail Stewart, a lanky, taciturn man, with instructions to allow her to roam where she would in search of her herbs, to ensure she did not escape and to see to her safety.
Left alone with her escort, Jane eyed him thoughtfully.  Bangtail Stewart appeared to have been cobbled together from overly long limbs borrowed from other men.  He was probably around thirty with cropped dark hair and eyes which were so dark that they appeared black.  Dressed in the standard boots and hose of all countrymen he regarded her without enthusiasm.
"Master says you're looking for herbs."
"I'm looking mainly for goose grass to make a poultice for my lord and for Archie's Clem."  Jane observed him as he limped towards her.  "You're hurt."
"Leg wound.  It's healing.  With or without goose grass."
"Without is fine.  Less work for me and why waste what nature provides?" Jane said shortly.
To her surprise the dark eyes lit up with a gleam of amusement.  The long mouth quirked in what passed for a grin.
"Aye, you'll do well at Crawleigh," Stewart said with monumental lack of formality.  "What does it look like – your goose grass?"
"I'll show you."  Jane hitched up her skirt and picked up the basket she had purloined from the kitchen.  Without further reference to her unwilling companion she set off towards the gate.
He caught up with her as she went through it.  Jane shot him a sidelong glance.  "With that limp, what are you going to do if I make a run for it?" she asked.
"Och, I've no time for chasing Englishwomen around the hills.  I'll just shoot you and get back to my dice and my ale."
Jane gave a peal of laughter.  "May you choke on it, Bangtail Stewart," she said.
"That's like enough if it's brewed here," Stewart said.  "For an Englishwomen you've a rare sense of humour."
"For a Scot you've a rare appreciation of a good joke. Come on, I'll show you what we're looking for.  And I promise not to run off – today at least.  It's wet for a night in the open."
"Aye, you'd like catch a chill," Stewart said with grave appreciation.  "There being nothing worse for a lass to worry about hereabouts."
"It's the mud on my skirt that frets me most," Jane said equally gravely.
His dark eyes moved to her grey woollen skirt, hitched inelegantly to her knees, and his mouth twitched again.
"I wouldn't fret about that," he said reassuringly, and followed her out of the yard.
There were no formal gardens at Crawleigh Castle, just a vegetable patch which grew a few cooking herbs, and the surrounding farmland.  Restless after her long confinement, Jane spent the afternoon happily rooting in the hedgerows and by the stream, and turned back to the keep in the mid afternoon with a sparkle of fine rain sheening her hair and a layer of mud on the hem of her one woollen gown.
She paused as they approached the castle, casting experienced eyes over the defences.  This was the first time she had really looked at Crawleigh Castle since the day of her capture.  She remembered having found it menacing, but what she thought seeing it now was how hard it would be to take it.
It was built high upon a rocky crag, a solid square keep with a tower at each corner and a high barmkin wall surrounding three sides of it.  In keeping with all the castles and towers of the border it had few windows and those it had were small and high up.  The roof was of grey slate, expensive but less easy to burn than the more common thatch.
There was a courtyard within the barmkin and a selection of buildings, kitchen and bakehouse, stables and brewery.  The castle had its own well which made it defensible in case of siege.  Around the outside of the walls, below the crag, were the stock pens, the fields and the barns.  There were also a collection of more humble dwellings with their own pigs and cows and sheep.  Jane guessed around a hundred souls lived within the protection of Crawleigh's shadow.  Here and there more makeshift huts were rising, built to shelter those from outlying settlements who had been burned out during the recent months of warfare.  Judging by the solid prosperity of Crawleigh's people, it seemed that both English and raiders had so far given this formidable stronghold a wide berth.
Further down the valley between a copse of trees, showing the glorious colours of autumn, Jane could see another building.  "What is that?" she asked, pointing.
Bangtail followed her gaze.  "The mill.  There's a mill pond down there.  And a flock of geese who are excellent roasted, but even better guard dogs."
"As many a shrewd farmer has found – all the way back to the Romans."
He glanced at her with his odd lopsided smile.  "Book learning as well," he said.  "You'll be hard put to decide which of your talents will be most useful to you here."
Jane grinned.  "Much more from you, Bangtail, and I'll show you a few of the useful things my father taught me about dealing with scurvy louts."
"As I said – a full education."