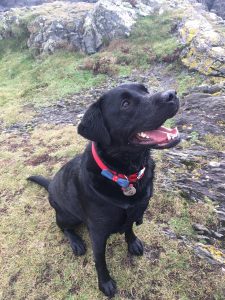 Lockdown with Oscar: the End
When I began these posts I wasn't sure if I was going to continue them all the way through lockdown. I didn't really have a plan when I started, I was just trying to cheer myself – and any readers – up a bit. It did work to begin with, but after a few days I experienced a bit of a lockdown slump, and that is definitely not something I wanted to share with my poor readers.
I wanted to come back to this though, now that it's over. We're back to where we were before as from today, with life returning to normal in our lovely little bubble, apart from closed borders and even more stringent quarantine restrictions for anybody who leaves and wants to return. And the vaccine of course, which is being rolled out gradually, and which we hope one day will allow us to make choices about our own lives again.
At least daily walks with Oscar should get easier. After a few days of experimenting with the best way of walking Oscar in lockdown, I decided that driving to somewhere a bit less busy is a good idea. Usually in the week I just walk him from our front door, but the streets have been much more crowded through lockdown with people getting their daily exercise. Some of the pavements and footpaths are very narrow, and some people are more nervous than others. Add dogs into that mix and it's just good to find some space. Accordingly my daughter and I have been taking him to the beach or down to St Michael's Isle where it's relatively empty and he can run around, swim and jump in puddles without upsetting anybody.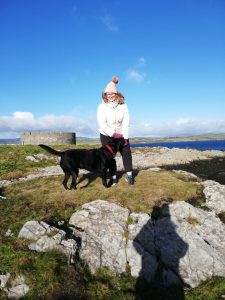 It's been a joy to have my daughter on our daily walks and I'm going to miss her dreadfully when she goes back to University, which she's decided to do this weekend. There will be on online teaching of course, and the library is still closed, but now that she can travel, she wants to be back in her student house with her friends, even if they can't see anybody else. She's already left home in her head and these weeks of uncertainty and not knowing when she can go back have been miserable. I'll miss her, but I understand.
Covid rules do odd things to people. I heard a story from somebody I know  about being yelled at for not wearing a mask in the street. From the other side of the road. Needless to say there were no rules about wearing masks out on a walk, and there is no way to know if somebody has a good reason for not doing so anyway. It's extraordinary how this crisis brings out the best in so many people and the worst in others.
I've set myself some difficult writing goals for this year, but since I'm unlikely to be interrupted very much by inconvenient holidays or family visits, I've decided to go for it. I'm currently four chapters in to book three of the Manxman series, which is called This Bloody Shore and it's going very well. I struggled this time to decide which book to write next. Technically, it should be the Manxman, as I tend to alternate the two series, but when I finished An Unmerciful Incursion I was so immersed in the world of the 110th that I began book seven straight away.  For a few weeks I worked on both, then Hugh and Durrell began to demand my attention and point out that it was their turn.
For the first time in a few years, I'm aiming to get two books out this year. Both of these are already well planned out, and as the subject of book seven is relatively easy to research (although the plotline is difficult) I think I might well manage it. Certainly it will keep me very busy and that's a good thing. I'm incredibly lucky to have a job that I love so much that I can completely immerse myself in it. I am not convinced that life in 1811 would have been much fun, but writing about it is a wonderful way of removing myself from the current situation.
It's good to know that we have a measure of freedom again, although I think I'm very aware of how fragile that can be. I really hope that my friends elsewhere in the world can achieve the same thing soon. I miss you all very much.
I miss travel and libraries and seeing my sister. I miss planning research trips and going to conferences. I miss big things like my holidays and I miss silly things like watching football on the TV and seeing real fans at Old Trafford. I miss my daughter being able to come and go from Uni freely, without worrying. I miss new films at the cinema, and shows coming over from the UK at the theatre and being able to look ahead and plan. I think we all miss different things, and I don't think we should feel guilty about it. Whatever the awfulness in the world, it's natural and normal to miss things that have been taken away from us. The key is to try to find other things to make us happy.
In the meantime, some lessons from Lockdown with Oscar: the End.
I really hate lockdown

Oscar really loves lockdown. "All my people are here!!!"

Reading the news in lockdown is a form of self-harm

So is talking to people about lockdown, Covid or Brexit

Talking to people about history is great

Also dogs

I'm not good at rules

Or being locked up

Given 7 and 8, probably best not to take to a life of crime

Dogs don't understand social distancing

Sensible creatures

I love my study and my own desk with a deep and abiding passion

I'm incredibly lucky

The Isle of Man is pretty good at working together when it has a common aim

Even if the aim is to go out and get blind drunk in the pubs on Saturday night

I'm sort of proud of us

Did I mention I hate lockdown?

The phrases "covidiot" "stay safe" and "new normal" cause actual psychic trauma by now every time I read or hear them

I'm pretty odd though

My family are great and I adore them

My friends, both local and online are also great and keep me sane

So I need them all to stay safe. 

Can't believe I just said that.

I want this to be over for everybody.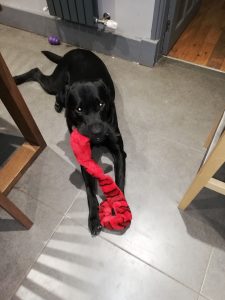 "Mum. Mum. What are you going on about, you said this would be a short post and then we'd go out."
"Just coming, Oscar."
"Is it true I can play with all my friends again?"
"Yep."
"And their humans won't be wearing muzzles?"
"That's right, Oscar."
"That sounds great to me. Let's go to Derbyhaven Beach."
"Come on then, I'll get your lead."