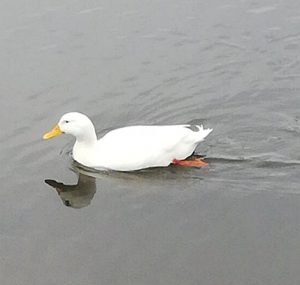 It's been very quiet here at Writing With Labradors, but I'm delighted to tell you that I'm kicking off a new season of blog posts with Angry White Popham Duck II.
I know that since I wrote the original post which conclusively identified Angry White Duck from our local duck pond as a quackers reincarnation of our hero Sir Home Riggs Popham, many of you will have wondered how Popham Duck has been getting on.
Popham Duck has been absent from time to time as we wandered through the winter months and into spring. For a while, he moved into the second pond, and seemed to have decided to live a quieter lifestyle with his new friends. Oscar and I quite enjoyed the break, without him yelling his litany of complaints as we passed.
Both lockdowns brought Popham back into the main pond, though. The kids were off school ( again) and that meant an endless supply of loot (bread) from bored children and desperate parents. Popham loved it, and was to be heard vocally demanding more than his fair share, protesting about the injustice of other ducks taking what was rightfully his and yelling in sheer rage any time a dog was seen in the vicinity. Even Oscar, who saved him from being eaten by a runaway dog called Nero, was not exempt from his relentless, aggressive quacking.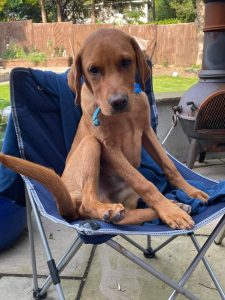 Since the arrival of Alfie, we've not spent much time up by the pond. Occasionally I'll take Oscar up there for his solo walk, but as Alfie gets bigger we like to include him as much as possible, and I've been a bit wary of how he'll be if a large white duck starts calling him rude names. Not all dogs are as placid as Oscar, and as Alfie is still very much a novice in terms of lead walking, I didn't want to find myself jumping in the pond after him.
Today we set off for a short walk as it was a warm afternoon. I didn't consciously think about heading for the ponds but Oscar paused by the path leading up that way, looking at me hopefully. Alfie was being particularly good on the lead today, so I decided to be brave and go for it.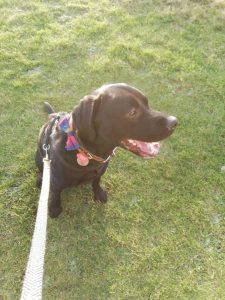 The walk up to the ponds was fairly uneventful, apart from a delightful moment when three small children playing in a front garden managed to kick their football into the road. Mum must have been in the house and the kids were very well trained and knew they shouldn't go after it. They stood staring at it, trying to work out what to do as we came past. There were no cars passing, so I crossed the road towards them, and allowed Oscar to push the ball back to them with his nose. I could hear one of them running shrieking with excitement into the house, shouting that a lovely dog had brought their ball back for them. Oscar strutted away, looking proud.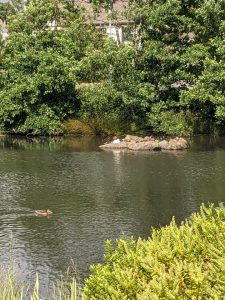 As we arrived at the pond, it was very quiet. There weren't even any kids in the play park, I've no idea where everybody was this afternoon. I approached the edge of the main pond very carefully, and there he was. Initially, he was sitting on Duck Island dozing with his friends, but Popham Duck has a special dog warning sensor (probably invented by him, and better than all other dog warning sensors, because he's a genius) and was very quickly in the water and swimming towards us to check us out.
Oscar stopped to watch the ducks. Alfie was initially fascinated by the smells on the grass beside the pond, probably because it smelt mostly of duck droppings. Eventually though, he realised that something interesting was afoot and went to join Oscar in observing the approach of Angry White Popham Duck. I took a very firm hold of both leads and waited.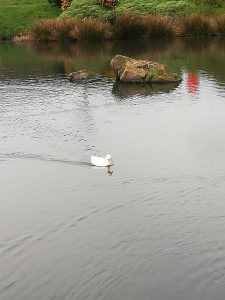 Popham came on. It was very clear that he had seen the lurking dogs. Alfie's tail was wagging furiously, but he said nothing. I was holding my breath. Most puppies will bark when they see a new creature, out of sheer excitement. Alfie couldn't take his eyes from Popham but he still made no sound. He glanced sideways at Oscar a few times, maybe for reassurance. Oscar was his usual calm self and it worked. Alfie watched Popham for a bit longer then settled down for a rest.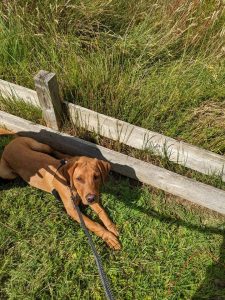 Popham swam up and down for a bit, but strangely, he didn't say a word. I was baffled. It's so unlike our belligerent hero not to make his views known that I was beginning to wonder if one of the residents of the nearby houses had buckled under the strain and had his quack surgically removed.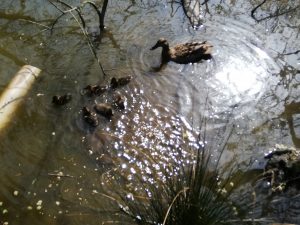 It wasn't until we walked further round the pond, that Popham gave a few quacks. They were nothing like his usual aggressive yelling. It was more like a friendly warning not to get too close. And I could suddenly see why. There were ducklings, swimming frantically around their mother.
We stood and watched them for a while, since I am a sucker for ducklings. Popham swam backwards and forwards, clearly on sentry patrol. After a bit, Alfie started to get restless so we set off on the last part of our walk. He didn't bark once. I'm very proud of my little boy.
I've no idea why Angry White Popham Duck was so unusually mellow today. Maybe it's the warm weather or perhaps he had an enormous shipment of bread today and is too stuffed to quack. Perhaps those ducklings are related to him, and he's looking out for their welfare. I did wonder about that, as there were an awful lot of them and we know the Pophams ran to big families…
Alternatively of course, it might be that there is a worn out and angry mother duck on that pond, who has been up every night for two weeks, guarding her babies from passing seagulls and visiting Assassin Cats. Many of us would understand her feelings when her brood finally settles down for a nap and are immediately woken up by Angry White Popham Duck giving his all on the subject of a passing poodle.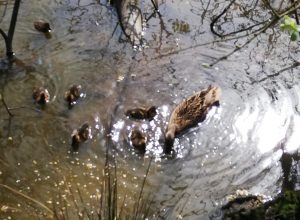 "Popham, is it you making that racket?"
"It is indeed, Madam. I was made aware of an approaching threat in the form of two spaniels from the east and a white poodle from the south, and I felt it was my duty to warn you all, before seeing them off in fine style. No need to thank me…"
"Thank you? Listen to me you noisy, overbearing, meddlesome duck, if you do that once more when my ducklings are trying to sleep and I'm just catching a nap myself, you are going to find yourself locked inside the rusty shopping trolley in the second pond with half a ton of duckweed tied around your enormous webbed feet! Have I made myself clear?
"Admirably so, ma'am. Although I was only trying to help…"
"Don't."
"And I thought that if your ducklings were in danger…"
"They're not. You will be, if you do that again."
"Well. Very well. If that is your idea of gratitude, I shall keep perfectly silent from now on."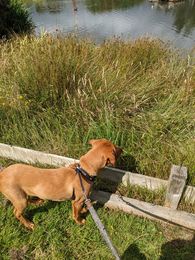 Whatever the story, it was certainly a pleasant introduction to the duck pond for Alfie. It was quite a long walk for him at this stage, and on a warm afternoon as well.
"Did you enjoy meeting the ducks, Alfie?"
"I did, Mum. And seeing all those people, and the cars and the trees and the flowers…zzzzzzzzzz"
"Did you enjoy it, Oscar?"
"I loved it, Mum. Reminds me of when I used to go out with Joey. He's pretty good on the lead now, isn't he? Alfie, I mean."
"He is. I'm looking forward to many more walks with you both, baby boy."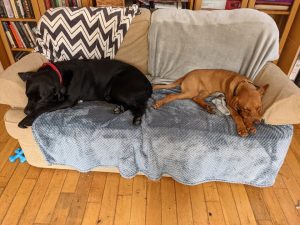 "Looks as though Alfie is taking a nap before dinner. I might just join him…"
I hope you've enjoyed reading Angry White Popham Duck II. Check in again with Writing With Labradors for further adventures of Oscar and Alfie, history posts both silly and sensible, travel posts, free short stories and plenty of news about my books. You can follow me on social media for more updates.
Twitter:           https://twitter.com/LynnBry29527024
Facebook:        https://www.facebook.com/historyfiction1803/
Instagram        https://www.instagram.com/lynnbryant1803/