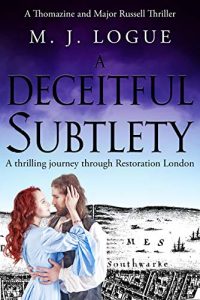 A Deceitful Subtlety by M J Logue is the latest in the author's historical mystery series featuring Major Thankful Russell, of the Uncivil Wars series and his young wife Thomazine. A new book by M J Logue is always a joyous event, and the latest adventure for Major Thankful Russell and his wife Thomazine is no exception to this rule.
We find the Russells enjoying married life at the newly-rebuilt Four Ashes, with their small son. Thomazine is expecting their second child and Thankful is preparing to tiptoe his way through the emotional minefield that is a pregnant Thomazine, when their lives are disrupted by the arrival of the poetess Aphra Behn who seems to have mislaid her husband-to-be somewhere in Belgium.
This second book in the Russell series is a headlong tumble into intrigue, espionage and murky canals in seventeenth century Bruges, as Thankful and Thomazine are pulled into another mystery. As always, there is a astonishing amount of historical detail, drawn with such a light touch that it forms a perfect backdrop to the story without ever weighing it down.
Ms Logue populates the book with a host of characters who range from the comic to the truly appalling and includes the worst dog in Europe, with whom I am already in love. The story moves at a good pace and is satisfyingly pulled together, and the dialogue is clever and often very funny. I particularly love the author's gift for finding the bare bones of a historical story and weaving fact and fiction together until it is hard to know where one ends and the other begins.
But the joy of these books are the two main characters. Thankful and Thomazine Russell are real enough to walk out of the pages and have a conversation with. Ms Logue has created two believable people, with all their doubts, uncertainties and downright irritating qualities. They are likeable, human, witty and touching and I love both of them and will always want to read more about them.
If you haven't already read it, I'd suggest you start with An Abiding Fire, book one in the series, which is just as good. And then go back to the Uncivil War series and learn about Major Russell's misspent youth serving in a disreputable cavalry troop commanded by Thomazine's father.
This is one of the best historical mystery series I've read, and I would recommend them to anybody. Brilliant.