Lockdown with Oscar: Day Four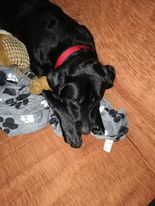 It's Sunday, and after a wild night of compulsory Beer Pong with some of the younger members of the household, neither Oscar and I are up for an early start.
The Essay from Hell is almost done. We're at that stage where Girl Child is studying it, and saying in dispassionate tones:
"This is actually not bad."
Given that at various stages, this was the worst essay ever written and she was going to fail her entire degree because of it, that probably means she'll get a first. All I have to do now is proofread, admire and leave her to it. Phew.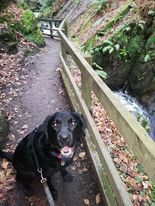 It's quite a nice afternoon, so Oscar and I take the car and head up to Groudle Glen. I was hoping it would be quiet, but it turns out that on a dry afternoon in lockdown, the glen is the place to be. Some of the paths are very narrow, so there's a lot of stopping and stepping to one side to let people pass. It's all very amiable though. We meet a few dogs including an alarmingly cute pair of dachshunds.
"Mum, this is fun. Why are some people wearing their muzzles?"
"People are worried about catching Covid, Oscar."
"You're not wearing one."
"You don't have to, out here, only in shops or indoor places. We're not getting close to people, I'm not worried about catching it here."
"Why is that dog wearing a muzzle?"
"That's got nothing to do with Covid, Oscar. Probably she bites."
"Ugh. Can I paddle in the river?"
"A bit further down. Once we get past the water wheel."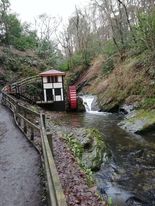 It's the first time I've been down the glen since the old Victorian water wheel was back in place. It was removed for restoration, and it's lovely to see it back, looking splendid. Oscar was very interested, but the water is very fast here, with a series of rapids, so we moved on to shallower parts before I let him off the lead to play in the water. He loves it, and will just run up and down in the river for the sheer joy of it.
"Mum, can we go to the beach?"
"If it's not too busy, Oscar. There are a lot of children about today."
"I won't chase the children, I promise. I just want to SWIM!!!
The beach was fairly deserted apart from one family group and a woman with a teenaged daughter and their dog.
"Mum! A DOOOOOG! Can I go and play?"
"I think so, Oscar. Off you go."
Meet Moz. I didn't get too many details about him, as we had to socially distance, but he was lovely. His owners and I took turns to throw sticks in the water and Oscar and Moz chased them. It was a lot of fun. At one point they were actually swimming while holding the stick between them, which reminded me of Toby and Joey. I wish I'd got better photos, but they didn't keep still for long enough.
"Mum, that was GREAT! Where shall we go tomorrow?"
"I don't know, Oscar, let's see what the weather is doing then decide."
"Can I run and play over there?"
"NO! Absolutely not."
"Why?"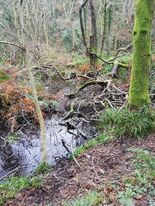 "Because that area is pure bog, and if you run into it, you might get stuck. When Toby was young, before we even had Joey, he took a flying leap into there thinking it was solid ground, and couldn't get out."
"Ugh. What did you do?"
"I waded in to rescue him. Above my knees in black, smelly mud. It wasn't good."
"I'm glad you told me. I'll give that a miss."
Back at home, the essay is over and Girl Child is finishing the referencing. I head out to start cooking dinner and there's no sign of Oscar. After a while, I go to check.
"Are you tired, Oscar?"
"Very tired, Mum. Is it dinner time yet?"
"Almost, baby boy."
"Think I'll stay here with Anya until it's ready. She says I'm a big help…"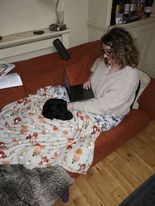 "It looks as though you are, Oscar. Sweet dreams."
Lockdown minus point number 5: Playing hide and seek on narrow paths through the glen.
Lockdown plus point number 5: We have the glens