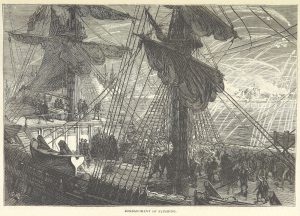 Ramsgate, July 1809; an excerpt from This Blighted Expedition
Book Two of the Manxman series is due out later this year and follows the fortunes of Captain Hugh Kelly of the Iris during the Walcheren campaign of 1809. The Walcheren expedition was a joint operation and explains what the second battalion of the 110th infantry was up to while Major van Daan was fighting at Talavera.
In this excerpt both the navy and the army are becoming increasingly frustrated at how long it is taking to get the expedition underway.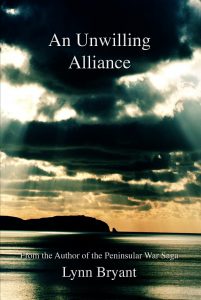 Book One in the series, An Unwilling Alliance, is available on kindle and in paperback on Amazon.
It was another five days before the Iris sailed from Ramsgate. The expedition had seemed on the verge of launching several times, and was delayed each time. On the 20th Hugh had said a tender farewell to Roseen, watching her fight back tears and wondering if she knew that he was doing the same. On the following day, he sent a boat with a message requesting that she join him aboard, since it was clear that the expedition, once again, was going nowhere.
Lord Chatham's arrival to take command of the forces was quickly overshadowed by the arrival of news from Europe. Two weeks earlier, the Austrian forces had been defeated by Bonaparte at Wagram, just north of Vienna. Hugh imagined there had been a huge in-drawing of breath among the leaders of the expedition. Lord Castlereagh and Lord Chatham, presumably after some discussion, let it be known that the expedition was not to be suspended. Although the original intention had been to use the attack as a distraction to assist the Austrians in their campaign, a successful attack on Antwerp might still act as an incentive to keep Austria in the war. Hugh sat in his cabin, writing a carefully worded letter to Major van Daan, fighting somewhere in Portugal or Spain, and wondered how much that had influenced the decision to proceed or whether the two men had stood looking out over the masts of the fleet, every ship crammed with weapons, supplies, horses and men, and decided that it would be too embarrassing or simply too difficult to call a halt to such an enormous and expensive campaign.
The delay on the 21st was caused by a change of wind, which meant that the other half of the expedition, with the forces led by Chatham's second-in-command, Sir Eyre Coote, were unable to sail from Portsmouth as planned. Hugh received the tidings in his cabin and summoned Durrell to share the news.
Durrell read the orders in silence and looked up at Hugh. Hugh raised his eyebrows, inviting comment.
"At this rate, we'll be lucky to sail before the end of the month, sir. And the weather is only going to get worse."
Hugh nodded soberly and rose to bring wine. "I've sent for my wife," he said. "You can call me a sentimental fool, Mr Durrell, but even a short time longer with her is worth it."
"I wouldn't be so impertinent, sir, I'd feel the same. But another delay?"
"Aye. What do you think?"
Durrell's clear blue-green eyes were steady on his. "I think if we're going to go, we should get a move on, sir."
"Personally, I think if we were going to go, we should have already gone, Mr Durrell. But we can be very sure that nobody is going to be asking for our opinion about any of it. I wonder what the army makes of it all?"
Durrell gave one of his unexpected grins which made him look much younger. "Are you missing your source in the 110th, sir?"
"I think I am. Although I've a feeling that if Major van Daan were here, he'd have expired from sheer frustration by now. Never mind. I shall enjoy supper with my wife and try to remain calm, and well out of the politics of it all."
Despite Hugh's determination, it was impossible to ignore the politics. Over the next few days he received a stream of visitors including Admiral Keats, Captain Codrington, and to his exasperation, Captain Sir Home Riggs Popham. All of them had something to say about the progress, or lack of it, made by the expedition, and all of them seemed very clear where the blame should lie.
"Bloody Chatham," Codrington said gloomily. "We'd have been on the way if it hadn't been for him. Did you know that the French fleet have sailed out of Antwerp and are anchored off Flushing? Sir Richard Strachan is sure we could bring them to an engagement if we caught them."
Hugh regarded him owlishly. "If we caught them?" he enquired. "Ned, have you been over-indulging? Take that glass away from him, Mr Durrell, he's had too much. Can you explain to me, because I'm a greenhorn here, fella, and don't know much about the navy and suchlike, exactly why the French are going to sit sunning themselves on the quarterdeck waiting for us to sail in and cut them off? Do they do that often in your experience, because if they do, I've missed it."
Codrington flushed slightly and then drained his glass and held it out to Durrell. "I'll have another, Mr Durrell, before your captain gets stingy with it. All right, Hugh, what is it exactly you think we ought to be doing?"
"Following the orders we're given and not going off on a spree," Hugh said firmly. "I'm not arguing that the army are bloody slow, it's the size of the boots they're clumping around in, but it's not going to help if we go without them. Even if we could bring the French to battle, what use is that when half our ships are stuffed full of redcoats? We need to offload them at the very least."
Admiral Keats was somewhat more circumspect. "A pity so much time has been lost," he said, settling himself into Hugh's day cabin. "This is very good wine, Captain Kelly, where did you get it from?"
"It was a gift," Hugh said. The wine had arrived in two crates shortly before he had embarked, having been re-routed from Chatham dockyards. "I've a friend serving in Portugal with Wellesley."
"In the army?" Keats said, sounding so revolted that Hugh laughed aloud.
"In the army, sir. Although if it makes you feel better, he served in the navy first."
"One of the better ones then. I wish I had as much faith in our commander-in-chief."
"He's hardly had time to do anything yet, sir."
"He's hardly been out of bed before noon since he's been here, Captain. And he's insistent on awaiting the arrival of the ships from Portsmouth. Won't sail without Coote. Strachan is furious."
"Strachan has been furious ever since I first met him, sir."
"Oh, come on, Captain, don't tell me you're happy about this."
"I'm not," Hugh admitted. "Although it does mean an extra few days with my wife."
"Is she with you?" Keats said, brightening visibly. "Bring her over to dine today, man, I'm starved of feminine company and I am devoted to your wife; I never know what she's going to say next."
"Nor do I, sir," Hugh admitted. "Thank you, we'd be delighted."
Keats settled back into Hugh's favourite armchair reminding Hugh of Molly, the ship's cat when she found a particularly comfortable spot in the sun. "This is very pleasant," he said. "It hasn't escaped my notice, Captain, that you've not been seen on shore much this past week."
"Or at all," Hugh said placidly. "To be fair, sir, I'm in the navy, this is where I'm supposed to be."
"Popham was searching high and low for you yesterday," Keats said, and the tone of his voice when he spoke the name made Hugh grin. "Apparently there are three stray staff members needing a passage and he thought you might have space for them."
"More staff members? Jesus, how many are there? I've already got six of them wedged into the officers' day cabin, I don't need any more."
"The Earl of Chatham has a large staff," Keats said neutrally. "I have counted at least seven ADCs and I may have missed a few. At any rate, you are safe from Popham, he caught up with Codrington and has sent them over to the Blake."
"Serves Ned right for hanging around on shore too much. I find it interesting that Popham didn't think to look for me aboard my own ship, it clearly didn't occur to him that's where a captain might be. Any more news of when we're sailing?"
"As far as I'm aware, we'll be off the moment the Portsmouth fleet arrives, but God knows when that will be, they're pegged in by the wind at present."
"Captain Codrington informs me that Sir Richard Strachan is unhappy," Hugh said, and Keats spluttered with laughter, spilling wine on his sleeve. Brian hurried forward with a napkin to mop up the mess.
"Thank you, lad. Is that the word he used to describe it? Sir Richard is pacing the quarterdeck uttering oaths I can't even work out the meaning of and threatening to turn his guns onto Lord Chatham's lodgings if he doesn't get his arse moving soon. I was privileged to be present when he received the Earl's last letter, I thought we'd need to send for the surgeon."
Hugh was laughing; it was so easy to visualise Strachan's fury. "Ned seems to think that Sir Richard could have taken the French by surprise if we'd moved faster," he said.
"They'd have known we were coming the second we set sail, they've their own informants watching us and a small boat can get across to Flushing a lot faster than we can. Strachan gets carried away by his own rhetoric sometimes and he can't stand waiting. Chatham won't leave without the Portsmouth fleet, his second-in-command is with them and he probably wants Coote to be there to do all the work he doesn't want to have to do. But I doubt these few days will make that much difference; it's the previous month of farting around doing nothing which will have done the damage."
Hugh studied Keats thoughtfully. "May I ask you a question, sir?"
"By all means."
"Why do I get the odd feeling that nobody is really happy about this expedition?"