Our Walcheren Expedition, day 1 was spent exploring the area by car. It's always good to do that if possible, to get a sense of the place before planning the week. Given that the real purpose of this trip is to give me a sense of how Walcheren might have been in 1809 when This Blighted Expedition is set, there's something very exciting for me in walking down streets and looking at views which my characters would have known.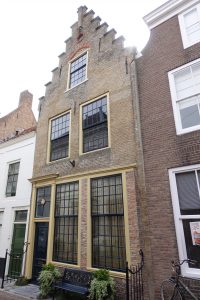 Given that, we were very fortunate to find an apartment, through Airbnb, on Korendijk, which is directly on the canal and is where my Dutch heroine, Katja de Groot, was living with her three children when the British invaded in 1809. Much to my joy, the house turned out to have been built in 1722. Most of the buildings along the street are from the seventeenth and eighteenth century and all fit well with the tall houses that the merchants of Walcheren built to house their businesses and their families.
Our landlady, apparently recognising a history nut at forty paces, explained that this house was built by a wheat merchant, who also owned a mill and a bakery nearby. The beams have a very battered look, understandable because much to my joy, they were recycled from old ships from the local ports. In one part of the building, it's possible to recognise part of the ship's mast.
Chatham's army landed at Bree Sands, to the north, and that is where we started our drive around Walcheren. The challenge of getting the location right in this particular book is that the landscape has changed dramatically. In 1809 Walcheren was an island, as were North and South Beveland. Land reclamation means that it is not possible, as it often is in Portugal and Spain, to look over the landscape and know that you are seeing pretty much the same land as your characters.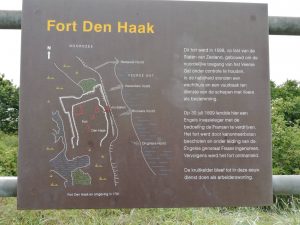 All the same, the wide beaches and strong winds definitely give a good sense of what Chatham's men faced when they landed on Walcheren. We even managed to find the location of Fort Den Haak, where Lord Chatham set up headquarters on that first night, although whatever remains of the fort itself is currently inaccessible to the public. Interestingly, it is further inland than it would have been in 1809.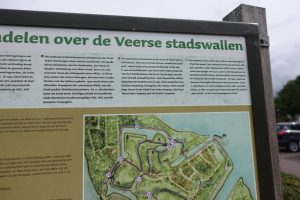 Following General Fraser's trail, we drove to Veere, which is a beautiful little town which refused to surrender immediately to Lord Chatham's army and was battered from both land and sea to persuade it to do so. There is a walk around the fortifications of Veere which we did, and it gives a good sense of the town defences, although most of what exists today was built from 1810 onwards when the French returned, including a fine selection of artillery from 1810 and 1811. We'll be back to do the museums another day.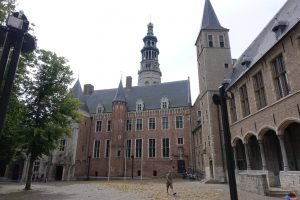 Later in the day we took a stroll around Middelburg to get our bearings and were impressed with Middelburg Abbey, where Lord Chatham set up his headquarters. Having seen Wellington's various headquarters in the Peninsula over the past two years, it was clear that Lord Chatham was somewhat more set on luxury than Wellington, although now that I think about it, the Royal Palace in Madrid probably trumps Middelburg. Once again, we'll be back to do the museums.
Already I've picked up an enormous amount of information for the book, but more importantly, I have a sense of the area and the countryside. One of the things that contemporary accounts frequently mention is that it is flat. They were not wrong about that, so I have decided that tomorrow I shall venture around the coastline on a slightly different mode of transport, and one that I seldom use…