Beginning in 1802, the Peninsular War Saga tells the story of the men and women of the 110th Infantry during the wars against Napoleon, and in particular the story of Paul van Daan who joins the regiment as a young officer and rises through the ranks in Wellington's army.
In a linked series, the Light Division romances, we follow the fortunes of some of the men of the 110th into peacetime.  Two books have been published so far, A Regrettable Reputation and The Reluctant Debutante
A second linked series, about a Manx naval officer, begins with An Unwilling Alliance, due to be published in April 2018 and tells the story of Captain Hugh Kelly of HMS Iris, Major Paul van Daan of the 110th infantry and the Copenhagen campaign of 1807.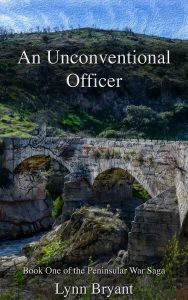 An Unconventional Officer (Book 1 of the Peninsular War Saga: 1802 – 1810)
It is 1802, and two new officers arrive at the Leicestershire barracks of the 110th infantry just in time to go to India.  Sergeant Michael O'Reilly and Lieutenant Johnny Wheeler have seen officers come and go and are ready to be unimpressed.  Neither of them have come across an officer like Lieutenant Paul van Daan.
Arrogant, ambitious and talented, Paul van Daan is a man who inspires loyalty, admiration and hatred in equal measure.  His unconventional approach to army life is about to change the 110th into a regiment like no other.
The novel follows Paul's progress through the ranks of the 110th from the bloody field of Assaye into Portugal and Spain as Sir Arthur Wellesley takes command of the Anglo-Portuguese forces against Napoleon.  There are many women in Paul's life but only two who touch his heart.
Rowena Summers, a shy young governess who brings him peace, stability and lasting affection.
Anne Carlyon, the wife of a fellow officer who changes everything Paul has ever believed about women.
As Europe explodes into war, an unforgettable love story unfolds which spans the continent and the years of the Peninsular War and changes the lives of everyone it touches.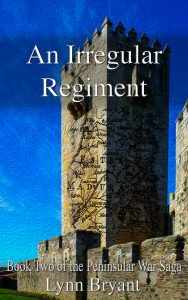 An Irregular Regiment ( Book 2 of the Peninsular War Saga: September 1810 – April 1811 )
It is 1810 and Major Paul van Daan and the 110th prepare to meet the French on the ridge of Bussaco in Portugal. Back on the battlefield only two weeks after his scandalous marriage to the young widow of Captain Robert Carlyon, Paul is ready for the challenge of the invading French army.
But after a successful battle, Lord Wellington has another posting for his most unorthodox officer and Paul and Anne find themselves back in Lisbon dealing with a whole new set of challenges with army supplies, new recruits and a young officer who seems to represent everything Paul despises in the army's views on discipline and punishment. Anne is getting used to life as the wife of a newly promoted regimental colonel as two other women join the regiment under very different circumstances. And an old adversary appears in the shape of Captain Vincent Longford whose resentment at serving under Paul is as strong as ever.
It's a relief to return to the field but Paul finds himself serving under the worst General in the army in a situation which could endanger his career, his regiment and his life.  Given a brief by Wellington which requires Paul to use tact and diplomacy as well as his formidable fighting skills, it's hardly surprising that the army is waiting for Wellington's most headstrong colonel to fail dismally at last…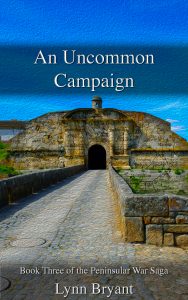 An Uncommon Campaign (Book 3 of the Peninsular War Saga: April – June 1811)
Lord Wellington has led his army to the Spanish border where the French occupy their last stronghold in Portugal at Almeida. As the two armies face each other in the village of Fuentes de Onoro, Colonel Paul van Daan is becoming accustomed to his new responsibilities in command of a brigade and managing the resentment of other officers at his promotion over older and longer serving men. His young wife is carrying their first child and showing no signs of allowing her delicate situation to get in the way of her normal activities. And if that was not enough, Paul encounters a French colonel during the days of the battle who seems to have taken their rivalry personally, with potentially lethal consequences for the 110th and the rest of the third brigade of the light division.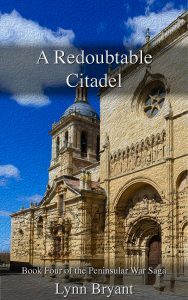 A Redoubtable Citadel (Book 4 of the Peninsular War Saga: January – June 1812)
In the freezing January of 1812, Lord Wellington pushes his army on to the fortress town of Ciudad Rodrigo and a bloody siege with tragic consequences. Colonel Paul van Daan and his wife Anne have a baby son and in the aftermath of the storming, take a brief trip to Lisbon to allow Paul's family to take little William back to England. With his career flourishing and his marriage happy, Paul has never felt so secure. But his world is shattered when his young wife is taken prisoner by a French colonel with a personal grudge against Paul. As Wellington's army begins the siege of Badajoz, the other great Spanish border fortress, his scouts and agents conduct a frantic search for the colonel's wife. Meanwhile Anne van Daan is in the worst danger of her life and needs to call on all her considerable resources to survive, with no idea if help is on the way.
An Untrustworthy Army (Book 5 of the Peninsular War Saga: June – November 1812)
Back with her husband and his brigade, Anne van Daan is beginning to recover from her ordeal at the hands of Colonel Dupres as Lord Wellington marches his army into Spain and up to Salamanca. In a spectacularly successful action, Wellington drives the French back although not without some damage to the Third Brigade of the Light Division. Still recovering from their losses at Ciudad Rodrigo and Badajoz earlier in the year, the Light Division remains in Madrid while Wellington lays siege to Burgos. But the end of the campaigning season is not going as well for the Allied army and triumph turns to an undignified and dangerous retreat. At a time when the discipline of Wellington's army seems to have broken down, will Colonel van Daan's legendary brigade manage to hold together and get themselves back to safety? (To be published in July 2018)
An Unrelenting Enmity (Book 6 of the Peninsular War Saga:  December 1812 – April 1813)
Wellington's army is in winter quarters, licking it's wounds after the retreat from Burgos. In the 110th and the rest of the Third Brigade, however, morale is high. Anne van Daan has successfully given birth to her second child and there is time for a trip to Lisbon to see the rest of the children. Things take a turn for the worse when a new commander is appointed to the 115th serving under Paul, a man who represents everything that Wellington's most unconventional brigade commander despises. In addition, the new Major has a history with Sergeant Jamie Hammond which looks likely to set off a major explosion in the 110th. (To be published in December 2018)
An Uncivilised Storming (Book 7 of the Peninsular War Saga:  May- October 1813)
Lord Wellington leads his army into northern Spain. With a better supply train and a new determination the Anglo-Portuguese army are about to make a push to cross the Pyrenees and invade France. Wellington's army, including Colonel Paul van Daan and the Third Brigade of the Light Division face the French at Vitoria win a comprehensive victory. There follows an exhausting series of battles as Marshal Soult tries desperately to rally his forces and push the English back. Weary of battle, Paul is appalled when he arrives in time to witness the sacking of San Sebastian by the Allied troops, an atrocity which makes him question his place in the British army. (To be published in April 2019)
An Inexorable Invasion (Book 8 of the Peninsular War Saga:  October 1813 – February 1814)
Wellington's army is invading France. After almost five years of advancing and retreating across Portugal and Spain, Colonel Paul van Daan and his brigade are about to set foot on French soil, the first time many of them have ever done so. At the battles of the Bidassoa and the Nivelle, the men of the light division are at the forefront of the action as Wellington ruthlessly presses home his advantage. But behind the scenes, the European powers are negotiating for Bonaparte's abdication and the end of hostilities and the disappearance of Sir Henry Grainger, British diplomat and intelligence agent sends Captain Michael O'Reilly and Sergeant Jamie Hammond with a small force into hostile country on a mission which could lead to peace – or cost them their lives. (To be published in August 2019)
An Improbable Abdication (Book 9 of the Peninsular War Saga:  March 1814 – January 1815)
Wellington's army is in France, marching inexorably towards victory. An inconclusive engagement at Toulouse is cut unexpectedly short when the news comes in that Napoleon Bonaparte has abdicated and that France has surrendered. With war finally over, Colonel Paul van Daan and his battered and exhausted men are bound for England and a round of celebrations and gaiety which Colonel van Daan could do without.  While the crowned heads of Europe are feted in London, honours and promotions abound and Anne and Paul find themselves learning how to live a normal life again with their children around them. The light division is broken up with it's various regiments sent to other duties and Lord Wellington, now a Duke, is despatched to Vienna to represent Britain in the complex peace negotiations which threaten to try his patience almost as much as Marshal Massena. But the early months of 1815 bring shocking news… (To be published in December 2019)
An Unmerciful Engagement (Book 10 of the Peninsular War Saga:  Waterloo 1815)
For Paul and Anne van Daan, domestic bliss has been interrupted long before they had grown used to it. Bonaparte is loose and with the light division disbanded and many of it's crack regiments dispersed to other theatres of war around the globe, Wellington needs to pull together an army from the allied nations of Europe. His Peninsular army no longer exists but he still has Paul van Daan and the 110th. Promoted to General, Paul is on his way to Brussels and to a battle far worse than anything he has yet experienced. (To be published in June 2020)
An Amicable Occupation (Book 11 of the Peninsular War Saga:  1815 – 1818 the Army of Occupation)
With the horrors of Waterloo behind him, Paul van Daan is in France commanding a division of the Army of Occupation under Wellington. It is a whole new experience for the officers and men of the 110th, learning to live beside the men they fought against for six long and painful years.
A Civil Insurrection (Book 12 of the Peninsular War Saga: Yorkshire 1819)
Back in England finally, the 110th have settled back into barracks and are enjoying a rare spell of peace when trouble in the industrial towns of the North sends them to Thorndale, Anne's home city where her father and other mill owners are under threat from what looks like a revival of the Luddite movement. After many years of fighting the French the men of the 110th are faced with a new challenge which might see them pitted against their own countrymen. (To be published in December 2020)