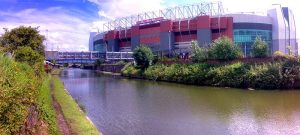 One of the things that surprises people about me, is that I like football.
I grew up in London in the sixties and seventies, when football had something of a bad name, being inextricably linked with violence and hooliganism. West Ham was our local team, although many of the boys also supported other London teams; Tottenham, Arsenal, Chelsea and Millwall being the most common. There was no Sky TV, matches were shown on BBC and it was still easy and affordable to go to watch matches, with supporters crammed into the standing room on the terraces, carefully watched by rows of police. Trouble on match days was so common, we all knew not to get the underground east to go shopping at East Ham or Stratford when West Ham were playing at home. Back then I used to follow the teams my friends followed, without any strong allegiance to any one.
That changed when I moved to Manchester for a job just after finishing university, and discovered a city with a passion for football that I'd not really experienced before. I made friends locally and I can remember the atmosphere in the pubs when United scored. Still not a die-hard fan, I used to follow the league and was pleased when they did well.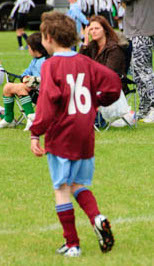 My somewhat casual interest stayed that way for many years. I married a man whose interest in football can be measured in negative numbers, and it wasn't until my son grew old enough to kick a ball and watch a match that I rediscovered football. Weekends were spent shivering in rain, sleet and biting winds watching him play. Gradually, his matches changed from the sight of a pack of six year olds all chasing a ball with no thought of passing or position, to real contests with tactics and skill and enormous passion.
I also rediscovered Manchester United. With my husband so firmly indifferent, it became my job to take my son on the annual pilgrimage to Old Trafford, and I'll admit that I absolutely loved it. Football had moved on from the days of fights on the terraces and trouble on the underground, and travelling back from a match on the tram packed with celebrating United fans was a pleasure not an ordeal, although the cost had gone up alarmingly by then, making it impossible to do it regularly. Still, we had a great time, and I think it gave me a bond with my son which endures to this day.
These days, he's a young adult with a job, a girlfriend and a pack of mates who all support different teams. His best friend is a Liverpool fan, which makes for some lively discussions at times. We still share the interest, though, and even if we don't watch the matches together, we'll still discuss the results, moan about the manager (it's traditional) and worship David de Gea's ability to save us from disaster yet again. Which is why on this day, at some point, we'll probably sit down together and remember what happened in 1958 when twenty-three people, including eight young players from the Manchester United team, known as the "Busby Babes" died in a plane crash on a slush-covered runway in Munich.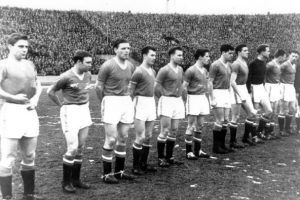 The facts of the tragedy are fairly well known. The team was on its way back from a European Cup match in Belgrade where they had made it through to the semi-finals and the plane had stopped in Munich to refuel.  The pilots twice abandoned take-off because of boost surging in the left engine and there was some talk of needing to stay overnight in Munich. It was decided to make one more attempt to take off but by then, snow had fallen, leaving a layer of slush at the end of the runway. The aircraft hit the slush, crashed through a fence and tore off its left wing after hitting a house. The pilot, who survived, began evacuating passengers, fearing that the plane might explode. United's goalkeeper, Harry Gregg risked his life to get survivors out of the wreckage.
There were forty-four people on the flight, including the team, the manager and some staff, a number of journalists and several other passengers. Twenty of them died at the scene and three more died in hospital. An investigation originally blamed the pilot, suggesting that he failed to de-ice the aircraft's wings, despite eyewitness statements to the contrary. It was later established that the crash was caused by the slush on the runway, which slowed the plane too much to take off, and the pilot was cleared of all blame in 1968, ten years after the crash.
Manchester United were trying to become the third club to win three successive English league titles and were currently six points behind the leaders with fourteen games to go. They held the Charity Shield and had just reached their second European Cup semi-final and the team had not been beaten for eleven matches. The crash destroyed what is often considered to be one of the greatest generations of young players in English football history. Of the eight that died, the oldest of them was only twenty-eight. Matt Busby, the manager, survived his injuries but it took him ten years to rebuild the team. The new generation of 'Babes' won the European Cup in 1968.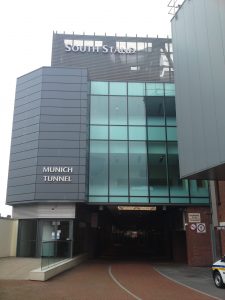 The story of the tragedy is beautifully told at Old Trafford, both in the museum and in an exhibition in the tunnel outside. It is impossible not to be moved. Photographs, more than words, highlight how young they were. I think my son and I both had tears in our eyes the first time we visited. He would have been about nine, struggling to imagine how it would feel if he woke up to read that eight of his current football heroes had died together. Recently football lost another young star in a plane crash, and I'm thinking of Emiliano Sala as well today, a boy on the verge of a whole new adventure. Maybe their youth shouldn't make it seem that much worse, but for me it does.
Reading about the tragedy again today, I can still feel it. The story has been told many times, but for me the two best depictions of it are in the made for TV movie, United, starring David Tennant, and in the documentary featuring Harry Gregg made in 2008, entitled One Life. Both of those can still reduce me to tears.
I wasn't born at the time of the Munich crash, although I can remember hearing about it from a very young age from my parents. But for Manchester United fans, and probably for football fans generally all over the world it will never be forgotten. And this afternoon one middle aged woman on the Isle of Man will sit at her desk in silence for two minutes and think about the players and the other people who died on that flight more than sixty years ago.