Joey the Yellow Labrador was supposed to be a cat.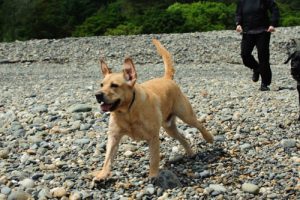 We often told him that, through the 13 years of his life, and he regarded us with tolerance, as if he was hearing a joke he knew well, just waiting for the punchline. That was a regular expression of Joey's. He was a happy dog, with a happy expression, and a permanently wagging tail. In fact, Joey didn't just wag his tail, he wagged the entire back end of his body. Joey was joyous and brought joy to everyone around him.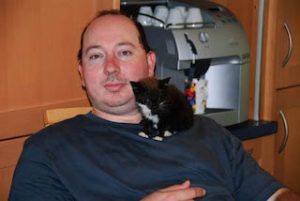 The cat was called Lucky. He arrived late one afternoon, courtesy of our new German au pair. She was passionate about animals, and arrived back after a cycle ride with tears in her eyes about an abandoned kitten she had seen by the roadside. Her description was painful and I tried very hard to resist, but found myself driving out with her to rescue a bedraggled and skinny creature with weeping eyes. Lucky was so light I could barely feel him and I wasn't hopeful, but the vet assured me that food, care and antibiotics would probably do the trick.
The children, aged 8 and 6, were hugely excited and our intention of taking Lucky to the MSPCA for rehoming quickly faded. Toby, our two year old black Labrador was relaxed about the new arrival and it seemed that Lucky had found his forever home for a few days until Richard went down one morning and found that he hadn't been strong enough and had died in his sleep.
The children were devastated, and an unexpected gap opened up in our joint parenting techniques. While I was all about letting them cry and comforting them, Richard's solution was far more popular. "We'll get another cat," he promised, definitely. "Mummy will find one."
I genuinely think that Richard thought it would blow over. We were already the proud owners of Toby and a new Leopard Gecko, Luca. There were no kittens immediately available and the children nagged and worried and Richard became less and less keen on the idea, until one day it happened. Richard opened the free paper on a Saturday morning and said:
"Does it have to be a cat?"
"Yes," said my daughter, who liked a promise to be clear.
"No," said my son, who was a master negotiator. "Why?"
"Somebody is selling Labrador puppies in Castletown."
I looked at my family and felt a very familiar feeling of inevitability. Three faces were alight with enthusiasm and even Toby looked cheerful.
"We could go and look," Richard said.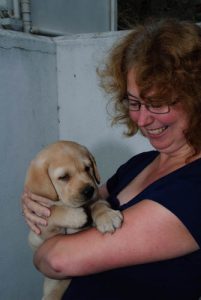 Joey was one of a big litter, and when I first met him, he was cutely chubby, a fluffy bundle of golden fur who moved across the floor with astonishing speed. We watched him race about the room, beating every other puppy to the toy, the food and the cuddles. I'd never seen anything that tubby, move that fast and his name was an inevitability. Joey Dunlop, the Northern Irish road racer and hero of the TT was a household name to us and Joey was the name of our new puppy.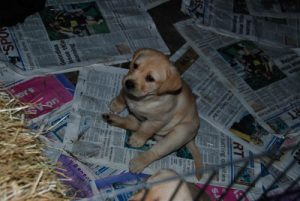 When we went to collect him two weeks later, I nearly fell over in shock. His owners handed us a feeding sheet for the new puppy which seemed to consist mainly of full fat milk and weetabix. Joey was enormous by then, nothing like the lean, leggy puppy I remembered from Toby at this point. He was too fat to climb the garden steps at home and so round, that when Toby got tired of his teasing and batted him away, he rolled across the floor like a ball. A quick checkup with the vet confirmed my suspicions, and we changed Joey's diet. The weight came under control, but was a regular feature of his life. While he was young and active, Joey was slim enough, but the minute his arthritis slowed him down, it ballooned again. One of Jon's favourite names for him was the King of Chins and it suited him. Joey was a very cuddly dog.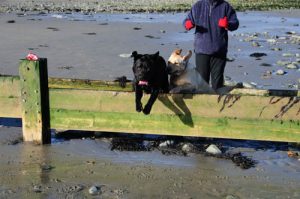 This didn't mean he wasn't active. From the first, Joey demonstrated something that Toby never had: a brain. He learned tricks, he understood instructions and he could think for himself. Within two years, he could open any door in the house and he was an expert escapologist. He was not only clever, but agile, despite his tendency to put on weight. He could climb onto chairs and surfaces and was an amazing jumper. We never formally trained him to dog agility, but his ability to jump over breakwaters on the beach was phenomenal.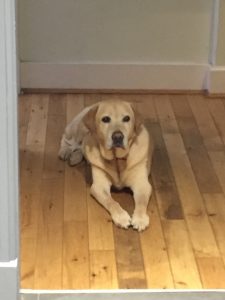 Joey's tendency to escape caused one or two dramas over the years. He went AWOL on the day of my Mum's funeral, and was found making his way towards Summerhill Glen by my friend, his tail wagging enthusiastically. Our previous house was on an estate, and all the neighbours recognised Joey and would ring and message with a sighting if he decided to go wandering. The worst occasion was when some builders ignored all my instructions NOT to unlock the kitchen door where the dogs were. Richard was in London and the kids were at school and I was just settling down for a meeting at the Sayle Gallery where I was working when the call came from my neighbour to tell me she'd just seen Joey trotting past from her upstairs window. He was missing for half an hour on that occasion and I was just about to give up the search and contact the police and the dog warden, when I became aware of traffic disruption on Glencrutchery Road, just by the Grandstand. Cars were screeching to a halt and as I pulled over, it became clear why. Joey was trotting happily along the white line in the middle of the road, head high and tail wagging, completely black with mud from the dog walking are in Nobles Park. He was heading for home. Joey always had a good sense of direction.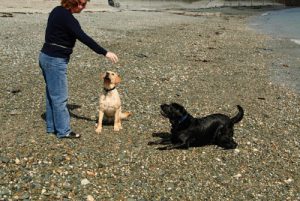 Joey loved to swim, like all Labradors, and was braver than Toby about where he would jump in. The stone jetty down at Port Soderick was one of his favourites, and he would leap off the end into deep water after a toy or a stick and then swim back to shore. He never seemed to tire of swimming, and the only concern was to make sure he didn't swim off into the distance. I once had a panicked afternoon on Niarbyl Beach when he spotted a group of men fishing and drinking beer on a boat out to sea and decided to try to swim out to join them. He was exhausted by the time he finally gave up and swam back, plodding up the beach, but his tail was wagging furiously and he was still grinning. More recently, on a trip to the beach with Oscar, our new puppy, he scared us all over again by taking off after some ducks bobbing about in the sea at Groudle Beach. Joey was a real water dog, and never got bored with swimming.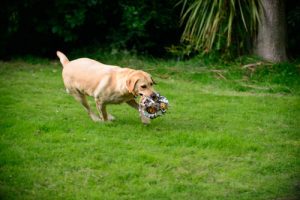 Joey also loved playing football. This was the province of my son, a keen footballer from the age of 5, who kicked a ball around the garden with Joey all his life. Toby was never especially interested in sport, but Joey was fast, agile and always up for a training session. For a few years, he wore a Manchester United collar with great pride.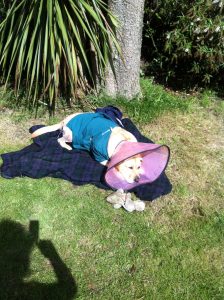 Joey was six when he had his first brush with cancer. Jon was showering him one day and noticed a lump on his hind leg. The vet confirmed our worry, and an operation was needed. Because it was necessary to take a wide are around the tumour, the vet took a skin graft from his tummy to repair the wound, so poor Joey had two sets of stitches. For an active Labrador with no sense, it was very difficult, and we took turns to stay up to watch him as the wounds healed. The operation was a big success and Joey made an excellent recovery.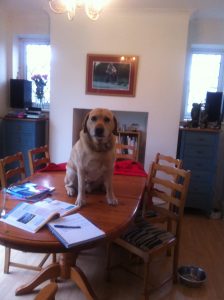 Joey was a family member, and shared everything. He loved to help the kids with their homework, particularly during Jon's GCSEs, and once I began to work at home full time as a writer, he was always with me. While Toby was more independent, Joey was very involved with everything we did. He was particularly attached to me, and would follow me from room to room. When I began working at home, he quickly learned the routines of my day, and would wait patiently until I went into the study, so that he could settle down for a long nap. If I varied the routine for any reason, he would follow me and gently try to herd me into the right place.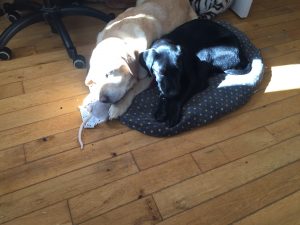 When I became a published author of historical novels and decided to name my website and blog after my Labradors, Joey took to stardom like a natural. He was always willing to listen to me discussing my latest plot as he snored peacefully behind my chair and he adored the fact that I was now working from home full time. In time, he graduated to dictating his own guest post and helping Oscar with his. I really enjoyed trying to put myself into my Labradors' heads and imagine how they might see life, and it told me a lot about how I observed the different personalities of my three dogs.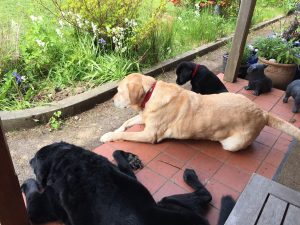 Arthritis was the next problem, as Joey grew older. He took regular Metacam and developed a very individual waddling gait. For a time, he seemed to be ageing along with Toby, but the arrival of Oscar in 2018, gave Joey a new lease of life. Suddenly he was playing again, running around, although not very fast. He adored Oscar in a way that I'd never expected, and their relationship for the first 19 month of Oscar's life, gave me more happiness than I can describe. They were inseparable, always together, always touching, and when Toby died unexpectedly in July 2018 I was very thankful that Joey had Oscar to fill the gap.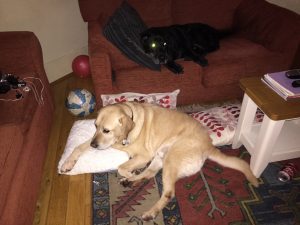 We had a major scare with Joey in June 2018 when his back legs stopped working. For a time, we wondered if we were going to lose him, but a strong dose of anti-inflammatory drugs did the trick, and it was Toby who went first. Oscar and Joey grew even closer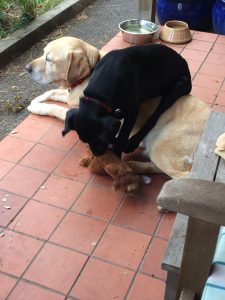 Joey and Oscar were very physically affectionate, in a way that Toby and Joey seldom were and it was lovely to watch. In particular, it was hilarious that from an early age Oscar liked to sit on Joey and Joey was completely happy with it. Joey was very protective of Oscar, and on one occasion went into battle when his little brother was attacked by a bigger dog. Watching them together, especially after Toby died, I realise that I was dreading the day.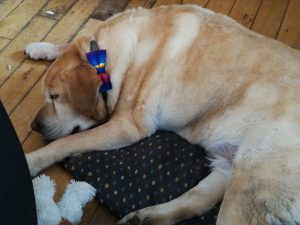 The day came last week. I'd been watching Joey for a week or two, uncomfortably aware that something didn't seem right. At the weekend, with my son away and my daughter still at Uni, I was beginning to really worry. He was wobbly in a new way, seemed very tired, and was not eating as well as usual. This really worried me, as Labradors seldom go off their food.
I took him to the vet on Tuesday 3 December, and I had the phone call within an hour of him being admitted. It was the worst news, and I wasn't at all shocked. Joey had a huge tumour around his spleen and was bleeding internally. He was going to die, but at the moment it was still very painless. That could change at any moment, and the vet didn't recommend that we wait.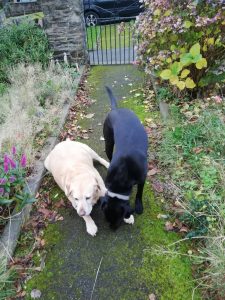 We waited a few hours, because my son was on his way home that day and at least one of them could say goodbye. My daughter was there on video chat, sharing his last few hours with us. There was no time to get her home. They were good hours. Joey was his usual self, his tail wagging, not able to walk much but still insisting on following me from room to room. We fed him lots of wholly unsuitable treats that we would never normally have given him. He really enjoyed the chocolate biscuit. We took him out to the front garden, his favourite place, and on the lead out the front where he proudly peed on his favourite tree. Oscar was with him and I dreaded his reaction since I'd no idea what it would be.
The vet came to the house and Joey went peacefully to sleep at around 4.30pm. Oscar made us cry a bit when he came to check out the body and sat on Joey, just as he always did. But he settled very quickly, as if he had a much better understanding of the whole thing than we did.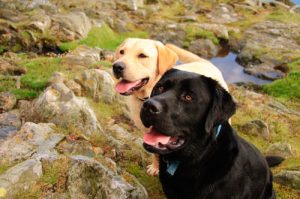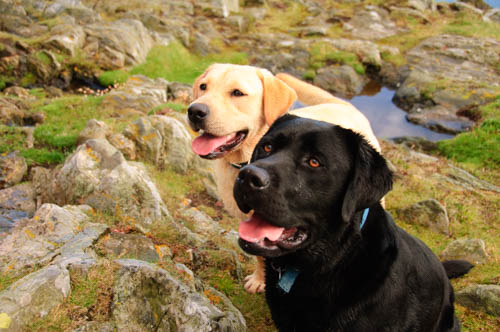 Two dogs in two years and my heart is broken. And yet it's not. The original stars of Writing with Labradors have gone, to wherever dogs go. In my head and my heart, they're together again, their stiff legs working properly, running along a beach, jumping over the breakwaters and swimming in the sea. I miss them both every single day, but they're still with me in spirit.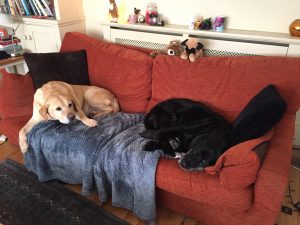 And I have Oscar, the junior member of the team, who has very big paw prints to fill. He's more than up to the job and he brings me joy. One day, I hope he'll have a little brother to take care of, we've not made any decisions yet, it's too soon. Writing with Labradors is down to one, but the other two are still here. I see them sometimes out of the corner of my eye, hear an echo of Joey's bark or Toby's snore as I'm sitting at my desk. They were my best friends between them, for almost fifteen years, and I'll never forget them.
Sound the Last Post for General Toby and Colonel Joey, senior officers of Writing with Labradors. They were beloved by all who served with them. Their duty is done and they've earned their rest.