Publicity is ruling my life today. I've been writing and sending press releases for both areas of my life.  My dance school has just launched a new website and is taking part in a St Patrick's Day event on Friday so one of them is about that.  I've also sent several out publicising the free promotion for A Respectable Woman which is happening from 23rd to 25th March 2017.
The reality is that this is a displacement activity for what I should be doing which is laundry, ironing and cleaning the house.  It's interesting that I have moaned like hell about the promotional side of being a writer, but given the choice between that and a set of stairs that need vacuuming or a trip to Shoprite, I am suddenly my own publicist.
In between all this I am trying to keep track of which students are and are not attending Friday's show.  I have come to the conclusion that running an Irish dance school must have been the origin of the cliche about herding cats.  You just think you've finally got the hang of who is doing what and going where and it all changes again.  This explains why all over the world, dance teachers are hunched over their laptops hours before the deadline for feis entries mumbling incoherently about slip jigs and reels and drinking endless cups of coffee.
The other thing that I should be doing is beginning to plan for my trip.  I'm off on a tour of Portugal and Spain shortly, visiting sites associated with Wellington's army.  This is something I've been wanting to do ever since I first started doing the research for my series of books set during the Peninsular War and I'm really excited.  Being a writer, however, my excitement leads me to read endless books and articles about where to go and what to see.  It does not occur to me that making lists and organising myself so that my family will survive while I'm away might be a more useful occupation.  Or at least, if it does occur to me I quickly brush the thought to one side in favour of another hour spent with the Peninsular War atlas.
The first book in the series is called An Unconventional Officer and tells the story of a young officer of light infantry and his career in the fictional 110th infantry during the Napoleonic wars.  It's a big project and I've been working on it for a long time.  It is the first time I've written a series of books about the same characters and I love the sense of being about to develop themes and relationships gradually.  It is, however, a very different prospect trying to keep track of characters and dates and events spanning a number of years and I have had to resort to meticulous record keeping just to ensure that a soldier who died at Talavera doesn't accidentally find himself resurrected in time for Salamanca.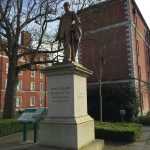 Statue of John Colborne at the military museum in Winchester.
In pursuit of research I paid a visit last week to the military museums in Winchester.  This was completely fascinating and as I only had a limited amount of time I intend to go back to do the bits I missed.  The museums are really well set out.  My favourite was the Waterloo section which has apparently won awards, and I can see why.  I highly recommend these museums even if army history isn't your thing, the stories are told so well.
It made me realise that another advantage of being a writer is the excuse to visit any museum or historic site that has even the slightest connection to the period I'm researching.  No longer can my poor, long suffering family accuse me of being self indulgent when I drag them to Apsley House during a visit to London or insist on visiting some obscure country church because somebody I've heard of was buried there.
And in the meantime, I've discovered that writing blog posts is an even better displacement activity than press releases…
For regular updates on this site including history, travel, book reviews and plenty of labradors (and a few freebies thrown in) please join the e-mail list here.