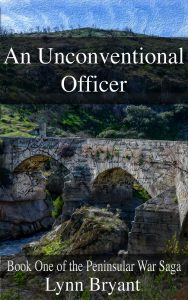 Happy Birthday to

An Unconventional Officer.
Two years ago today, this book was published. It wasn't the first book I had written or published, but it was the first in the Peninsular War Saga and the book that meant the most to me. I had dreamed of writing this series for years, had dabbled with it and then put it to one side. Life took over, I had two children, day jobs, a home to run and two labradors to adore. It seemed to me that since Bernard Cornwell raced to the top of the bestsellers charts with his Sharpe novels, there had been so many books written about the Napoleonic Wars that there was no space for mine and certainly no market for my slightly eccentric take on them.
When the book was finally written, I discovered that publishers and agents agreed. This period, it seemed, had been done to death. Nobody was interested any more, in Sharpe's fellow officers and their adventures through the Iberian Peninsula. Certainly nobody was going to be interested in a series of novels which committed the ultimate crime of being difficult to place within a genre.
"Too much war. Why not write a proper romance?"
"Too much romance. Stick to the battles. Oh, and use your initials, that way people might think you're a man."
"Too much history. People don't read books like this for the history. Cut it down and add more battle scenes. Or romance."
"Not enough history. None of your characters spend enough time describing their uniforms, their weapons and their kit. The only people who read this sort of thing are re-enactors and they want a lot of detail"
"Your hero isn't enough of an Alpha male and your heroine is too masculine in her outlook.  He's got too much money, he should earn his commissions not buy them. And she can't come from the industrial north, it's not that kind of book. Maybe she should have a title and he could have come up from the ranks. That might do better…"
"Cut it down, change the characters and try Mills and Boon."
Readers, I haven't made any of those up. I still have the letters and e-mails. Eventually, I was left with a simple choice. Either I would continue to write the books for my own entertainment and Paul, Anne, Johnny and Carl would never see the light of day, or I would take a chance and try independent publishing. I did it and the rest, as they say, is history.
The Peninsular War Saga hasn't become an overnight bestseller. I wish it had. I've no advertising budget and no experience in marketing, so I've sold books one at a time. It's been a painstaking process, and I've loved every minute of it. I've discovered a whole new world of interesting people online and I've made some friends for life.
And I've sold books. Gradually, painfully, the numbers have got better. I've never given away review copies, so the reviews have trickled in, but I value every one. Most have been excellent. One or two have been awful. I've learned that it's okay that some people don't like my books and I don't die of it.
These days, I call myself a writer and I'm lucky enough to be able to make this my job. It's not amazingly well-paid, but it's more fun than working in an office. I've had ten books published, five in the main series and one in a linked series. Every book is meticulously researched and I love that part of the process. I'm very proud of what I do.
Today is my birthday, but it's also the birthday of the Peninsular War Saga, and I suppose the birthday of Paul van Daan. Paul came into being gradually, little more than a boy when I first met him, growing up before my eyes. At times, he irritates the hell out of me; he won't always do what I want him to do, he's full of opinions and he pushes himself in where he's not supposed to be. He was supposed to make a cameo appearance in An Unwilling Alliance and ended up as the third main character in the book. 
These days, Paul is part of my life. I hear his voice in my head more often than you would believe. Writing him is incredibly easy, he has a distinctive way of looking at the world, and he makes me laugh and makes me cry. Readers often ask me if there is much of me in Anne. There's a bit, but there's a lot more of me in Paul.
I'm so grateful to the people who have helped me along the way. First and foremost, my family. My husband, Richard, has been my biggest cheerleader from the first, content to spend hours setting up my website, designing my fabulous covers and telling me what's wrong with my plots. I always ignore him. My son Jon, blissfully unaware as a young adult and not much of a reader, who nevertheless was immensely proud to discover that a friend's grandmother was reading my books and loving them. My daughter Anya, a fellow history lover who laughs at my passion for Wellington, threatens to feed my favourite books to the dogs, shares my study and brings me joy every day of my life. And my sister, Patricia, who is faintly surprised that her little sister has it in her to do anything this interesting, but always encouraging. I love you all.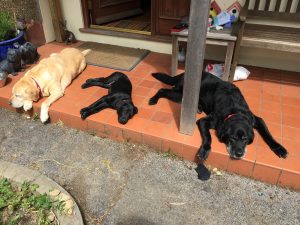 Then there are the Labradors. We lost Toby last year, halfway through the last book, and I miss him still every day. Joey, my old yella fella, his snores the accompaniment to my working day. And Oscar, my baby, who makes me get up and get some exercise in between chapters and who has taken over my sofa as if he owns it.
All my friends and family have been supportive, but one or two people stand out as always. Heather Paisley, my best friend for more years than either of us care to remember, never fails to say the right thing. Suzy Holland, who was astonished to find I could write and has discovered an undiscovered enthusiasm for military history. Jacqueline Reiter, whom I met online, and is clearly my long lost younger sister, has helped with research and is my ultimate beta reader; she lets nothing go. And Kristine Hughes Patrone, who with Jacqueline, reads every snippet I send her, laughs at all my favourite lines, and loves Arthur Wellesley, Duke of Wellington as much as I do. Through doing this, I have found my people.
My next plan, other than finishing the current work in progress, This Blighted Expedition, is to get all the books in the Peninsular War Saga out in paperback before the end of this year. Hopefully, that will introduce Paul, Anne and the others to readers who haven't met them yet.
I am an incredibly lucky woman to be able to spend my working day doing something I love as much as this. Occasionally, I like to be able to say thank you, and An Unconventional Officer will be available on Amazon kindle free for three days, on 4th, 5th and 6th June. Many of you have already read it, but please share this with people who haven't.
Finally, I'd like to thank my readers. You are the most amazingly loyal and supportive bunch in the world. You're quite shy, most of my contact with you is in private message or e-mail, but you follow my facebook page and twitter,  and buy my books. I'm so grateful to each and every one of you. I love your passion for the period, the history and the characters, you pepper me with questions and never fail to point out a typo or a mistake. I'm not sure if mainstream authors with huge advertising budgets and publishers to manage their contact with readers get half the joy I do every time one of you sends me a question I don't have an immediate answer to and have to look up.  I love each and every one of you. Thank you.
The Peninsular War Saga is two years old today and going strong. There are many more books to come and possibly some other linked novels. Happy Birthday to Paul, Anne and the rest of the 110th Light Infantry. And gracious thanks to Lord Wellington, for taking an insignificant, over-confident and  very talented young officer under his wing on a hillside in India and for remaining a brilliant, grumpy and entertaining part of my story ever since.