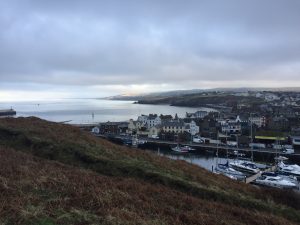 Peel #OscarWalks is the first of Oscar's posts for 2020 and he's very excited about it. Since the appearance of the dog trainer at the end of last year, we've been working very hard to get Oscar to behave better on the lead so that we can take him to more interesting places. Peel was a bit of an experiment, but on the whole it worked very well, apart from one minor incident involving Vikings which I'll leave him to explain for himself.
Peel is a seaside town and small fishing port on the west of the Isle of Man and the third largest town on the island after Douglas and Ramsey. It is a charming little town, with the older part of Peel mostly built of reddish sandstone, the narrow streets of the old fishing and merchant community winding down to the quayside. In the early eighteenth century, Peel had a thriving trade with European ports such as Amsterdam, and by the end of the nineteenth century it was a busy fishing port.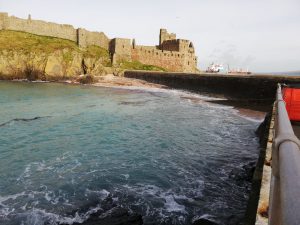 We parked the car at Fenella Beach, at the foot of Peel Hill and the castle and ten minutes was spent walking Oscar up and down the car park to get him to calm down. It didn't help that it was fairly breezy and the tide was in, with huge waves crashing onto the little beach.
"OMG, it's so exciting. Mum, can I go on the beach and swim?"
"Not today, Oscar, it's a bit wild. Look at those waves."
"Those waves are bigger than me."
"Exactly." 
"Where are we going, then?"
"We're going to explore Peel, Oscar. Stop jumping about and we can get going."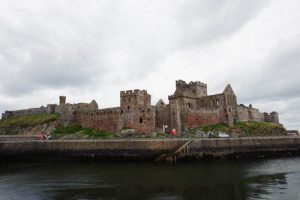 Peel was the capital of the island before 1344 and is still the island's main fishing port, while St German's Cathedral is the seat of the Bishop of Sodor and Man. It it still a pretty seaside resort and has a Victorian promenade and sandy beach. From Fenella Beach, we walked towards Peel Castle which overlooks the town from St Patrick's Isle. The castle was first built in the eleventh century and is now largely ruined, but definitely worth visiting. There are walkways up around the outside of the castle with a lot of steps, a challenge with an excitable young Labrador but well worth it for the views.
"Mum, stop pulling on the lead!"
"Oscar, it's you that's pulling on the lead, I cannot run this. Settle down."
"Sorry. It's great up here, I can see for miles. Are those white dots over there sheep?"
"Yes."
"I don't like sheep."
"They're miles away, Oscar. Come on, let's go down and walk into town. And calm down a bit, they'll be thinking the Moddy Dhoo is on the loose up here."
"I've heard of him. Wasn't he a demon dog?"
"Yes, he's supposed to haunt Peel Castle. People used to call Toby the Moddy Dhoo"
"Someone called me that down Summerhill Glen one night."
"I'm not surprised, you frightened the life out of them in the dark. This way."
"What's that water?"
"It's the River Neb."
"What are those things with big poles?"
"They're boats, Oscar, there's a marina here. And some fishing boats. When we first moved to the island, this area was tidal, but in 2005 they built a new floodgate to keep the river water in, so that the moored boats can float at low tide. This way."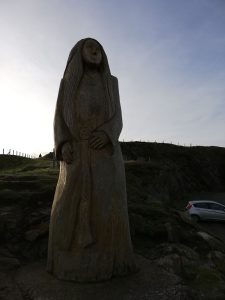 There's a footbridge over the river, but Oscar and I walked the long way round by the road, skirting the bottom of Peel Hill. The hill was one of my favourite walks with Joey and Toby, but it's very steep in places and when he was only a little older than Oscar is now, Toby injured himself by taking off after a rabbit and rolling a very long way down the hill, rather like the heroine of An Unwilling Alliance, only with more legs and a tail. I'm going to give it another few months before I take Oscar up there, but we did climb a little way up and sit on one of the benches to admire the view over the town. There's a lovely woodcarving at the foot of the path, which Toby used to take exception to. Oscar was doubtful, but seemed to accept my word for it that Fenella, the seven foot tall carving, was harmless. After that, following the road round, we arrived on the far side of the river.
"What's that smell?"
"Smell?"
"Smell? That amazing smell. It's fantastic. It smells of food. Yummy, yummy food cooking. Where is it? Can I have some? I'm hungry. Muuuummmmm!!!"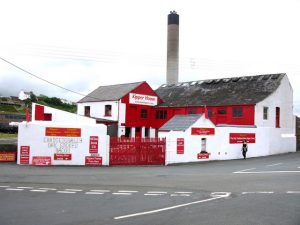 "Calm down, Oscar, it's just the kipper smokeries. There are a couple of them here, they smoke kippers the traditional way. You can do a tour of Moore's to see how the smoking is done, but I doubt I could take a Labrador. I have been though, and it's really interesting. I agree, the smell is amazing, but I can't take you to buy kippers today. We'll get some another day though, I think you'd love them."
"I already love them and I've not eaten them yet. What's that building?"
"That's the Manx Transportation Museum, it's in the old brickworks. I've never been inside, but I must do so this summer."
"Can I come?"
"I'll find out. This way. Heel, remember."
"Sorry. It's that smell. What's that?"
"That's the back of the House of Mannanan. It's one of the best museums on the island, it's partly a new building and partly built in the old Peel railway station. It covers the history of the island right up to the present and contains Odin's Raven, which is a two-thirds scale replica of a Viking longship which was built in Norway, and sailed to the island to arrive on 4 July 1979 to celebrate the millennium of Tynwald, the legislature of the Isle of Man. Fascinating."
"Not sure I'd like museums, but I do like this place, it's by the sea and it's got great smells, and it's…Oh My God, what's that??????"
"Oscar, calm down, it's all right, it's not real."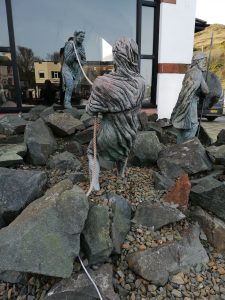 "Whaddd'you mean it's not real? Of course it's real, I'm looking right at it, it's right here on the pavement. They're terrifying! They're huge! They're worse than sheep! How did they get here? Why are they walking through walls? Why is nobody doing anything about them? Well I'm not having this, it's not safe! I'm going to tell them what for! Woof! Woof woof woof! Woof, woof, woof woof, woof!"
"Oscar, calm down, they're just statues. It's a sculpture. They're Vikings."
"Woof woof woof! Woof, woof, woof woof, woof!"
"Oscar, sit!"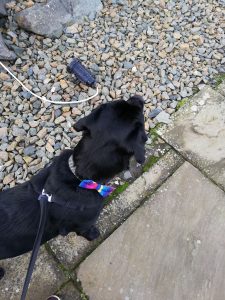 "Woof, woof, woof woof, woof! Woof, woof….OMG what this now? What's happening to my paws? I'm being attacked from all sides, it's sharp! Woof, woof, woof woof, woof!"
"Oscar, heel! Over here, now. Come and sit on this bench, have a drink of water and calm down."
"Woof!"
"That's enough. Look at you, you're shaking. Here, have a drink, there's a water bowl here. That's better. Are you all right?"
"Yes."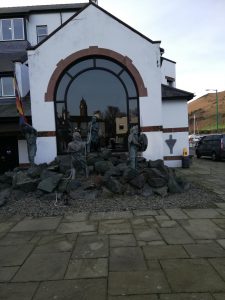 "Okay. Those aren't real Vikings, they're statues. The boat itself is inside the museum, and they've carried on the Viking theme out here, which is why it looks like they're coming through the walls. I know they made you jump but they're no more real than the two statues of the dogs outside that house at the top of our road."
"I barked at them too."
"I know, but you don't any more, because you know they're not real."
"My paws hurt."
"It's just a gravel pathway around the display, I think the stones were a bit sharp and you were jumping on them. There, are you calm now?"
"Yes. Sorry."
"It's all right. Had enough Vikings?"
"More than enough."
"Lets walk along the prom. If the sea is calm enough, you can have a paddle."
Peel Beach was one of my favourites when the children were young. It's very sandy, with a good kiosk serving food, drinks and ice creams, and it's just over the road to Davison's Ice Cream Parlour. Oddly enough, though, it's not brilliant for building sandcastles, the consistency of the sand isn't quite right. Still, Oscar doesn't mind that, and a good splash in the sea soothed his paws and restored his equilibrium.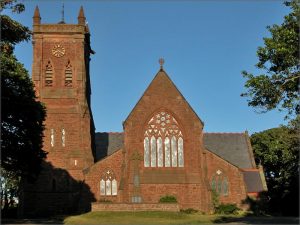 From there, we walked up through the narrow streets of the town towards St German's Cathedral. This is no bigger than a large church, but it's very pretty and has a very welcoming feel to it. Churches vary when it comes to allowing dogs, but I wasn't going to chance it anyway with Oscar, in case he saw a religious statue that he took a dislike to, it seemed to be a bit of a theme today. Instead, we walked all around the outside, admiring the work that's been done on the new gardens. A series of seventeen small gardens are being developed within the grounds; twelve will tell the story of the island and how Christianity has affected it and five will have special themes. I've been enjoying watching this develop and Oscar seemed to enjoy the peace and quiet after his encounter with Vikings.
"Are you getting tired, Oscar?"
"A bit. It's been a great day, though."
"Come on, let's walk back to the car along the prom."
"What's that building, Mum?"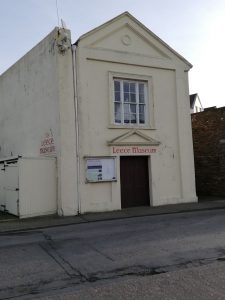 "That's the Leece Museum. It used to be the old courthouse and gaol and it has exhibitions about the history of Peel, it's very interesting. One day, I'm going to do a post or two about the island museums, but I'll have to do that without you, I don't think they'd cope with you in a museum, and frankly the idea terrifies me."
"I don't mind. They're probably all full of Vikings. And Fenellas. And possibly sheep."
"Here we are, back at the car. Hop in."
"Might have a sleep on the way back, Mum."
"Go ahead, Oscar. You've been a very good boy. I've got work to do when I get back, so you can have a snooze on the sofa."
"Where are we going next week?"
"I don't know. Castletown, perhaps. We could get pizza for lunch."
"Castletown it is then!"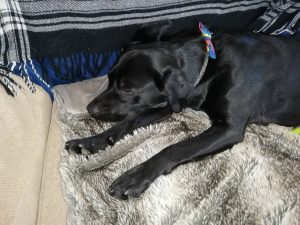 Look out for more #OscarWalks posts to come and if you enjoyed this and want to hear more from Writing with Labradors, why not follow me on Facebook, Twitter,  Instagram or  Medium?