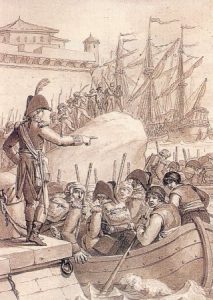 Private Correspondence: Walcheren 1809 is from a series of letters found in the papers of Captain Hugh Kelly RN and in the Van Daan collection. Experts on the period have often commented on how much correspondence appears to be missing from the well-known Peninsular War officer. It is known that General van Daan corresponded regularly with the Duke of Wellington over the years, but sadly few of these letters have been discovered and by a strange omission, none were included in the Duke's edited correspondence.
In 1809,  Major van Daan was serving in Portugal and Spain with the first battalion of the 110th under Sir Arthur Wellesley while Captain Hugh Kelly RN commanded the Iris during the expedition to the Scheldt.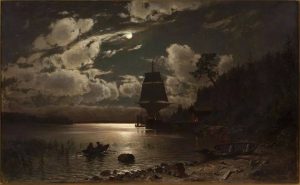 Extract of a letter from Captain Hugh Kelly, RN to Major Paul van Daan, August 1809
As if this expedition wasn't bad enough, I seem to have lost young Durrell, who has been temporarily seconded to the flagship by the particular request of Captain Sir Home Riggs Popham. I am assured by Sir Richard Strachan that this is only temporary, but I'm worried about the lad, I don't like the company he's keeping.
Popham, by the way, is more insufferable than ever. I've not the least idea what his job actually is, although I'm reliably informed he was instrumental in the planning of this expedition, which might explain why nobody is going anywhere. He behaves as though he were Captain of the Fleet, but he isn't; we don't seem to have one of those. Whatever he is supposed to be doing, he is all over the place as usual, you'd be hard put to know if he's army or navy, since he's forever on shore. From Durrell's letters, he's an alarmingly regular visitor to headquarters, which cannot be easy for Durrell who would rather be nowhere near the place.
I hope things are going better for you.
Yours, with esteem
Captain Hugh Kelly, RN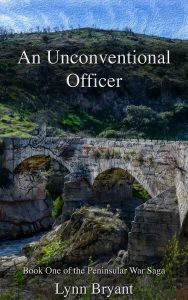 Extract of letter from Major Paul van Daan to Captain Hugh Kelly, August 1809
I'll be honest, Captain, you might still be having a better time than I've been this past month. I am about to embark upon a painful retreat back from Spain, made worse by a hole in my chest which I acquired at a place called Talavera. I'm told we won, which I'd no way of knowing as I was carried off the field half dead. Thankfully, I'm on the mend now, thanks to the efforts of a rather unusual young female who is married to an officer of the quartermasters' department and who is our new and wholly unofficial surgeon's assistant.
I hope your campaign is over quickly, that it's less miserable than Copenhagen, and that you get through it without shooting that arsehole Popham. Sorry I can't be there to do it for you. I hope the lad's all right, he doesn't need to be spending his time with that smug bastard.
By the way, why is Durrell dodging army headquarters? I thought he liked Lord Chatham.
I hope your reply will find me safe in Lisbon. Or anywhere but here, it's a hell hole, we're short of supplies and Sir Arthur Wellesley is in the foulest temper I've ever seen, made worse by the fact that I've been too ill for him to take it out on me.
Yours affectionately, Major Paul van Daan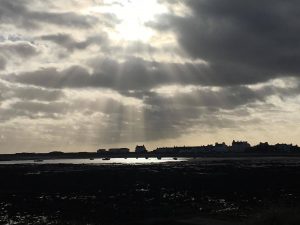 Extract of a letter from Captain Hugh Kelly, RN to Major Paul van Daan, September 1809
I hope you're still recovering well. Take a tip from an older man, Major, and duck next time.
Poor Durrell is trying to avoid his brother who has taken up some nameless and pointless post at headquarters. I've no idea what he's doing there and I suspect Lord Chatham has even less idea, the poor man seems permanently surrounded by a pack of hangers-on and holiday-makers. They say that he seldom emerges from his bedroom before noon; if I had that lot, on top of this campaign, to contend with, I'd stay there all day.
Don't even talk to me about bombarding a city. Flushing was a horror, I'm not likely to forget it in a hurry.
I've no idea how long we'll be here; I don't think we've a cat in hell's chance of getting anywhere near Antwerp now, and on top of that, there are reports of sickness among the troops. I hope your second battalion isn't affected, I've met one or two of them. Have you friends there?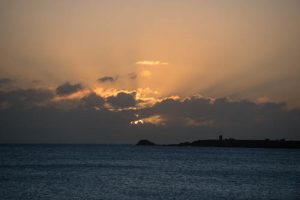 Extract of a letter from Major Paul van Daan to Captain Hugh Kelly, September 1809
I've received a letter from a friend in the second battalion. Captain, what the hell is going on over there? Are you and your crew all right? Is it true the expedition is pulling out?
Is Durrell back with you? It doesn't sound as though you'd want him on shore just now.
Headquarters has moved to Viseu and Wellington is planning how to stop another invasion, but it's fairly quiet here. I'm hoping that the stories I'm hearing are exaggerated,  but get that boy back with you, if Popham is still strutting around the army lines and gets him killed with some bloody Dutch fever, I am going to catch up with that bastard and shoot him in the head. It's high time somebody did it, I'd be doing the world a favour.
I really don't like what I'm hearing about what's happening on Walcheren. For God's sake, write to me, sir, I want to know you're both all right…
Evacuating the sick from South Beveland, 1809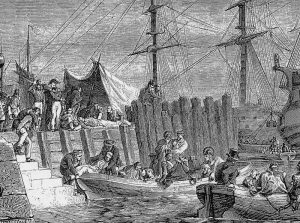 This Blighted Expedition: a novel of the Walcheren Campaign of 1809 (Book Two in the Manxman series).  Due for publication on 31st October 2019.