Tangled Spirits by Kate Shanahan: reviewed by Lynn Bryant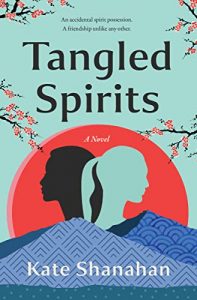 Tangled Spirits by Kate Shanahan is a historical time-travel novel set in tenth century Japan. It is utterly off the grid for me and turned out to be the best book I've read for ages.
I heard of this book through the Historical Writers Forum as it was about to be published and I've no idea what made me decide to try it, as I know very little about Japanese history. I'm really glad I did.
The plot revolves around two young women. Mina is an American student, currently studying in Japan while Masako is an aspiring shaman in the tenth century, dabbling in magic after the death of her mother. The result is that Mina is drawn into Masako's body and the two girls have to find a way to co-exist while working out how to get Mina back home.
The plot is relatively simple but the world that Mina finds herself in is rich, complex and beautifully drawn. Fictional characters blend easily into a brilliantly researched historical landscape and rub shoulders effortlessly with real historical characters.
The author writes really well and has a talent for characterisation. She manages to convey the different personalities of the two girls. Mina and Masako both have strengths and faults and can both be exasperating at times, which makes them endearingly human.
The complicated world of the Japanese court and the unfamiliar culture are very well described but the author manages not to allow her deep knowledge of the history overwhelm the story. By the end of the book, I was rooting for Mina to get back home while at the same time saddened by the impending separation from her spiritual partner. Even the denouement back in the modern world, which could have been trite, worked really well.
The author provides a great deal of historical explanation at the end of the book which can be easily skipped but which is great for a nerd like me who always wants to know which bits were real. The answer was a surprising amount. I have huge admiration for the way Kate Shanahan has woven her fictional story into known history to create a fabulous tapestry of a novel.
Highly recommended.