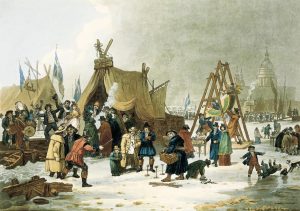 Welcome to the Frost Fair, my Christmas story for 2020. This year, it is published as part of the Historical Writers Forum Christmas Blog Hop. Our theme is the Jolabokaflod, the lovely Icelandic custom of giving books as gifts, to be read on Christmas Eve.
As always, the story is free, so please share as much as you like. In addition, I'm offering free copies of the following books on kindle for the whole of Christmas Eve, Christmas Day and Boxing Day. 
An Unconventional Officer: Book 1 of the Peninsular War Saga
An Unwilling Alliance: Book 1 of the Manxman Series
A Regrettable Reputation: Book 1 of the Regency Romances
I found researching Frost Fairs absolutely fascinating. I have a childhood memory of doing a jigsaw puzzle of one of the Frost Fairs with my Mum. As a child who knew the River Thames very well, I was enchanted by the idea of a fair on ice, overlooked by the Tower of London and St Paul's Cathedral and wished they happened in modern times.
The earliest Frost Fairs were probably in the late 7th Century and the last one was in 1814. They were most common between the early 17th and early 19th centuries during the Little Ice Age, when the river froze over most frequently. During that time the British winter was more severe than it is now, and the river was wider and slower, further impeded by the 19 piers of the medieval Old London Bridge. Even then, Frost Fairs were rare, though they were recorded in 1608, 1683-4, 1716, 1739–40, 1789, and 1814.
The reality of the Little Ice Age was brutal. Prolonged cold, dry periods brought about poor crop growth, poor livestock survival, disease and unemployment. Reading about the conditions which made the London Frost Fairs possible, it makes sense to me that a city savaged by cold would seize any opportunity for an impromptu celebration, even one as potentially dangerous as holding a fair on a frozen river where the ice might crack at any moment.
There was no Frost Fair in 1813, but I have invented one for the sake of my story. Most of the events, including the walking of an elephant across the ice, are taken from descriptions of the 1814 Frost Fair. I wanted to follow up Captain James Harker after the traumatic events depicted in the Quartermaster, and his transfer into the 110th alongside his obstreperous Scottish sidekick happens just in time for them to join the regiment on the march to Vitoria in Book 7.
2020 has been utterly appalling for so many people around the world. Covid is not about to vanish overnight, but there's some hope now, for an eventual return to normality. We've been so lucky on the Isle of Man, with one lockdown, and then pretty much normal life, apart from the borders being closed, but that becomes hard when friends and loved ones are in the UK and can't visit, or perhaps need help.
My readers have helped me stay sane. You are all absolutely amazing people. You message me and chat to me and talk about my characters as though they are your friends. I love that, because they are my friends too. I write because I love it, and I can't stop, but these days, I write every book for all of you. Thank you, from the bottom of my heart.
I'd like to take this opportunity to wish all my readers a very Merry Christmas and a Happy New Year. You are the reason I do this, each and every one of you.
***
The Frost Fair: a story of Christmas 1812
By the time the mail coach rattled over the cobblestones into the coaching inn in Southwark, Captain James Harker was so cold that he could not feel his feet. The first part of the journey from Portsmouth had been miserably damp, but long before the coach reached the outskirts of London, rain had turned to snow. It was not yet settling on the wet roads, but James thought that a dry night and a good frost might make further travel impossible and he was grateful that his journey ended here.
It was late and already full dark when James climbed stiffly from the coach and watched as the boy unloaded his small trunk and battered kit bag, with a swift glance at James's plain dark cloak. James could see that he was being weighed up for a tip, and he smiled inwardly, thinking that the boy could hardly have chosen a worse target for fleecing. Years of living on an officer's pay had given James the ability to spot a sharper within three minutes. He supervised the carrying of his bags into the inn, handed the boy a coin, amused at his chagrin, then sent him about his business when the youth began a heart-rending story about his widowed mother.
A London coaching inn was not the best place for a restful night's sleep, but James was accustomed to far worse conditions. At this season there were few travellers which gave him the luxury of a room to himself, and he slept well. He awoke early to find, as he had suspected, that the world was white. A heavy frost and a light swirling fall of snow covered London's grime for a short time with a magical sparkle.
James went to breakfast in the coffee room, and ate ham and eggs while listening to the voices around him, enjoying the cockney accents of the waiters and porters and the more refined accents of lawyers and businessmen. He had served in Portugal and Spain for more than four years, and even before that his visits to his home city were sporadic between the wanderings of army life. After the upheavals of the past year, it felt good to be back in London.
His breakfast done, James paid his shot, made enquiries and was introduced to a porter, a sturdy fellow with shaggy hair in need of a good wash. There was no need for protracted haggling here. The man accepted James's offer with such alacrity that James wondered for a moment if he was indeed being set up for a robbery, but he studied Smith's lined face and decided that the man was simply in need of the money. He was strong enough to make light of James's trunk, hoisting it easily onto his shoulder. He would have taken the pack as well, but James shook his head and slung it over his own shoulder.
It was no more than a fifteen minute walk across London Bridge to Eastcheap. James walked at a leisurely pace, to allow Smith to keep up, and enjoyed the bustling city streets. Men walked quickly, heads down against the snow, scarves pulled up over their faces for warmth. Women clutched cloaks and shawls close around them and scuttled towards home and fires. Others, less prosperous, shivered in threadbare garments and James flinched at the sight of barefooted children trying to creep closer to the warmth of a chestnut seller's brazier. He had seen poverty in the towns and villages of Portugal and Spain these past years but the icy cobbles seemed to add an extra dimension to the misery of the poor. He stopped on impulse and bought a bag of chestnuts, then handed them to the three children and watched them burning their fingers to eat them quickly.
An icy wind lifted the edge of James's cloak as he crossed the bridge. He paused for a moment to look down towards the imposing bulk of the Tower of London, and felt once again the sense of coming home. As a boy he had run from his home above his father's small legal practice to join his friends mud-larking along the banks of the Thames. Later, his pockets full of small treasures, he would return to his mother's home-baked bread and crumbling meat pies. Now that he was so close, James felt an odd knot of nerves in his stomach. Four years was a long time to be away, and so much had happened during that time, that he felt like a different man. James wondered how he would seem to his father.
The house was exactly as he remembered it, tall and stately, built from dark red bricks with mullioned windows and a creaking sign stating the nature of the business within. James pushed open the green painted door and was immediately assailed by a faint but familiar smell of paper and ink and dusty books. The room was lined with shelves and two desks were occupied by clerks, one a middle-aged man with a scholarly stoop, the other a young man whom James had never seen before. Both looked up as James motioned to Smith to set down the trunk and lowered his pack on top of it. He reached for his purse and paid, tipping generously. As the door closed, he turned to find the older man coming towards him.
"Captain Harker. Welcome home, sir. It's very good to see you."
"You too, Ellis. You're looking very well. Is my father in?"
"Yes, sir. He'll be surprised to see you this early."
"The coach got in late and the weather was foul, so I stayed at the George."
"Go on up, Captain, I'll ring for the boy to take up your luggage."
James found his father in his first floor sitting room which doubled as his study. Frederick Harker was a slight, spare man, wrapped in a quilted dressing gown against the cold, with a velvet cap tucked neatly over his bald head. James thought, as they shook hands, that his father looked more frail than he had five years ago when James had come home on leave to attend his mother's funeral.
"Well, well, how are you, my boy? Still limping, I see."
"It's improved a lot," James said, taking the proffered seat at the small table and accepting coffee from a middle aged maid with a smile of thanks.
"Will it go?"
"I don't know, sir. I thought not, for a while, but it becomes easier all the time, so I hope that one day I'll walk normally again."
"I don't suppose it matters as much in the work you do now," Harker said mildly.
James was never sure whether his father's barbed remarks were intentional or not. Harker's complete absorption in his work had left little time for his wife or son, and James had been raised by his affectionate, practical mother. He was not close to his father, who had not approved of his choice of the army over a legal career. Harker had reluctantly financed his first commissions, but once James had obtained his captaincy, he had made it clear that there was no money for any further promotions.
The bedroom on the third floor was as dark and chilly as James remembered it. He unpacked, stowing his possessions with a soldier's habitual neatness. In Ciudad Rodrigo, he employed a skinny Portuguese boy to act as groom, valet and general servant, but he had not considered bringing Tomas to England.
With his possessions arranged, James left the house and set out on foot towards the river. His father, having made all the correct enquiries about his son's health and the abysmal state of his career, had gone to dress for an appointment in court. James knew his father would be wholly occupied until dinner and was glad of it. He had an errand which he had no wish to discuss with his austere, distant parent.
James found a hackney cab two streets away. He could have sent a servant to summon one, but knowing how his father's servants were inclined to gossip, he preferred not to make them a present of his destination. He was dreading this meeting, but was determined to see it through. Before leaving Spain, he had confided his intention to his junior officer and had received a vulgar hoot of derision from the newly promoted Lieutenant Andrew Dodd.
"You'd think after everything that's happened this past year, sir, you'd give yourself a day off. Is there a reason you're putting yourself through this, or is it just that life is too peaceful?"
"Life is going to get a lot more peaceful once you're off on campaign, you disrespectful Scottish bastard," James said. "It's none of your damned business."
"I know it's not. But sir…what are you wanting to say to the girl? And what makes you think she'll even see you?"
"She probably won't. And I've no idea. Sandy, I know it sounds mad to you. But after what happened recently…" James broke off, searching for a way to explain. "I feel different," he said finally. "About everything. After Barbara left me, I was lost for a long time. Nothing made sense to me – killing Cunningham in that duel, almost getting myself killed at Ciudad Rodrigo, and those endless months working as a bloody storekeeper…"
"And meeting me, of course, sir."
James grinned unwillingly. "You're one of the few things that does make some sense, Mr Dodd, which is more worrying than anything else. I know you think I'm mad. But I've come out of this with the sense that the worst is over. I've felt guilty for long enough, and I've done my penance. When I get back, I'll train up whichever God-awful junior they send me when you've gone, and then I'll start applying for transfers and see if I can get back into combat. With my reputation it might take awhile, but…"
"I'll ask around, sir."
James thought about Dodd as the cab rattled through the streets. Two years ago he would have been insulted by the idea that his former ensign and junior quartermaster, a sharp-tongued borderer raised from the ranks, might be in a position to put in a good word for him. Dodd's status had changed since his very recent marriage to a young Spanish widow from Ciudad Rodrigo. James, who had acted as groomsman before boarding the transport to England, knew that Sofia's wealth had nothing to do with Dodd's decision to marry her. Nevertheless, it placed Dodd in a position to purchase promotion into a light infantry regiment, while James remained tied to the district stores in Ciudad Rodrigo after the scandal of his fatal duel with a cavalry major. Socially, their positions were neatly reversed, and James knew that it was an indication of how much he had come to value Dodd's friendship that he did not mind nearly as much as he ought to.
The house was newly built, a neat terrace in a recently developed West London district, with a long narrow front garden. James hesitated for a long time outside the door, then took hold of his courage with both hands and rang the bell. It was answered by a maidservant who bobbed a curtsey, gave James' uniform a long sweeping look, and agreed to take up his card. James waited for ten minutes, unsure of what answer he hoped for. The maid returned with the information that Miss Harrington would see him in her dressing room and James took a deep breath and trod up the stairs.
Barbara's dressing room was an elegant apartment, decorated with pale blue stripes and tastefully furnished. It was also one of the untidiest rooms James had ever been in. Every available surface was littered with perfume bottles, cosmetics,  brushes, combs and hairpins. A stand bore a stylish powdered wig, combing jackets, scarves and shawls cluttered every chair. The remains of the lady's breakfast rested on a small table before a roaring fire. In one corner of the room was a painted dressing screen, and a door on the far side was ajar, giving a glimpse of Barbara's bedroom.
"Captain Harker, what a very great surprise."
James took her outstretched hand and bowed over it, observing her polished nails and the presence of an impressive sapphire which he did not think was a wedding ring. Barbara was wearing a loose morning robe in pale blue silk which set off her fair hair and blue eyes, and matched the wallpaper so exactly that James refused to believe it was a coincidence.
"Miss Harrington, thank you for seeing me."
"Well, I would not have seen anybody else at this hour, I am barely out of my bed. I was playing faro until the early hours and before that, I was at the theatre with…well anyway, you are very welcome, I'm sure. Pray, sit down, sir, and have some wine."
James did so, studying her. Barbara was as pretty as he remembered, but she looked very different from the girl he had fallen in love with two years ago in Lisbon. He could see her studying him and wondered if she was thinking the same about him.
"What brings you to London, Captain Harker?"
"Furlough. I've not taken leave for years, and with the army in winter quarters, it seemed the right time to visit my father."
"Nothing to do in the stores?"
James had wondered if she had known of his spectacular fall from grace after her departure, but her manner suggested she knew a great deal.
"I've good deputies," he said neutrally. "How are you, Miss Harrington?"
"As you see." Barbara spread her hands, indicating the cluttered luxury around her. "We have become very formal, James. There was a time that you called me Barbara."
James gave a little smile. "Barbara. I'm glad to find you in such comfortable circumstances."
"Were you perhaps expecting to find me in rags in a garret room?"
There was bitterness in her tone. James shook his head. "Not once I managed to obtain your address, I know the area."
Barbara smiled. "Very perceptive of you, James. I am astonished to see you here. Why did you come?"
"You sound very worried. Please don't be, Barbara, I haven't come to renew my offer of marriage. Which is just as well, because I couldn't possibly afford all this."
The girl gave a peal of delighted laughter and clapped her hands together. "Oh, I had forgotten how much you make me laugh. I'm glad to hear it, I was dreading your disappointment."
"Why did you agree to see me then?"
"I am not sure. At least…I think I wanted to apologise to you. I behaved very badly, and it seemed, from the gossip I heard, that it has had very grave consequences for your career. I am truly sorry, James."
James was unexpectedly touched. "Don't be," he said. "You were under no obligation to fall in love with me, Barbara, and for the rest of it, you were not there and it was my own doing."
"Will you tell me what happened to you?"
James sipped the wine. It was rather too sweet for his taste, but he needed the courage. "I made a damned fool of myself," he said bluntly. "I heard you'd been sent home, and why. I found myself in company with Major Cunningham at a reception, and we had words. I challenged him, and I killed him."
"Dear God," Barbara breathed softly. "James, why, for God's sake? I'd rejected your suit, after weeks of leading you on. You owed me nothing."
"I was jealous," James said. "I didn't realise it at the time, but I've had a lot of time to think recently. I loathed him, but mostly it was sheer jealous rage."
"And did they not bring you to trial?"
"They intended to do so, but there was no time, we were marching on Ciudad Rodrigo. My commanding officer offered me the opportunity to lead one of the Forlorn Hopes over the breach. I survived."
"You were badly wounded and you almost died."
Despite himself, James felt a lift of happiness. "You asked about me?"
"I heard the news of the duel. I move in very high military circles. Since I felt responsible, I made it my business to find out. I was very relieved that you lived, even though it meant that you were sent into exile in the quartermaster's department. I am sorry, James."
"Don't be."
"Please, let me say it." Barbara got up and walked to the long window which overlooked the leafy avenue. "I was unkind to you. I liked you so much, James, and there was a time when I genuinely thought that I might be happy married to you. But I deceived myself as well as you. I was never going to be happy in genteel poverty."
"It's not as bad as that, Barbara."
She laughed. "No. But when Jack Cunningham began to show an interest, I knew how wealthy he was. It seemed like a way out."
"He was a bastard."
"Yes, he was. But let us be very clear, James – I allowed him to seduce me. Naively, I thought it might make him declare himself." Barbara studied him. "Have I shocked you?"
James thought about it, then shook his head. "I've had a long time to work it out. I have a question, but I'm not sure…"
"The child died. A little girl, she lived only a few weeks."
"I'm sorry, Barbara."
"I don't really remember much about it, I was very ill, they thought I would die too. Afterwards, there I was. Marooned in the wilds of Norfolk, with an elderly companion and a ruined reputation. I wished for a time that I'd died with the baby. Then I met Algy."
"Algy?"
"The Honourable Algernon Fothergill, eldest son of a minor but exceedingly wealthy coal baron. He was visiting friends in the area, and through a great deal of gossiping with the maids, I managed to run into him on a sunny afternoon in a woodland glade."
James sought for disapproval and found himself smiling. "And did he pay for this house?"
"No, he rented a charming little apartment for me. Lord Corday gave me the lease on this house as a farewell gift. Sir Anthony Ludlow paid a good deal to furnish it and gave me my sapphires."
"Are you happy, Barbara?"
Barbara smiled broadly. "Yes," she said. "Very happy. I have accepted my nature, you see. I am very frivolous and very greedy and I want beautiful things and luxurious surroundings and all the admiration I can take. I am a star in the demi-monde and one day I will be the mistress of a prince."
"He'll be lucky to have you." James stood up and Barbara came forward, stood on tiptoe and kissed him lightly on the lips.
"I would like to ask you to stay, James, but I know that you will not. I'm so grateful you came, though, thank you. I had two painful sources of guilt. Now I have only one."
James made a guess. "Your parents?"
"Yes. They will not receive me, of course, and they are quite right. I have an older sister and I have probably ruined her chances of a good marriage. I'm sorry that I hurt them so badly. I was sorry about you too, but I see now that I have no further need. You are over me, and you will do very much better with your next choice. I only wish I had the choosing of her, I want to see you with somebody perfectly lovely."
James put his arms about her and held her for a long, affectionate moment. "I will write to tell you if that ever comes to pass," he said, lightly. "Goodbye, my dear. I think you will do very well, but if there is ever anything I can do for you, please send word."
"I promise." Barbara stepped back and glanced at the window. "You should go. Look, it's snowing again, and very heavily. I'll send my boy to find a cab for you."
***
James moved through the long dull days in his father's home with a lightness of heart that he had not felt in a long time. He had little to do with his parent, seeing him only at dinner. Mr Harker was as obsessed with his work as ever, often returning to his study during the evening to pore over legal documents and law books. He made several attempts to persuade James to sell his commission in the army and join the firm. He had been making the suggestion regularly in letters ever since his son's career had gone so dramatically wrong. James allowed him to talk, then refused pleasantly each time. There was no point in trying to explain to his father that despite his blighted prospects, he preferred even his dull work in the district stores to a legal career.
James had few friends in town, but he was a member of the Shorncliffe, a gentleman's club just off St James' which was heavily patronised by the military. There was generally an acquaintance or two to be found in the lounge or the dining room, and James took to walking over to the club most evenings after dinner to play cards and share a bottle of wine. He was pleased to find that he was missing army life, despite the dire state of his career. One of the purposes of this trip home had been to decide whether he was ready to give up on the army or if he wanted to stay and push for a new posting. James was beginning to think he had made up his mind.
After an enjoyable evening playing whist for low stakes with several light infantry officers on furlough, James made the unwelcome discovery that the temperature had dropped suddenly, and the light covering of snow on the ground had turned to treacherous ice. He made his way cautiously through the freezing streets, swearing every time his boots slipped on the cobbles, and made it to his bed in a pleasant haze of good brandy, deciding that he would remain at home on the following day and catch up on some letter writing.
James was halfway through a letter to Dodd the next morning when a flurry of activity below caused him to abandon his task. He found what appeared to be the entire staff, including the two clerks, gathered in the hallway around a pink cheeked kitchen maid who had braved the freezing conditions to go to market.
"It's true," she was insisting. "I heard it in the market and walked down myself to have a look. The river's frozen solid. You can skate on it and walk on it and everything. They're saying it's going to be a Frost Fair."
There was a murmur of excitement. The last time the Thames had frozen thoroughly enough for a full Frost Fair had been more than twenty years ago, when James was a boy, and he could still remember the excitement.
"It don't surprise me," Mrs Edwards, the cook announced. "I been saying for days, I don't remember a winter this cold since I was a girl."
"That's not so very long ago, ma'am."
James blinked in astonishment and turned to stare at his father's senior clerk and then back at the cook who was blushing like the girl she very definitely was not. Before anybody could speak, there was a dry cough from above.
"May I request that you attend to your duties, since I am currently paying for your time."
The staff melted away and James mounted the stairs and joined his father in his study. "If she's right, sir, you should give them some time off to go."
Harker sat down at his desk. "Stuff and nonsense. I remember being dragged along by your mother last time. The ice was full of the worst elements in London, and I almost froze to death."
Something about his tone made James smile, and he felt an uncharacteristic rush of affection. He reached out, took the black velvet cap from his father's head, and dropped a kiss on his bald pate.
"Mother would have let them go."
Harker snatched the cap back and jammed it on back to front. "You are as big a fool as she was."
"Very likely, sir."
There was a silence. Harker sniffed noisily.
"If – and I say if – there is indeed to be a Frost Fair, they may attend providing I am still provided with meals, and providing my business is not affected. Speak to Ellis and arrange things. I do not wish to be troubled by it."
"Thank you, sir."
"Can you still skate?"
James stared at him in astonishment. "I suppose so," he said. "I've not done so for years, but with some practice I should think…oh, you mean my leg? I can't see why not, if I can walk and run."
"You should go yourself, perhaps meet some of your army friends. I am no company for a young man."
James felt warmth around his heart. "You're the person I came home to see, sir, and I don't have a single regret."
Harker looked up with a glimmer of a smile. "Well, well. Get yourself out of here, boy, I've work to do."
James walked down to the river and found a bustle of activity. He stood watching for a long time as the Thames watermen made their cautious way around the ice, testing its thickness. Around them, the river was eerily still and silent, ground to a frozen halt. Walking up to London Bridge, James realised that huge chunks of ice had become stuck between the piers, damming the river and helping it to freeze. With the waterway solidly blocked, there was no work for either the watermen, who ferried people along the river, or the lightermen who transported goods. It was clear that the men had found an alternative source of income, and by the end of the day, they had set up tables and were charging traders to access the ice and were erecting rough signs showing where it was safe to walk.
One of the first tradesmen to set up shop was a portly gentleman selling ice skates. James had no idea what had happened to his boyhood skates, and he sat on a rough bench trying on several pairs before he found some that worked. They were better than the wooden ones he remembered, which had to be tied to the shoe and were always coming undone. These had metal screws to attach them to the heel and strong leather straps. James tried a few turns and found that his old skill came back quickly. He whizzed across the ice between booths and tents being set up by local tradesmen and remembered with a slight pang that he had talked of skating with Barbara during the first heady days of their love affair and discovered that she too loved to skate.
By the following day, the Frost Fair was fully set up. James went down early with Captain Royston and Lieutenant Shipley to find that the Thames, between London Bridge and Blackfriars, had turned into a frozen pleasure gardens and that thousands of Londoners were making their way onto the ice to join in the fun. Traders and pedlars had set up roughly  constructed shops, public houses, skating rinks and food stalls.
James was both astonished and impressed at what the hucksters of London had managed in such a short space of time and wondered if they had worked all through the night. The most substantial structures had been formed into a main street and some wit had made a sign declaring it to be City Road. It was lined with hawkers selling trinkets and souvenirs and there were even several printing presses inside makeshift tents, with typographers working to print commemorative poems and pamphlets about the Frost Fair.
The revellers came from all walks of life. Ladies and gentlemen in silks and satins brushed sleeves with the ragged poor. There was a bull-baiting and cock fighting matches as well as nine-pin bowling and three skating rinks. In one area, children's swings had been erected and in another, rough planks were laid to form a dance floor. Mummers and puppet plays held small groups of children spellbound. Food and drink sellers were everywhere. Oxen, pigs and sheep were roasted on spits, and booths sold mince pies and gingerbread blocks. Some stalls sold tea, coffee and hot chocolate, but the vast majority sold alcohol, and as the day went on, the numerous temporary bars and public houses were causing the inevitable drunkenness.
James went home in darkness, pleasantly stuffed with roast mutton and plum pudding. He was tired the following morning, and after a quiet breakfast, he returned to his letter to Dodd. He was just sealing it when the maid appeared, looking tired and heavy-eyed herself after the evening's revelry. She presented James with a letter, sealed with a wafer. James studied it in some surprise. It looked like a feminine hand, and was certainly not from one of his military friends. He broke it open, read it, and then read it again, feeling bewildered.
"My dearest James. After your recent kind offer of assistance, I had not expected to need to call upon you, and certainly not so soon. I find myself with a small difficulty, and wonder if you would meet me at the Frost Fair at noon today. I shall await you by the skating rink at the Blackfriars end of the fair. Ever yours, Barbara Harrington"
It made no sense to James and he sat pondering it for a while. There was no sense of urgency in the tone of the note, it seemed almost playful. He found himself wondering if, after all, his former love had decided to attempt to set up a flirtation with him while he was in town. James firmly rejected the idea. He was happy with his new-found peace of mind and did not want it disturbed by a flighty young woman with a sordid reputation, however fondly he had once thought of her.
At the same time, James could not bring himself to ignore the note. He dressed warmly and set out for the river, promising himself that he would find out what Barbara wanted, but would pleasantly reject any advances, if that was what she had in mind. As he approached the river, there were crowds of people waiting to pay their admission toll to the watermen who lined the banks. James eyed the throng as he waited, wondering how many of them would be lighter of their purses by the end of the day. Such a mass of humanity, especially when they had been drinking, would be easy pickings for the army of pickpockets and cut-purses who roamed the London streets.
There was no sign of Barbara at the skating rink. James donned his skates and took to the ice. It had been smoothed out for the occasion and was good to skate on. He made a few turns and even a jump, which attracted admiring glances from some of the ladies on the ice. Eventually he returned to the booth, looking around for Barbara and wondering if she had changed her mind.
"Captain Harker."
James turned, surprised. The older man wore a thick dark cloak and old-fashioned hat, and it took a moment before James recognised him. He came to attention quickly and saluted.
"Colonel Harrington."
"I have been watching you skate, Captain," Barbara's father said. "Such a pleasure. And such a surprise to see you here. I had thought…"
"I'm on furlough, sir, visiting my father. Winter quarters."
"Yes, yes of course. I am no longer on active service, myself. Circumstances, you know, and my health suffered. So I took half-pay and am happy enough with my family."
James heard the lie behind the words and was suddenly furious with Barbara for the harm she had inflicted on this charming, unassuming man. He was also angry that she had tricked him into this meeting. He wondered how she had known that her father would be here, and what she hoped to gain. Did she think that her jilted lover could somehow speak to her father about a reconciliation, or was she just hoping that James would talk to him and bring her news of her estranged family? Clearly she would not be making an appearance herself.
"I should introduce you to my wife and daughter, Captain. My dear, this is Captain James Harker of the…of the…"
James took pity on him and shook hands with the middle-aged woman in a dark cloak. "I'm currently seconded to  the quartermasters department in Ciudad Rodrigo, ma'am, but I'm hoping to obtain a transfer back into combat."
"I hope you do too, my boy. Lord Wellington needs men of courage and honour on the battlefield."
There was an awkward pause, then Harrington seemed to recollect himself and turned to the other woman. "And this is my daughter. Rebecca, this is Captain Harker."
There was a stumble over the words, and James realised that the colonel had almost introduced the young woman as his eldest daughter. James reached for her hand quickly to cover the awkward moment and found his hand taken in a firm grip and shaken, giving him no opportunity for gallantry. Surprised, he looked up into a pair of steady hazel eyes.
"Delighted to meet you, Miss Harrington."
"Captain Harker. I understand you knew my father in Portugal. I'm very sorry I didn't have the opportunity to know you there."
Mrs Harrington gave a faint gasp and the colonel looked furious. For a moment, James wanted to turn and run. Unexpectedly, however, he found that his interest was caught by the woman's angry defiance. He wondered why she had not been with her parents in Portugal that year. He was very sure that she knew who he was, and all about his connection to her younger sister.
"Do you skate, Miss Harrington?"
The question seemed to surprise her, but it cut through the moment of awkwardness. After a moment, she said:
"I do, but I do not have my skates with me in London. We were not expecting this."
"Rebecca is an excellent skater," Mrs Harrington said warmly.
"Would you care to take a turn about the ice with me? They are hiring skates at the booth. As my guest, if you please."
The woman hesitated, and looked at the skaters whirling around on the ice. James could sense her longing to be among them. After a moment she nodded. James looked at the colonel for permission and saw a flash of gratitude in his senior's eyes. He offered his arm and escorted Rebecca to the long bench to try on skates, while he paid.
Rebecca Harrington was so unlike her younger sister that James would never have imagined they were related. She was about the same height as Barbara, but her hair was brown and her skin was slightly olive. Her carriage was erect and dignified with no sense of her sister's floating grace. Watching her as she strapped on her chosen skates, James thought that Rebecca must always have stood in her sister's dazzling shadow, but seeing her like this, she was an attractive enough young woman with a good deal of character in her pointed features.
And she could skate. They hit the ice in perfect unison and circled together, holding hands. After a few minutes, James was conscious of a feeling of satisfaction. He loved to skate as he loved to dance, but he had never before skated alongside a partner as skilled as him. They moved about the ice, and James realised they were picking up unconscious time from the small group of musicians who were playing at the nearby dance floor.
On impulse he reached for her other hand and drew her lightly into a dance hold. She seemed surprised, but quickly adapted, and followed his movements across the ice with effortless grace. Around them, some of the other skaters had paused to watch. James ignored them, concentrating on the sheer pleasure of the music and the movement. As they reached the end of the rink and made the turn, he raised one hand and spun her accurately under his arm. She responded quickly and when they joined hands again she was laughing and breathless and suddenly looked younger and very happy.
"Oh that was wonderful. Where did you learn to do that?"
"I just made it up," James said honestly. "Shall we try it again?"
As the music ended, he brought her to a stop at the far end of the rink. "Are your skates all right?"
"No, the straps are coming loose, I need to tighten them."
James led her to a wooden bench and knelt to adjust the straps. "You're an excellent skater, Miss Harrington."
"So are you. Thank you, I cannot remember the last time I enjoyed anything this much. It's as if we were dancing on the ice. You should give lessons."
"If ever I am finally thrown out of the army I will consider it."
She gave an acknowledging smile. "How did you know I skated?"
"I guessed. I could see the way you were watching them. And also, Barbara once told me that she loved to skate. She said you both used to visit your grandmother in Scotland and skate on the lake in her grounds."
The young woman put both her gloved hands against her flushed cheeks. "I cannot remember the last time anybody said my sister's name," she said.
James regarded her sympathetically. "It must be hard for your father."
"I understand that. I understand why he will not visit, or have her visit us. She has broken every social convention he ever held dear. But it is hard not to be allowed even to speak her name."
"Do you ever hear from her?"
James saw the flicker in her eyes. "Occasionally, she manages to sneak a note to me. She says very little other than that she is well and happy. It makes me angry, since I cannot see how she can be, when we are so unhappy. But I am glad of it."
"I saw her yesterday," James said.
Rebecca looked astonished. "I cannot think you mean that. After what she did to you, and all the damage to your career and your reputation. Surely you are not still…"
"Not at all, any more than she would not have me. We are very different people, Miss Harrington, and she knew it before I did. I regret many things, but not visiting Barbara. We parted as friends this time, I think."
"I had a note. She said she might try to be here today, so I nagged my parents to come, although I did not really expect it. But I am so glad I did…did she tell you to be here too?"
"Yes," James said. "I've no idea why, but she clearly wanted us to meet. Are your skates properly fastened? Shall we skate one more dance and then return to your parents?"
They found Colonel and Mrs Harrington seated at a rickety wooden table with a flagon of spiced wine before them. James accepted their invitation to join them, and answered the colonel's questions as far as he could about the current state of the war in Spain and the condition of Wellington's army. It was growing dark and around them, booths and stalls were lit up by torches and flares and lanterns on hooks. It was  also growing colder.
"You're shivering, my dear," Harrington said. "We should be going, since I suspect that evening will bring out the worst elements."
"I think they're already here, sir," James said. He had been conscious for a while of the rising noise around them as people became more and more drunk. "Did you come by carriage?"
"We took a cab," Mrs Harrington said. "I wonder if there is somebody we might send to find one for us?"
She looked around rather hopefully and James met Rebecca's eyes in a moment of shared amusement. "I'll go," James said. "Let's find you somewhere convenient to wait."
"That would be so kind of you, Captain. Would you…I mean, if you have no other engagement today, I wonder if you would consider dining with us?"
"Excellent idea, my dear," the colonel said enthusiastically. "Now what do you say, Captain? Will you come?"
James hesitated. His first instinct was to decline, but then he thought about it and decided that he did not want to. "I should be delighted, sir, but I must let my father know, so that he does not wait dinner for me."
"Come with us in the cab and we can send our boy with a message. It's not far."
***
Rebecca had little to say during dinner. Her father monopolised Captain Harker with military matters and although generally she would have been irritated at being excluded from the conversation, Rebecca was content for once to listen and observe. She was not sure how she felt about the unexpected encounter with her sister's former suitor, but she was impressed by his manners and how well he handled her father's over-eager questions about the war. Rebecca understood how hard it had been for Colonel Harrington to retire from active service, but she wished his desperate sadness was not so obvious.
Captain Harker was not what Rebecca had expected. Watching him through the candlelight of an early winter evening, she found it hard to imagine him paying court to Barbara and harder still to imagine him issuing a challenge and shooting a man dead because he had dishonoured her sister. Rebecca disapproved of duelling as a way of settling disagreements and she thought that Harker was lucky not to have been cashiered or even convicted of murder, but now that she had met him, it was clear that the duel was an aberration in Harker's hitherto respectable life. Rebecca listened to him talking of his parents and his early years in the army and wondered why on earth this sensible man had ruined his career and his reputation for her flighty, mercurial sister.
When dinner was over, Colonel Harrington carried Captain Harker off to his study to drink brandy and talk military matters while Rebecca joined her mother in the drawing room. She felt restless, still affected by the exhilaration of the Frost Fair and the enjoyment of skating with James Harker. Rebecca had little social contact these days, beyond her immediate family and at twenty-six she was trying hard to resign herself to the probability of spinsterhood.
It was not her dowry that was the problem. Colonel Harrington was able to provide a respectable portion for his daughters, and with Barbara disinherited, his estate would go to his eldest daughter. Both Rebecca and Barbara had been presented at court and Rebecca had spent several Seasons in town, but she had not managed to find a husband. She acknowledged that it was her own fault. Several older gentlemen had shown a flattering interest in Colonel Harrington's dignified older daughter, but she had refused them. Once Barbara was brought out, Rebecca was eclipsed. She had hoped that once Barbara made her choice, she might do better, but Barbara was ambitious and turned up her pretty nose at every proposal. Mrs Harrington, unable to afford another expensive Season, was beginning to despair.
When Colonel Harrington was posted to Portugal, his wife conceived the notion of accompanying him, along with her younger daughter. It would be cheaper than another Season in London, and there were plenty of wealthy officers and a dearth of pretty young debutantes in Lisbon. Rebecca was sent to stay with her elderly aunt in Bournemouth and Barbara had packed her trunk and set sail for Portugal with dreams of a brilliant future.
"I shall insist on a title," she had told Rebecca. "A title and a house in London, so that I may introduce my very clever older sister to the Ton properly. Oh Becky, I wish you were coming with me. I've begged and begged, but Father won't have it. Never mind, I shall make it up to you."
Rebecca found, to her surprise, that there were tears in her eyes and she blinked them back. It had been one of the last conversations she had with her younger sister. There was no triumphant return and no betrothal. Instead, Barbara was whisked away to have her illegitimate child in the country while her mother returned home to Rebecca and hid from the world in shame. Colonel Harrington remained in Portugal for another year, enduring the sniggering of fellow officers about his daughter's disgrace. He had used his failing health as the excuse to return to England on half-pay, but Rebecca knew that  it was because he could no longer bear the humiliation.
Rebecca remembered clearly the day her father received news of the death of his daughter's seducer. He read the letter in silence several times.
"Is everything all right, dear?"
"Yes. No. It's from Mainwaring. He writes to tell me that Cunningham is dead."
Mrs Harrington gasped. "That terrible man? But how, was he killed in battle?"
"Not at all. He was shot dead in a duel." Colonel Harrington seemed to suddenly recollect the presence of his unmarried daughter. "Forgive me, it was a shock, but we should not…"
"Since my sister's disgrace has ruined me along with her, Father, do you not think I deserve to know?"
After a long silence, the colonel said:
"Very well. It was Captain Harker, the young man who wished to marry Barbara."
"Oh how I wish he had," breathed Mrs Harrington. "But tell me, did he fight because of her?"
"It appears so. Cunningham had something to say on the matter and Harker called him out. A pity that he'll be court-martialled. It's rare to find a man of honour in the army these days."
"I think it was remarkably foolish of him," Rebecca said, buttering her bread so hard she made holes in it. "Especially since I believe you did not encourage his suit at the time, sir."
"Rebecca, are you quite well?"
Rebecca looked up from her abandoned embroidery, surprised. "Oh. Oh, yes, quite well. Why do you ask, Mama?"
"I have spoken to you three times, child. I am going to ring for the tea tray. Will you go to the study to see if the gentlemen wish to join us?"
Rebecca obeyed. She could hear her father's voice as she approached the study door, shivering a little in the cold of the hallway, and she wondered if Captain Harker was regretting his decision to come to dinner, since Colonel Harrington had probably been boring him senseless about the numerous problems with the modern army. Her father's voice always grew louder when he had been drinking, and Rebecca's hand was on the door knob when she heard him say:
"Damned shame about Rebecca. I hoped that if her sister made a good match, it would open doors for her. She's a good girl, but she doesn't have her sister's looks and she don't make enough of an effort. A man wants a girl to look pretty and show an interest in him, not bore on about the latest book she's read or talk nonsense about that dreadful Wollstonecraft female and the rights of women."
Rebecca froze, feeling colour flood her face. She could not bring herself to open the door, but neither could she move away. She could not believe that her father was speaking this way to a relative stranger, although she supposed that the drink had loosened his tongue. He drank a good deal since the ruin of his younger daughter, and Rebecca hated it.
"It sounds as though your daughter is a very interesting young lady," Harker said pleasantly. "She is also very attractive, and if her skating is anything to go by, I would like to see her dance. It will take a year or two for the scandal to be forgotten, sir, but I hope one day Miss Harrington finds a gentleman who appreciates an intelligent wife. I'm very sorry, but I must take my leave. I've only just realised the time. Will you excuse me, I need to pay my respects to your wife."
"One more drink," the colonel said, and Rebecca was horrified at how badly he was slurring his words. She took hold of her courage with both hands and opened the door. Harker stood up quickly.
"Miss Harrington, I was just taking my leave of your father, and would like to offer my thanks to Mrs Harrington."
"I was just coming to see if you would drink tea with us, sir."
Harker glanced at the colonel then to Rebecca's surprise, shot her a conspiratorial grin. "Another time. Colonel, my thanks to you for a very enjoyable dinner. No need to see me out, I will ask your daughter to do so."
Colonel Harrington subsided into his chair with a grunt. Harker saluted and stepped out into the hall and Rebecca closed the door. Her face was burning with embarrassment.
"Captain Harker. My mother is in the drawing room, if you wish to speak to her. Or I could convey your thanks…"
"Which would you prefer?"
Rebecca looked up quickly. "Oh. Thank you. Perhaps it would be best…Captain, I am so sorry. And so ashamed. He was not always like this."
"Don't worry about it, ma'am, it's nothing I've not seen in the officers' mess. He's a very fine old gentleman, and he's been the soul of courtesy. To me, at least. I'm sorry, I know you must have overheard what he said, you were right outside the door. But he didn't mean it, he clearly loves you dearly. He's a disappointed man, your sister hurt him very badly."
"My sister hurt all of us very badly, Captain, including you. But I don't see you finding refuge at the bottom of a bottle."
"That's because you weren't there at the time," Harker said calmly. "It's exactly what I did. If I hadn't, Major Cunningham would still be alive."
"Oh. Oh, God, I'm so sorry. I didn't mean…"
To Rebecca's surprise, the captain reached out, took her hand, and raised it to his lips. "I know you didn't. I hope you're not offended, Miss Harrington, it's just that we've all suffered to some degree from your sister's thoughtlessness, which makes it easy to speak plainly to you. I do have to go, but I was wondering…I doubt the Frost Fair will last more than another day or two. Certainly I think it will be gone by Christmas Eve. Do you think your parents would allow me to be your escort tomorrow for a day at the fair? You can bring your maid, of course. I thought we could skate again, and perhaps join the dancers. It will be a very raucous and vulgar day, but I promise I'll take good care of you, and I think it might be enjoyable."
Rebecca stared at him in complete astonishment. Her mouth was open to give a polite refusal, when she realised unexpectedly that she had never wanted anything so much in her life before.
"Yes," she said. "Captain – yes. Thank you."
Harker smiled, and Rebecca felt a sudden surge of anger at Barbara for failing to appreciate the value of this thoroughly nice man.
"Let's go and ask your Mama, then, since I suspect your father may have gone to sleep in the armchair by now."
***
It was well after dark when James finally arrived back at his father's house the following evening, and the clerks had gone home for the day. James trod up the stairs and found Mr Harker in his study writing a letter. He looked up as James paused in the doorway.
"Ah, there you are. I am afraid you have missed dinner."
"I'm sorry, sir, I lost track of time, but I'm not at all hungry. We dined very well on roast pork and spiced cider. I shall probably have a headache."
"It will serve you right, then. Sit down and have some brandy, it can hardly make it any worse."
James thought that it might, but he complied, pouring a glass for his father.
"You seem to be enjoying the Frost Fair. Were you with your army friends?"
James hesitated. "No," he said finally. "I was escorting a young lady."
Harker's brows raised. "I was not aware that you were acquainted with any young ladies in London, my boy. Do I know her?"
"I shouldn't think so, sir, you don't know anybody."
"True, very true. It is a source of great satisfaction to me. What is the name of this lady?"
"Miss Rebecca Harrington. She is the eldest daughter of a retired colonel of my acquaintance, we met at the fair yesterday."
"And have you been with her all day?"
"Yes," James said.
"Alone?"
"There was a maid, but she got lost very early on."
"How very obliging of her. I do hope you have not compromised this lady, James."
"I doubt it, sir. Nobody knows who either of us are, and in those crowds, it's easy to be invisible."
"I can see you have thought this through."
"I didn't think about it at all," James said honestly. "I was enjoying myself too much, and I think she was as well."
"Well, well, I'm glad to hear it. Are you intending to see more of this young lady?"
James did not answer, because he had been asking himself the question for the entire cab ride home. He had delivered Rebecca back to her parents and made his apologies both for the lateness of the hour and the absence of her maid. Harrington brushed both to one side with jovial good humour and invited James for a drink in a way that made it impossible to refuse.
James understood. When he had paid court to Barbara in Lisbon two years ago, Colonel Harrington had been polite but unenthusiastic, having greater ambitions for his lovely daughter. Things were different now, and Harrington was making no attempt to disguise his hopes regarding Rebecca.
James did not see himself as a suitor. He had invited Rebecca to the fair on impulse, because he was furious with her father for the drunken rudeness which she had clearly overheard. A few hours at the Frost Fair with a maid in tow could hardly be interpreted as a declaration of interest, and James did not think that he had raised expectations in the level-headed Miss Harrington.
The trouble was that a few hours had stretched into a long and very happy day. They skated and danced, played at nine-pin bowling and watched a puppet show. They ate pasties while watching a dreadful melodrama which made Rebecca dissolve into helpless giggles. They ate roast pork and wandered through the stalls and sideshows. Astonishingly, drinking spiced cider in a wobbly tent, they saw an elephant being led by its keeper across the ice.
"Wherever does it come from?"
"The Tower menagerie, I suppose," James said, watching the animal make its careful way towards the bank, encouraged by the cheers and noisy encouragement of the inebriated crowds. "I do hope this ice holds out, it doesn't feel as cold to me."
"Or me," Rebecca said. "I don't think I'd like to come back tomorrow. How do they know when the ice is ready to melt?"
"They've got watermen stationed all around the perimeter looking for danger signs," James said. "Which is fine if it melts gradually, but if it cracks suddenly there's going to be a panic. Like you, I think I will avoid the risk. I'm glad we came today though, I've enjoyed it so much."
Rebecca looked up at him, laughing. "So have I, Captain. And now I can proudly say that I have seen an elephant walking on water. Such a boast."
Back in his father's house, James was still struggling with his problem. He could very easily consider his duty done to Barbara's family, and go back to the Shorncliffe Club for his social requirements, but he felt unexpectedly gloomy at the prospect of never seeing Colonel Harrington's bright-eyed, intelligent daughter again. Rebecca shared the lively mind and sense of humour that James had found so attractive in Barbara, but she was better-informed and could carry on an easy conversation on a wide variety of topics.
"Are you in some difficulty, James?"
James started and realised that he had completely forgotten that his father was there. "Oh. Oh no, I'm very well, sir."
"Good, because I am singularly ill-equipped to give advice on matters of the heart."
James could not help laughing. "Don't look so worried, sir, I'm not going to ask you. At thirty-six, I'm old enough to manage my own affairs."
"Is this an affair that requires managing?"
"I don't think so. At least…sir, how do you spend Christmas Day?"
"Christmas Day?" Harker sounded revolted. "Good God, I spend it the same way as every other day. Although I have noticed there is always more food. As I eat the same amount, I presume there is a festive meal in the kitchen."
"Please don't tell me you make your clerks work on Christmas Day, sir."
"My clerks are entitled to take the day off. Ellis informs me he will be here, however."
"Sir, that isn't right."
"You wrong me, James. Ellis will not be hunched over his desk on the anniversary of Christ's birth, he will be seated in the servants hall, stuffed with roast partridge, drinking my best sherry and making eyes at my cook. I wish he would bring himself to propose to the woman, it is impossible to plan anything until they make a decision."
James stared owlishly at his father. "Plan?"
"I thought I might suggest that they take several rooms on the third floor. It would be convenient to have him here, especially as I am growing older. I am thinking of taking on a junior, since it is clear to me that you are never going to come in to the business."
"I think it is a very good idea, sir," James said gravely. "I asked about Christmas, because I wondered if it would trouble you if I accepted an invitation to Christmas dinner with the Harringtons. They've invited me."
"Have they, by God? Well you need not consider me, boy, but you should consider your own position. If you ask me, Harrington and his wife are doing their best to draw you in. I don't blame them. With a sister who is the latest star courtesan of the demi-monde, he must be short of offers for that young woman."
James reached for the bottle and refilled his glass. "I didn't realise that you knew."
"I always know more than you think," his father said tranquilly. "Is she like her sister? I presume you must have cared a good deal about the girl, since you killed a man for her."
"Killing a man becomes easier when you're a soldier, sir. She doesn't look like Barbara, but they have some things in common. I fell in love with Barbara after the first dance. I have discovered that is a very stupid thing to do."
"And this girl?"
James swirled the brandy around the glass, watching the amber liquid make patterns with the candlelight on the table. Eventually he looked up.
"She is a very nice girl," he said, a little awkwardly.
Mr Harker picked up his own glass and held it out. The two glasses clinked in a toast. Mr Harker was smiling. "As I said, I cannot advise you on matters of romance, my boy, but I can tell you from personal experience, that very nice girls tend to make excellent wives," he said.
***
Rebecca spent Christmas Day in a confused muddle of joy and agonised embarrassment. She was genuinely shocked when Captain Harker accepted her father's invitation, having decided that her one glorious day at the Frost Fair was enough happiness to sustain her for a long time. It appeared that Captain Harker had developed a penchant for her father's society, however, because during the two weeks before Christmas, he called almost every day. He invited Colonel Harrington to dine with him at his club, and he reserved a box at the theatre where he entertained the Harrington family along with one of his army friends and his young wife. Rebecca sat beside Captain Harker, taking in very little of the play or the farce, conscious only of his presence.
Captain Harker arrived promptly on Christmas Day, sat beside her at dinner, and devoted himself to her entertainment. Rebecca would happily have remained at table forever, but inevitably the party broke up, and her father towed his guest away for a session with the port. Rebecca sat tense and miserable on the edge of the sofa until her mother, replete with sherry and plum pudding, fell asleep over her stitchery. Rebecca could bear it no longer and tiptoed out of the room, approaching the study with trepidation. She opened the door and stopped in surprise to find Captain Harker on his feet about to open it. Looking past him, she saw her father snoring in his winged armchair.
Captain Harker slipped into the hallway and closed the door silently, his finger to his lips. He listened for a moment.
"He is gone for a while, I think. Your mother?"
"She's asleep as well."
"What an excellent Christmas. I suspect my father is doing the same thing. Come along."
He reached for her hand, and towed her to the front door, then stopped. "No, we can't. You'll freeze."
"Wait." Rebecca whirled and ran lightly up to her room, returning quickly wearing her dark cloak. Captain Harker gave her an approving smile, took her hand again, and led her out of the front door.
They walked through quiet winter streets towards the river. Rebecca spoke little, concentrating on the feeling of her arm through his, and enjoying how easily their steps matched. As they arrived at the river bank, there was nothing left of the bustle and activity of the Frost Fair. Huge chunks of ice still floated in the muddy waters of the Thames, but the booths, the ice rinks and the frantic gaiety were long gone.
"I think I like it better this way," Captain Harker said.
"I think I do too. But I enjoyed it so much, Captain."
"So did I. In fact, I cannot remember the last time I enjoyed a day as much. Miss Harrington…"
"Sir?"
"I have a confession to make. Yesterday, I paid a visit to your sister. I have a letter for you here, from her. I know you parents would disapprove, and I'm sorry to go behind their backs, but I think it nonsense that you are allowed no contact with her at all. Obviously, given her way of life, you cannot be seen publicly together, but I see no reason why you should not correspond, or even meet privately."
Rebecca took the letter. Part of her was warmed by his sympathy and understanding. Another part, a wholly unworthy part, wanted to smack her sister's pretty face for the hold she still clearly had over this man. It was stupid to think that he would look at her, when Barbara's fair curls and sweet smile awaited him whenever he chose to visit her. Rebecca wondered if his kindness to her was motivated by his feelings for Barbara. She realised suddenly that her fingers were clenched inside her muff, and carefully uncurled them.
"You're very kind, Captain. Thank you."
"She told me that I should ask you to read it immediately. It's up to you, but if you want privacy, I'll wait over here."
Rebecca watched him as he walked over to a wooden bench overlooking the river and seated himself. Turning away, she broke the wafer and unfolded the letter. Barbara was not a good correspondent, and her notes were always brief and to the point.
"My Dearest Sister. Whatever foolishness you are thinking, pray stop it immediately. He is not in the least interested in me, but for some odd reason, probably because he is the best man I have ever met, he thinks that he needs my permission. I have told him he does not. Be happy. Yours, always. Barbara."
Rebecca looked up in complete astonishment and saw that James Harker was watching her, awaiting her reaction. She folded the letter and stuffed it into the wide pocket of her cloak. He smiled and walked towards her.
"I've not read it, but I have an idea," he said. "Did she get it right?"
"Yes. She always knew how much I hated playing second fiddle to her all my life."
"You're not second fiddle to me. Rebecca, I know it's much too soon to ask you to marry me, and I'm not prepared to marry any woman only to sail off and leave her. But I've another month, and I'd like to spend as much of it as I can with you. And at the end of it, if you could possibly feel the same way…if you'd be prepared to wait for me…"
Rebecca began to laugh. "James – did you just propose to me, after a few weeks acquaintance, and one minute after you told me you were not about to do so?"
"Yes."
"I am glad I did not misunderstand." Rebecca held out her hand, and he took it, and drew her close. The warmth of his body felt very good, and Rebecca looked up at him and decided that he was probably going to kiss her. The thought made her very happy.
"Do you think you might, love?"
"I am not prepared to give you my answer until we know each other a little better. But if it helps, I am feeling very hopeful," Rebecca said.
***
After the frozen streets of London, Ciudad Rodrigo was warm and mellow, even in winter. James returned to his uncomfortable billet, seeing it through new eyes. He inspected the stores, went through a mountain of orders and correspondence, and dined with Dodd and his new bride. Although his own situation had not changed, and none of his transfer requests had so far brought a favourable response, James was not discouraged. Everything was different now, and he returned to his dreary, mundane administrative duties without resentment.
He was seated at his desk during the warmth of a spring afternoon when the door opened. James looked up, expecting one of his men, then got to his feet quickly, saluting as a tall, fair officer with the insignia of a major-general, ducked into the little office and stood looking around with interest.
"At ease, Captain Harker. We've met before, although I don't know if you remember it."
"Major-General van Daan. Yes, of course. Just before Ciudad Rodrigo."
Intelligent blue eyes studied him for a moment. "I feel guilty," Van Daan said abruptly. "I spoke to you, but you were about to go over with the Forlorn Hope, I don't suppose your brain was working all that well at the time. I should have followed it up sooner. I did check to find out if you'd made it, but you were still in the hospital at the time. Afterwards, I forgot about it. I'm sorry."
"Sorry?" James said in astonishment. "Why on earth would you be sorry, sir, you'd no debt to me?"
"I made you an offer. I should have found out if you were still interested."
James was silent for a long moment. "I do remember, but I wasn't sure if you were just being kind, because you thought I was about to die."
"I'm never that kind, Captain. Are you still interested?"
"Sir?"
"Sit down, please. I feel as though I'm about to give you a dressing down, standing over you like this. And I'm not." Van Daan gave a singularly charming smile. "Not yet, anyway."
James sat, and the other man pulled up a wooden stool and sat opposite. "There's been the usual shuffle around the ranks during winter quarters. Your former assistant has been looking all over the place for a lieutenant's posting. He wasn't having much luck. A lot of regimental commanders panic at the sight of a man who has come up from the ranks."
"They'd be making a mistake, he's an excellent officer and a very brave man."
Van Daan smiled again. "I'm glad you said that, because I've taken him on. We lost a number of officers in the last campaign – dead, wounded or captured. And we've also had the usual round of promotions and transfers out. I've offered Dodd a lieutenant's commission in my third company."
"I'm glad."
"The company has no captain."
James felt his stomach lurch. He stared at the younger man, trying to decide if he had understood correctly. "Sir – are you suggesting…?"
"I'm asking if you'd be willing to take command of my third company, Captain Harker? Will you?"
James could not speak for a long moment. When he found his voice, he said:
"Did Dodd arrange this?"
"No. But he gave me your name as a reference, which reminded me. Are you interested?"
"Yes, sir. But I need to be sure that you understand my circumstances…"
"Oh don't be an imbecile, Captain, do I look like an officer who wouldn't check the background of a man he was about to take on?"
"No, sir."
"I'm relieved to hear it. I'll speak to Colonel Muir, but given that they've managed without you while you've been on furlough, they can hardly claim that you're indispensable. How soon can you join us?"
"The moment I have permission, sir."
Paul van Daan stood up. "Excellent, I'll send a message. Is there anything else?"
"There's one thing I should probably mention, sir. I wrote to Colonel Muir about a personal matter, but he's not yet replied. When I was on furlough, I became engaged to be married. I cannot do so until I'm next in England, but I'd like to be able to tell my betrothed that I have permission."
"Granted."
James laughed aloud. "Is that it, sir?"
"Of course it is. What a ridiculous rule that is anyway. What man is going to wait around for his commanding officer to grant permission for him to marry. I'm sure I didn't. Who is she?"
"Miss Rebecca Harrington, sir. Eldest daughter of Colonel Harrington."
James said it deliberately, because he was wondering if Paul van Daan knew. It was obvious that he did. The blue eyes narrowed and then the general grinned.
"That's an interesting choice, Captain."
"It's the right choice, sir. She is the woman I want to spend the rest of my life with."
"Good man," Van Daan said, placidly. "I look forward to meeting her one day. Welcome to the 110th, Captain Harker. You'll hear from me within a few days. Good afternoon."
When he had gone, James sat quietly, watching the early spring sunlight make patterns on the baked earth floor of the office. He had an enormous sense of content, as though his life, which had temporarily spiralled out of control, had found its way back to its natural pathway, and was moving forward easily along the road he was meant to take.
After a while, James stirred, remembering that he was supposed to dine with Lieutenant Dodd and Sofia. He got up, looked around the office and left to get changed, closing the door gently behind him.
***
Thanks so much to all the fabulous authors from the Historical Writers Forum who have taken part in this year's Christmas Blog Hop. In case you missed any of their posts, this is the full list, and I do recommend you go back and have a read when you have time, it's a great way to discover new authors.
Dec 3rd   Sharon Bennett Connolly
Dec 4th   Alex Marchant  
Dec 5th   Cathie Dunn  
Dec 6th   Jennifer C Wilson  
Dec 8th   Danielle Apple  
Dec 9th   Angela Rigley  
Dec 12th Janet Wertman  
Dec 13th Vanessa Couchman 
Dec 14th Sue Barnard 
Dec 15th Wendy J Dunn 
Dec 16th Margaret Skea 
Dec 17th Nancy Jardine 
Dec 18th Tim Hodkinson 
Dec 19th Salina Baker 
Dec 20th Paula Lofting 
Dec 21st Nicky Moxey 
Dec 22nd Samantha Wilcoxson 
Dec 23rd Jen Black
And of course me at www.lynnbryant.co.uk. You can also follow me on Facebook, Twitter and Instagram.