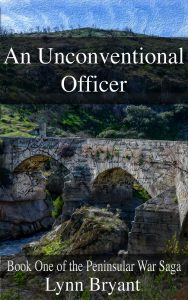 The Story of the Peninsular War Saga is based on readers' questions over the three years since the publication of An Unconventional Officer, the book which launched the series and introduced Paul van Daan to the unsuspecting reading public. I've just revisited that book, as I'm in the process of re-editing the whole series for paperback.
This is something I've been intending to do for several years, but I've continually put it off. Researching and writing the books is much more fun than the boring technical details of formatting and re-editing, and somehow I always delay this job until after the next book. My readers, who are an enthusiastic lot, make this far more difficult by constantly screeching for more in the series. However, after the very successful launch of book six, a number of people contacted me asking when the series would be available in paperback as they wanted to be able to buy them as gifts for friends and family who don't use kindle. This made a lot of sense.
I also found myself in the unusual position of being unsure whether to move on with book seven or to write book three in my linked Manxman series. It seemed to make sense to do some reading for both, before making a decision, while working with Heather, my editor, to make the books as perfect as possible before launching the paperback editions. It also felt like a good time for me to look back over the past three years at both the story behind the story, and at my own development as a writer.
I get a lot of questions sent to me by e-mail and messenger and I try, if possible, to reply. When I was trying to write this post, I looked back over both questions and answers, and decided this was a good way of structuring the article, so I've reproduced some of them here, often with extended answers.
***
What made you want to write about the Napoleonic Wars?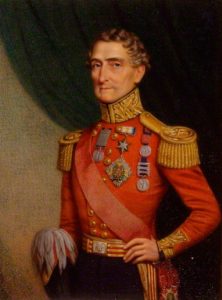 I first got interested in the Napoleonic wars at University, although I never actually studied them then. I did a course on the history of South Africa, and was introduced to a larger than life character by the name of Sir Harry Smith. As background reading, I got hold of his autobiography and read about his younger days fighting under Wellington in the Peninsula. That led me on to Georgette Heyer's fabulous novel about Harry and his Spanish wife Juana, and also to other Peninsular War memoirs like Kincaid.
I was completely hooked. I already had ambitions to write historical novels, and I'd thought of various different periods including the English Civil Wars, which I studied at Uni, or the Anglo-Scottish conflicts in the sixteenth century. I also really wanted to write a novel set in nineteenth century South Africa. But the Napoleonic Wars seemed to me to be an excellent setting for a series.
I messed around with a lot of ideas for all of these over the next few years, but I was also busy getting my degrees, finding jobs and getting on with life. I wrote several books of various types during this time, none of which stood a hope in hell of getting published, and even scribbled down some ideas for the Peninsular War Saga. Then in 1993 a TV series began, starring Sean Bean. That led me to read some of the Sharpe novels, and I decided that with Bernard Cornwell doing it so well, and a lot of other authors publishing similar books off the back of his success, there was no chance that anybody was going to pick up a series by an unknown writer who also happened to be a woman.
2. Was An Unconventional Officer your first book?
Written or published? The answer is no and no. I tried to get an agent and a traditional publishing contract for many years before the advent of Kindle and self-publishing, and I wrote a number of different books on advice from people in the industry. I was usually told that as a woman, I should write romance, and that my best chance was with Mills and Boon, so I tried both historical and contemporary with a lot of very positive comments, but no success.
By the time I decided to publish independently, I was sick of the whole thing. I had four completed historical novels that I was reasonably happy with, none of which, I was told, were 'marketable'. An Unconventional Officer was one of them. I still really wanted to write the full series, and I was already almost at the end of book two, with two more fully researched and planned out, when I made the decision to go for it, egged on by my husband.
Because the publishing process was new to me, and I had literally NO idea how to market my books, I decided to publish the three 'standalone' novels first to see how they went. So I published A Respectable Woman, A Marcher Lord and The Reluctant Debutante fairly close together, before being brave enough to put An Unconventional Officer out there. Later on, I re-edited The Reluctant Debutante, in order to link it in with the Peninsular War Saga and wrote a second Regency to go with it.
3. How did Paul van Daan come about? Is he based on a real historical person?
Paul isn't based on a real person, although he has characteristics of a number of different people. 
There's definitely something of Harry Smith in there, and I've deliberately included Harry and Juana in the books as minor characters. Smith was a flamboyant character, very full of himself, and a favourite of Wellington's despite not being of the social class most generally favoured by his Lordship. He also had a much adored young wife who shared all the dangers of life on campaign with him, and I don't think anybody would believe me if I said that idea didn't make its way into the Peninsular War Saga.
With regard to Paul's care for the welfare of his men, I've taken some of that from Rowland 'Daddy' Hill although I can't really imagine any of Paul's lot nicknaming him 'Daddy'. But in terms of his eccentric style of managing his men and his aversion to flogging, I got the idea from a rather fabulous book called The Letters of Private Wheeler.
William Wheeler of the 51st wrote a series of letters which began with his early days in the regiment, shortly before embarking on the disastrous Walcheren campaign in 1809 and run through to 1828. They are an amazing source of information on the life of an infantryman during this period and I use them all the time. They also introduced me to Wheeler's first commanding officer, an eccentric gentleman by the name of Lt-Colonel Mainwaring. Wheeler gives several different anecdotes about the colonel, but this gives the flavour of the man.
"It is the general custom of most regiments to shut up the gates, and confine the men to Barracks when under orders for Foreign service. Not so with us. Colonel Mainwaring does not approve of this plan. When he received the order, the gates were thrown wide open that the good soldier might make merry and enjoy himself, at the same time adding that if there should be any poltroons in disguise among us they might be off, it was only the good soldiers he wished to take with him. We were going to reap laurels, therefore he should not hinder the good soldier from enjoying himself for the sake of keeping a few good for nothing fellows. If any such had crept into the Corps, they would only cover the regiment with disgrace. The confidence reposed in us was not in one singe instance abused, not one man having deserted."
With regard to the practice of flogging, Wheeler tells us that:
"Lt-Colonel Mainwaring is a very humane man. He is no advocate for the cat o'nine tails. I have more than once heard it remarked that if he could not stand fire better than witness a flogging, he would be the worst soldier in the army."
Over the years I have had one or two reviewers complaining that Paul van Daan's attitude to discipline is unrealistic and could not possibly have existed at this period. Colonel Mainwaring is my answer to that one. He probably wasn't the only one, but he is certainly my favourite.
4. Why is Paul half Dutch?
I'm amazed this question hasn't been asked more often. The answer is very simple and has nothing to do with the Peninsular War Saga. As I mentioned above, before I wrote An Unconventional Officer, I wrote another book which was set in South Africa in the early to mid-nineteenth century. The main character was a young Boer from an Anglicised family who was partly educated in England, and who served under Sir Harry Smith, and one of the themes of the book was his struggle to come to terms with the conflicting parts of his heritage. The character's name was Paul van Daan. At a certain point it became clear that book was never going to be published for a number of reasons, but I rather fell in love with him, so I decided to transport him back in time to the Peninsular War. I had every intention of changing the surname and making him English, but it just didn't work, he was too well established in my head. So I gave him a Dutch father instead.
5. How did you come up with Anne's character and is she based on anybody real?
Anne isn't really based on any one person. I wanted my heroine to be able to fit into the period and into army life, so I gave her a background which I thought made that possible. I wanted a hard-headed, practical woman who was very intelligent, and very adaptable. The daughter of a Yorkshire mill owner sounded down-to-earth, but because I also wanted her to have the social skills to shine at headquarters, I gave her a well-born stepmother who taught her to ride and to manage a large household. I also deliberately made her quite young, to give her that adaptability. 
When I first wrote the books, Anne was not traditionally beautiful. I re-thought that, and decided that it would be more of a contrast for a girl with the wow-factor to turn out to be more interested in keeping accounts and learning how to sew up battle wounds than she is in fashion and parties. I also wanted Anne to have her own friendship with Wellington, to bring out his softer side, so she needed to combine both beauty and brains.
6. A lot of heroes in other books, like Sharpe, are known for moving from one woman to another? Why did you decide to give your hero a wife and a steady family life?
I thought it would be more interesting. Partly it was the Harry and Juana factor, but mostly it was because I wanted to be able to write from both a male and a female perspective, and the only way I could really do that was by giving my leading man a leading lady.
7. How much research do you do for each book?
How long is a piece of string? I do an enormous amount of reading. I know the period details fairly well by now, so I don't have to keep checking things like uniform and commanding officers every five minutes, but I do need to do detailed research into every campaign, and I also like to find contemporary accounts like Wheeler's as they are a fabulous source of anecdotes that I can weave into my fictional storyline. I wrote a post about my research and note taking for anybody who is interested in learning more.
8. Who are your favourite real characters in the books?
Wellington has to be top of the list, he is the gift that keeps on giving. I've spent so much time reading his correspondence by now, I feel as though I know him really well. Of course that's just my personal version of Wellington, but it is based on a lot of research.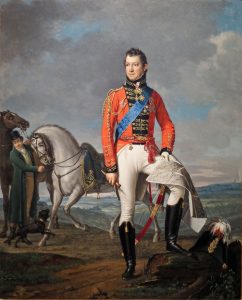 I really like both the Light Division commanders, Craufurd and Alten. They are totally different personalities, but I've given each of them their own character in the books and I love their different relationships with Paul. Harry and Juana Smith are favourites, of course, and because of Heyer's book, The Spanish Bride, so many of my readers recognise them. And I'm a little in love with Colonel Andrew Barnard, a man who genuinely knew how to enjoy himself in the middle of a campaign.
9. Do you already know which characters are going to make it through the war?
Some. Not all. I've made no secret of the fact that Paul and Anne make it, and there are a few spoilers scattered through my short stories and the Regency romances. But there are some names you won't hear mentioned in those.
10. Are you going to write the books all the way through Waterloo, as Bernard Cornwell did?
If I don't get run over by a bus, I promise I am. I'm about halfway through now, maybe a little more, as I've not yet decided how I'm going to split up the Pyrenees campaigns, they're terribly all over the place.
11. Are you going to write any more books after Waterloo? Will they be about Paul van Daan?
I'm going to write until I can't write any more. Whether that will follow Paul, or pick up some other characters in other campaigns, or even take a look at his children, I don't know yet. I just hope I live a long time, I've got so many ideas.
12. What made you start writing the Manxman series?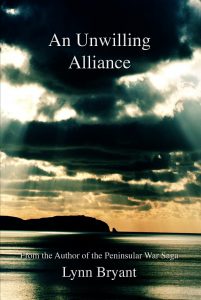 Local pressure. I live on the Isle of Man and I was always being asked in local interviews, if I would ever write a book set on the island. The Isle of Man was more suited to a book about the navy than the army, so I began An Unwilling Alliance as a standalone novel. Then I remembered that Paul van Daan had been at Copenhagen and thought I could give him a small cameo role. Then he took over a third of the book. Then I realised I needed to know what happened to Hugh Kelly and Alfred Durrell next.
13. Will Hugh Kelly and Paul meet again during the war?
I think so. Almost certainly. I know where Hugh will be for the next couple of books, but there's a book after that which could very easily bring the two series together, and I think I'll write it.
14. Why did you decide to publish independently?
I couldn't get a publisher for the stories I was writing because I was told nobody wanted to read that kind of book any more. I couldn't stop writing, and it proved impossible to swap genres, I just couldn't manage it. I resisted for a long time, because I felt as though it was 'vanity publishing'. But eventually, I figured that even if only a few people read them, it was better than having half a dozen completed books sitting on my laptop doing nothing.
It turned out that the agents and publishers were wrong, and there was very definitely a market for this series.
15. What advice do you have for aspiring novelists?
Don't wait as long as I did. By all means try the traditional route, and keep doing so if that's what you want. But if you've written something you're proud of, make it as good as you know how, take all the advice you can, and then go for it. If nobody buys it, all it has cost you is some time.
16. Have you ever written any non-fiction or contemporary fiction?
I've written some articles and blog posts for people. And I made a couple of attempts at writing contemporary romances for Mills and Boon. They were pretty awful.
17. Will you write any more Regency romances?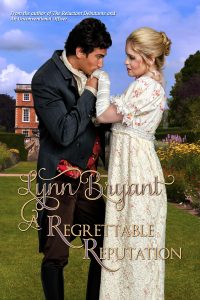 I'm sure I will. Before I started the Manxman series, my intention was to intersperse the Peninsular books with the Regency series. But I've decided that I can't manage three series on the go, plus regular short stories. Besides, writing books set after the war meant that I was at risk of introducing too many spoilers. I will go back to them, however.
18. Will any of your other books have sequels?
Well as I just said, I think I'll continue the Regency series. And I have ideas for sequels to both A Respectable Woman and A Marcher Lord. 
In A Marcher Lord, I'd like to follow up the story of Jenny's cousin. And I'd also like to take the characters forward into the period of Mary, Queen of Scots reign. I think that would be fascinating.
I actually started writing a sequel to A Respectable Woman, following the fortunes of Kit and Philippa's grown up children. Their adopted son Alex is definitely an army man, and I suspect one of their daughters to be a bit of a radical politically. I think I will come back to that.
19. What are your plans for future books?  How many are you going to write in both series?
The Peninsular War Saga will go through to Waterloo, and I quite fancy doing a book set during the period of the Army of Occupation. I also have a real yen to write a novel set during the Congress of Vienna, but that will not feature Paul, as I am not taking him into the middle of a pack of diplomats, it would end in murder.
The navy books will probably continue beyond the war, and I'd like to feature the war of 1812 with the USA. I might even do some of the land battles featuring the second battalion. There are a few other campaigns like Bergen op Zoom that I wouldn't mind looking at.
20. How long does it take you to write a book?
Six months to a year, depending on how much research and what else is going on in my life. This year has been tricky, with the pandemic, it's been hard to concentrate and I've had a house full of people working at home, but once these paperbacks are up and running, I'd like to try to speed up a bit.
***
And there we have it – the story behind the Peninsular War Saga in twenty questions. Thanks so much to all of you who have written to me over the years to find out more about the books and my writing. Keep the questions coming, I love hearing from you, and I'd be very happy to make contact on Twitter, Facebook or Instagram or you can e-mail me at info@lynnbryant.co.uk or leave a comment below.