Happy New Year from Writing with Labradors and welcome to 2019.
It feels like more than a year since I wrote my first blog post of 2018. So much has happened during the year, both personally and professionally, that it's hard to know where to start, but as always, I've thoroughly enjoyed getting to know more of my readers, both in person and online, and I love the fact that more and more people are beginning to contact me through the website and following me on Facebook, Twitter and Instagram.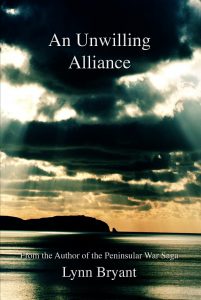 2018 saw the publication of two new books. The first of these, which came out in April, was An Unwilling Alliance. This book is the first of a new series, following the career of Captain Hugh Kelly RN, a fictional Manx Royal Navy captain during the Napoleonic Wars. It is also part of the Peninsular War Saga, slotting in approximately between books one and two, telling the story of Paul van Daan and the 110th during the Copenhagen campaign of 1807. I was able to set part of the book on the Isle of Man, where I live, and I loved being able to talk about the island to a wider audience.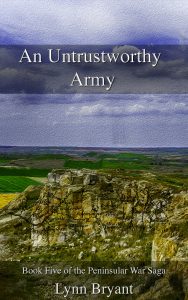 The second book of 2018 was An Untrustworthy Army, book six of the Peninsular War Saga. It tells the story of Wellington's Salamanca campaign and the miserable retreat from Burgos at the end of 1812. For some reason, I found this book very difficult. Partly, it was because my fictional brigade is part of the light division which was unusually not very active during much of this campaign. Partly, I think it was because the end of the campaign was genuinely so miserable, that it was hard to tell the story without sinking into unrelieved gloom. I think I managed it eventually, but it took a while. Fortunately, Craufurd the Dog stepped in with a bit of light relief. There were also goats.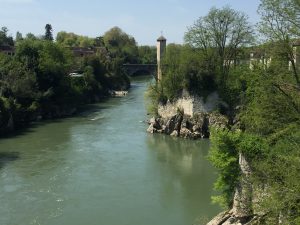 Richard and I went on a tour of the Pyrenees in April, to research Vitoria and the Pyrenees campaigns. We had a great time and toured a few battlefields although I suspect we ate and drank rather better than Wellington's army in 1813. I'm really looking forward to the next few books, as the Pyrenees give a lot of scope for the 110th to really get itself into trouble. We also spent a week in Northern Ireland in the summer, which was beautiful and set off a whole new sub-plot involving the United Irishmen and Michael O'Reilly in my over-active brain. Watch this space for that one, it's happening sometime.
I wrote three new short stories this year. An Impossible Attachment was written for Valentine's Day and tells the story of an unlikely romance between a French prisoner of war and the widow of an English officer in Portugal in 1812. The Quartermaster was a Halloween ghost story set in Ciudad Rodrigo in 1812 and The Christmas After tells the story of eight people thrown together on a winter's journey by mail coach in 1815 who find common ground in their memories of the battle of Waterloo; it completes the story begun in An Impossible Attachment.
In October, I was invited to join a panel of historical novelists speaking at the Malvern Festival of Military History and it was a great experience to be up there alongside some of the best in the genre. The bonus was that I got to spend the weekend listening to a fantastic line up of historians, culminating with the wonderful Paddy Ashdown talking about his latest book.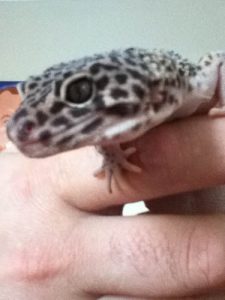 On a personal level, it has been a mixed year at Writing with Labradors. Luka, our leopard gecko died early in the year at the age of twelve. She was my son's eighth birthday present and for many years her tank lived in his room. Later she moved into my study and would sit watching me work for hours, during the evenings after her feed.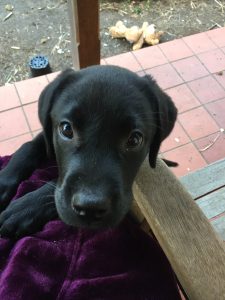 In May, our lives were lit up by the arrival of Oscar, our new baby black labrador. Oscar is completely gorgeous and has fitted into our family as if he'd always been there. He and Joey bonded immediately and are completely inseparable. Toby was a bit more aloof to start with, but quickly fell in love, and the three of them had the most marvellous time through the early summer months. The weather was hot and sunny and we practically lived outside, reading, writing and watching the three dogs playing.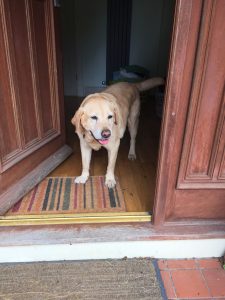 We had a fright in June when Joey, our twelve year old yellow labrador's back legs suddenly gave out, and we had a couple of days of sheer misery, wondering how serious the problem was, and if we were going to lose him. It turned out to be a false alarm, it was arthritis, and stronger pain relief and joint supplements very quickly got him back on his feet.
I'll never forget that summer, because it turned out to be Toby's last. The amazing weather continued, the kids' exams were over, and we spent every minute we could outside in the sun. My daughter asked for a hammock for her birthday in July and it became Oscar's new playground, leaping through the air to join her as she lay there reading, while the older dogs watched, looking as though they were laughing. I was working on the new book, enjoying all of us having time to be together, enjoying Oscar becoming an essential part of family life.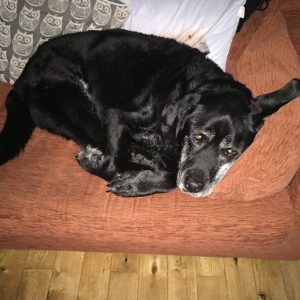 On July 23rd I worked in my study in the morning, but all three dogs wanted to play, so we moved outside and I sat working on the porch while they ran around chasing each other. They collapsed finally for a long nap, woke for dinner and then sat with us on the porch again until after dark. We said goodnight and went to bed. The following morning Toby was lying peacefully in his usual spot and I didn't even realise he was dead until I touched him. It was a horrible shock; he was fourteen but other than his arthritis, seemed really well and there was no warning.
Despite the shock, it was a very peaceful end and although we miss him desperately, I'm so grateful for that. I was worried about Joey but although he missed Toby, I'm thankful that we had already got a new puppy, as it made the transition much easier for him. Once again, Writing with Labradors is down to two dogs, although Toby is close by and will always hold a very special place in my heart.
So what's next? I'm planning a busy year in 2019, with the following projects on the go:
My next book is the second about Hugh Kelly and tells the story of the disastrous Walcheren campaign of 1809. As with Copenhagen, this was a joint operation with the army and navy. Paul van Daan is busy in the Peninsula with Wellesley, but the 110th has a second battalion and I'm looking forward to getting on with the research and meeting my new characters. I don't have a publication date for this one yet, as the subject is completely new and I can't yet tell how long the research will take. I intend to go to Walcheren for a research trip and I'm very much hoping to be there in August for the 210th anniversary re-enactment.

I'm attending the Wellington Congress in Southampton in April to indulge myself in learning more about my favourite general and to meet up with some good friends.

I'm hoping to attend the Malvern festival again.

I'm starting a new venture this year, teaching some adult education classes in history and creative writing at the Isle of Man College.

I'm aiming for four free short stories this year, to celebrate Valentine's Day, Summer, Halloween and Christmas.

I'm hoping to make a good start on (possibly even to finish) Book 6 of the Peninsular War Saga, which is set during winter quarters of 1812-13.

The Peninsular War Saga will be available in paperback, initially from Amazon, but later in the year from some local bookshops and to purchase through my website.

A complete revamp of my website.

New editions of the two books of the Light Division romances series, to connect them more closely to the Peninsular War Saga.
With all this to look forward to, 2019 is going to be a busy year here at Writing with Labradors. Thanks so much to all of you who have read and enjoyed the books, and a special thanks to those who have left reviews. I really value them.
Have a happy and healthy new year and I look forward to hearing from many of you in 2019.
With much love
Lynn, Joey and Oscar