This section of our trip covered Bussaco and Viseu in Portugal and Ciudad Rodrigo in Spain.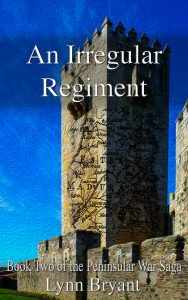 Paul could hear them now, the steady drum beat of the approaching columns. He turned to O'Reilly.
    "They're coming," he said, and raised his voice softly. "110th at the ready!"
    "Ready, sir," Wheeler called back, and the order was passed along the lines.        There was no bugle call on this occasion. Craufurd wanted the presence of such a large force to come as a shock to the French.
    Michael checked his rifle and looked over his shoulder. "Nice and steady boys," he said. "No need to be heroic here, the bastards have no idea they're about to walk into us. Wait for my word, now."
    "Battalion ready, sergeant?"
    "Ready as they'll ever be, sir."
    Paul moved along the ranks his eyes checking for potential problems. They could hear the marching of the French coming closer through the mist and he saw the green jackets of the 95th further up beginning to move forward in skirmish formation. He nodded to Michael.
    "Corporal Carter," Michael called.
    "Yes, sergeant."
    "Will your lads pay particular attention to not letting the Major get himself killed today? You know how clumsy he is, and if I have to take him down to the hospital with a hole in him, his wife is likely to take that scalpel of hers to me as well."
    Paul looked back, startled, and then began to laugh. "Corporal Carter!"
    "Sir."
    "Let the lads know there'll be extra grog for the man who shoots Sergeant O'Reilly for me today. Make it look like an accident."
    There was a muted rumble of laughter. "Do it now for you if you like, sir!" one of the sharpshooters called. "No need for extra grog, be my pleasure!"
    "You'd better hope the French get you today, Scofield, you are on my list," the sergeant said, laughing. "Ready now boys."
    "Get going," Paul said, and Captain Swanson called the order and led his men forward.
    They watched as the skirmishers moved over the ridge, taking down individual Frenchmen with accurate rifle fire. It took some time.  Paul grinned as he realised that his light company were getting carried away with their feinted attack and were actually pushing the French column back. He imagined that Craufurd was cursing them for delaying the French advance. He could not sound a retreat without alerting the French to his position so he settled down to wait for Carl and O'Reilly to pull them back. Eventually he saw them moving back up the ridge, saw Carter and young Hammond laughing, having just received an earful from their exasperated sergeant. The rifles of the light division were already back up the ridge and the French came on, causing the English gunners to limber up and pull back. Still they waited. The French came closer, pressing on, thinking that on this part of the ridge at least they had the English on the run.
    Craufurd held his nerve. The leading column was within twenty-five yards of the crest, and Paul could see the individual faces of each Frenchman when he heard Black Bob yell. "52nd and 110th – avenge Moore!"
Now that I've been there and seen it in person, I have literally no idea why Massena sent his army up Bussaco Ridge.
We were staying at the Bussaco Palace Hotel, which is an incredible building, a gothic fantasy built around the simple convent buildings which were present in the early nineteenth century when Lord Wellington marched his army up to Bussaco to face the French Marshal Massena in an attempt to slow him down while the defences at Torres Vedras were being completed.
Brief details of the battle can be found here.  There are many books which give descriptions of the battle  In particular, we are touring the peninsular battle sites with the help of Andrew Rawson's excellent book The Peninsular War: a battlefield guide.  Since I own it on kindle, I found myself scrambling over the sites clutching my iPad and praying I didn't drop it, but it was amazingly useful and helped us find places we might not have done.
Up at Bussaco I was awestruck at the slope the French had to climb to make their attack.  We visited Wellington and Craufurd's command posts and the reconstructed mill where Massena watched the battle unfold.  It is a beautiful place, although somewhat out of the way, and on a sunny day the views from the top are stunning.
View from the Bussaco Palace Hotel
Our other visit during this part of the trip was to the town of Viseu, where Wellington had his headquarters in the run up to Bussaco.  I will be honest and say that I wasn't that taken by Viseu as a history buff.  There are some lovely old churches and buildings, but the town is now very built up and traffic was so heavy in the centre it's difficult to get any sense at all of how the town must have seemed to Paul and his men when they set up camp at a farm on the edge of the town in 1809 after Talavera.  Viseu is a lively, modern place and probably a great place to live and work now, but it's not the place to visit for Peninsular War history.
Fortified Cathedral in Viseu - This is the cathedral visited by Rowena and Anne in Viseu in chapter 17.
The same cannot be said of Ciudad Rodrigo, where we arrived in the afternoon. The rain had gone and the sun came out and approaching the town I felt as though I had stepped back in time.  Even with modern apartment blocks surrounding the ancient walls it is very easy to understand the enormity of the task faced by Wellington's army when they set out to storm the town in the freezing January of 1812.
Please specify the photo id of the single photo you want to display.
Standing in front of the memorial to General Robert Craufurd at the lesser breach where he was buried I felt surprisingly moved.  Craufurd isn't one of the best known historical figures of the time, but as commander of the legendary light division, he is vital to my story and his loss was much mourned by the characters I'm creating.  During my research for the books I have become very attached to Craufurd, known as the rudest man in the army, and standing here, where he was shot down more than two hundred years ago was a strange feeling.
Memorial to Robert Craufurd and the men of the light division who fell in the lesser breach during the storming of Ciudad Rodrigo in 1812
I loved this trip.  It's very different to other holidays in recent years, not just because I got to completely indulge myself in terms of history, but also because it seems to be somewhat off the beaten track of popular English tourist spots.  This makes it slightly more challenging in terms of language, since not everybody speaks English and our Spanish and Portuguese is non-existent.  Still we were impressed with how friendly and welcoming most people have been.  The hotels have all been good and we've found some great restaurants, although we're having to adapt to the difference in eating times – it's just not possible here to decide to have an early dinner at 5.30 or 6pm; the restaurants start to get busy at nine.
I learned so much during this trip.  Part of me was impatient to get back to work and rewrite some of my books based on what I'd seen and learned and the rest of me just wanted to stay and absorb how lovely it is.  I'm unbelievably grateful to the man I married for doing this with me, acting as driver, photographer and general gopher throughout the trip.  He probably needed a holiday afterwards, mind.   Following Wellington around is exhausting; I don't know how the 110th did it….
For regular updates on this site including history, travel, book reviews and plenty of labradors (and a few freebies thrown in) please join the e-mail list here.